There are 18 days left in this super-saturated 2018. If it's felt exceptionally rainy that's because, well quite frankly, it has been. In fact, many locations in the eastern half of the country have registered their wettest year on record! Let's take a look at some of the soggy 2018 stats.
For starters, did you know that Wilmington, NC is about to reach 100'' of rain for the year? 2018 has already succeeded in being the wettest year on record for the city and with just another 2.25'' of rain, we'll reach 100"! That's a heck of a lot of rain. The average annual rainfall for Wilmington is 57.61'', so we're about 75% above average. This weekend we may reach that century mark as a potent storm system could bring a couple of inches of rain across the East.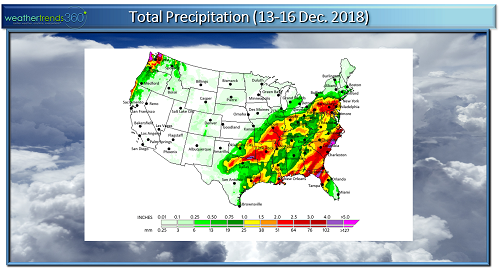 Of course, Hurricane Florence has a lot to do with Wilmington's exceptional rainfall total for the year with a record-breaking 23.02'' of rain falling from September 13th-16th. According to the National Weather Service in Wilmington, this was largest rainfall total from any single weather event in the city's history.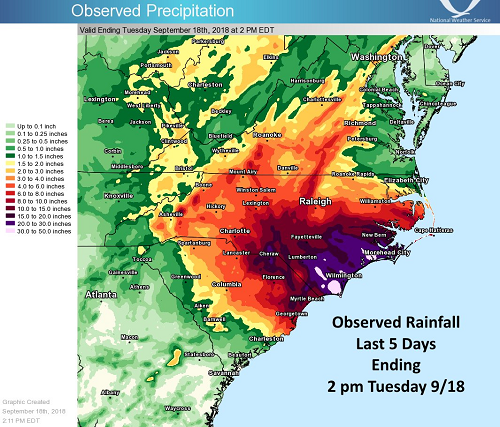 While Florence dumped a quarter of the year's total rainfall in the span of 3 days, many months during the rest of the year were wetter than normal, including January, May, June, July, and November. 40% of the days in 2018, so far, have seen precipitation, and of those days Wilmington has recorded the most number of days ever with daily rainfall greater than 1.5", 3.0", and 4.0'' which was 20, 8, and 5 days, respectively.
While Wilmington suffered some of the worst consequences from heavy rainfall thanks to the major flooding from Hurricane Florence, there were other locations across the East that saw above average rainfall as well. Take a look at the 2018 to date precipitation departure from normal map below. Look at all that pink (+20'') across the eastern half of the U.S.!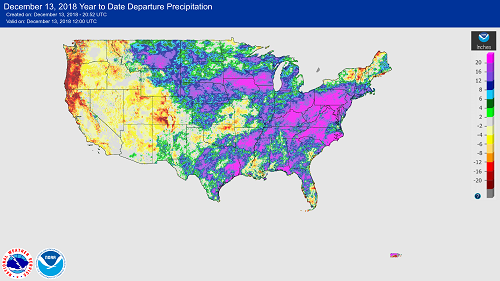 Needless to say that drought conditions that were in place at the start of the year in the eastern half of the U.S. were largely eradicated by the end of the year (see drought maps below). In fact we went from about 55% of the continental U.S. being in some stage of drought at the start of the calendar year to 33% in drought as of the December 11th, 2018 US Drought Monitor Report from the National Drought Mitigation Center.
The period from January through November 2018 was the wettest on record for the following states:
Delaware




Maryland




Massachusetts




North Carolina




Pennsylvania




Rhode Island




Virginia




West Virginia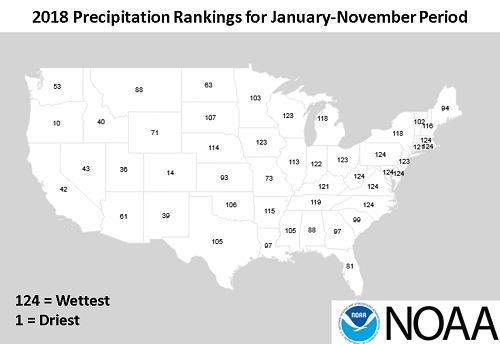 The largest negative anomaly for January through November 2018 precipitation was in Oregon with a -6.61'' deficit, while Pennsylvania had the largest positive anomaly +20.56'' surplus.
By the end of November, 2018 was already the wettest on record for the following cities, a rather impressive feat given there were still 31 days in the year to go:
Baltimore, MD




Lexington, KY




Atlantic City, NJ




Wilmington, NC




Charleston, WV




Madison, WI



Dozens of other locations are within just a couple of inches of their wettest year on record and several are within tenths of an inch of beating or tying the record, including Washington D.C. where 2018 will easily sail into the record books with this weekend's storm.
For the absolute wettest location in the U.S. it's really no surprise that we find that in Hawaii. Hilo, HI has seen 164.2'' of rain to date for 2018. If that sounds like a lot, that's because it is, even for them and the January-November period was the 3rd wettest since 1949 for Hilo and about 45% above the January-November average precipitation. Wilmington, NC is the 2nd wettest city in the U.S. this year so far right behind Hilo.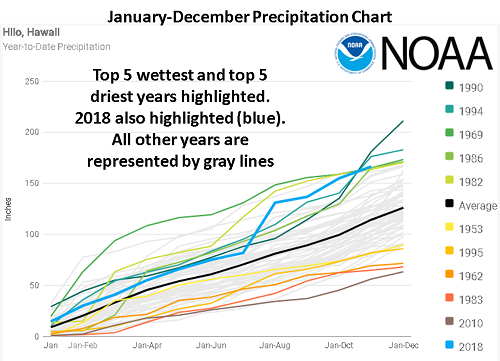 Here are the top ten wettest cities in the U.S. for the January-November 2018 period:
Hilo, HI




Wilmington, NC




Cape Hatteras, NC




Jackson, TN




Asheville, NC




Jackson, MS




Lexington, KY




Elkins, WV




Baltimore, MD




Tupelo, MS



Here at wt360 Headquarters we're coming off of our longest dry spell of the year with 10 (11 if no precipitation falls today) straight days of dry weather. However, this will come to an abrupt end by this weekend as a vigorous storm system moves in. Unfortunately, it seems this recent dry spell was a tease as a generally unsettled pattern lies ahead in the next several weeks. However, we do see drier times ahead in 2019, and as Annie said, "The Sun will come out tomorrow, bet your bottom dollar that tomorrow, there'll be sun", although our ' tomorrow' will be more than a day away.