Weather affects every business. From devastating hurricanes to irregular seasonal temperatures, knowing what weather to expect enables you to optimize your business and operations.
Weathertrends360's proprietary year-ahead forecasting model tells you what weather is coming eleven months out with 85% accuracy. Here's a review of our Q2 predictions and a preview of how weather will impact businesses in Q3.
Accuracy
Over the past 6 quarters, Weather Trend's year-ahead weekly U.S. forecast has been 87% accurate. We use these forecasts to determine both the weather and sales trends for over a hundred Fortune 1,000 clients and over a thousand smaller businesses and farmers.
Weather Trends predicts temperature, rainfall and snowfall by week for every 1 mile on Earth (32 million locations) using trillions of statistics and 24 climate cycles. And these forecasts don't change once issued.
We use our analysis of over 10,000 seasonal items to define the relationship between weather and sales in 30 seconds. We project sales by week, by store, one year out, everywhere on Earth. We call it the Power of 1° Degree®.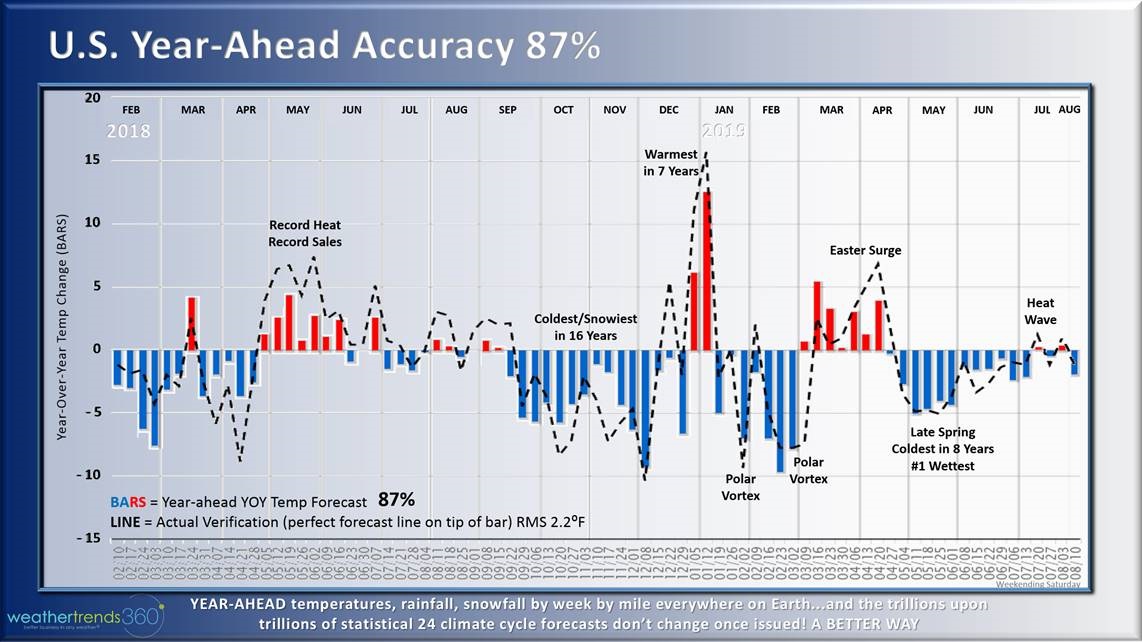 Take a look at your U.S. sales results over the past 19 months and see if your sales trends match what we predicted a year ahead in the chart above (bars forecast, line actual).
Our 87% accurate year-ahead weekly forecasts are more accurate than most company's 7-14 day short range forecasts. This enables you to proactively plan your operations to maximize sales in the face of ever-volatile weather.
Testimonials
In February 2019, JP Morgan's Matt Boss, Managing Director, hosted CEO Captain Bill Kirk for an update. Captain Kirk warned of a particularly challenging Q1 and Q2 for 2019.
Matt Boss' follow up report indicated:
"WTI's forward forecast expect it to be colder YOY including a 'very unfavorable' start to Q1 with a Back-End Loaded "Surge" of Spring weather expected at Easter (middle April). Then a "very unfavorable" kick-off to 2Q in May and an unfavorable June following record hot temperatures last year with all major 2Q US holidays expected to face colder weather YOY."
Chuck Grom, Managing Director of Gordon Haskett was more candid, saying "Weather Trend's year-ahead intelligence is on fire and crushed it the past couple years."
Companies Blame the Weather in Q1 & Q2:
Volatile and unexpected weather can impact any business. In particular, nearly every major retailer mentioned bad weather in their quarterly earnings reports (if you need more quotes, we have plenty more):
"Q2 2019 Weather was particularly challenging early in the quarter (May-June) with 195 basis points top line pressure." President/CEO, Lowe's


"Q1 2019 missed sales growth driven primarily by weather and lumber deflation." EVP Merchandising Home Depot


"Last Year Q2 2018 Wal-Mart benefited from the very warm weather in May 2018." August 2018 Earnings Call.


Companies of every size are looking for a way to proactively plan their business around volatile weather.
Q2 2019 World Weather Roundup
Our Q2 roundup shows WTI's year ahead forecast did well capturing the very challenging Spring - early Summer conditions across the U.S. and Canada. The retail quarter (5 May - 3 August 2019) was the coolest in 5 years for the U.S. and wettest in 4 years. Canada was the coolest in 8 years and wetter than the year-ago period. Europe was warm but still Coolest in 3 years for the EU as a whole.
WTI's year ahead forecast indicated virtually no drought and a very active tornado season - both happened. Tornadoes were up 105% YOY in the top 80% of active seasons over the past 125 years.
The very wet Spring was not only bad for retail and seasonal merchandise but farmers as well. This led to Corn commodity prices soaring to 4 year highs. But WTI warned that a more favorable core Summer would ultimately have prices plummeting - they did.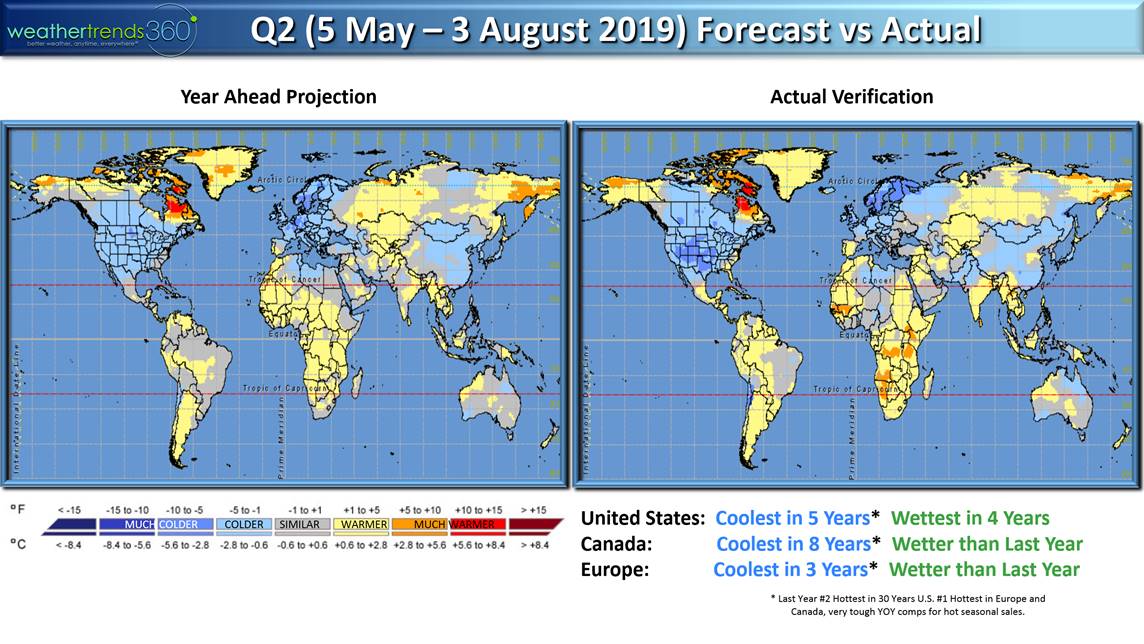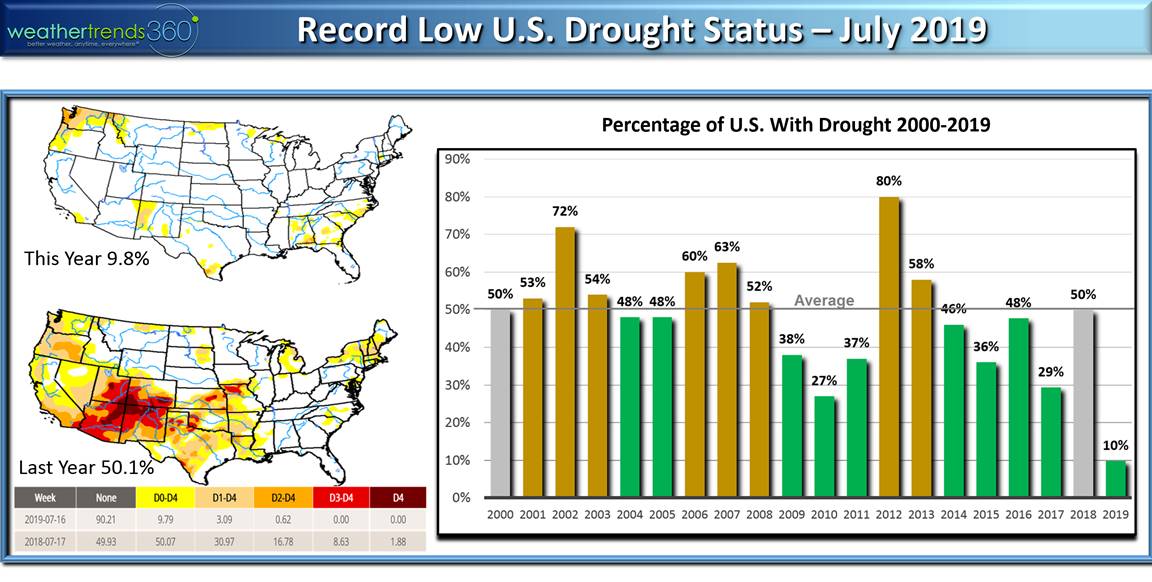 Q3 (Aug-Oct) U.S. & World Outlook
Q3 is looking to be a more favorable quarter for the agriculture industry with an extended warmer/drier Fall. This will allow crops to mature after slow planting.
Property insurance groups will benefit from a much less risky hurricane season, down from last year. WTI's pre-season outlooks and landfall threat area projections have been industry leading the past few years. Our forecasts included predicting the high risk areas of Harvey in Texas (2017), Florence and Michael (2018) and Dorian (2019) months ahead.
Last year WTI forecasted 15 named storms (much above average) and the storms' major threat areas, which was industry leading. This year WTI projected a weaker season, but that the highest risk areas would be Eastern Florida, Bahamas and Bermuda, with 11 named systems (near to below average).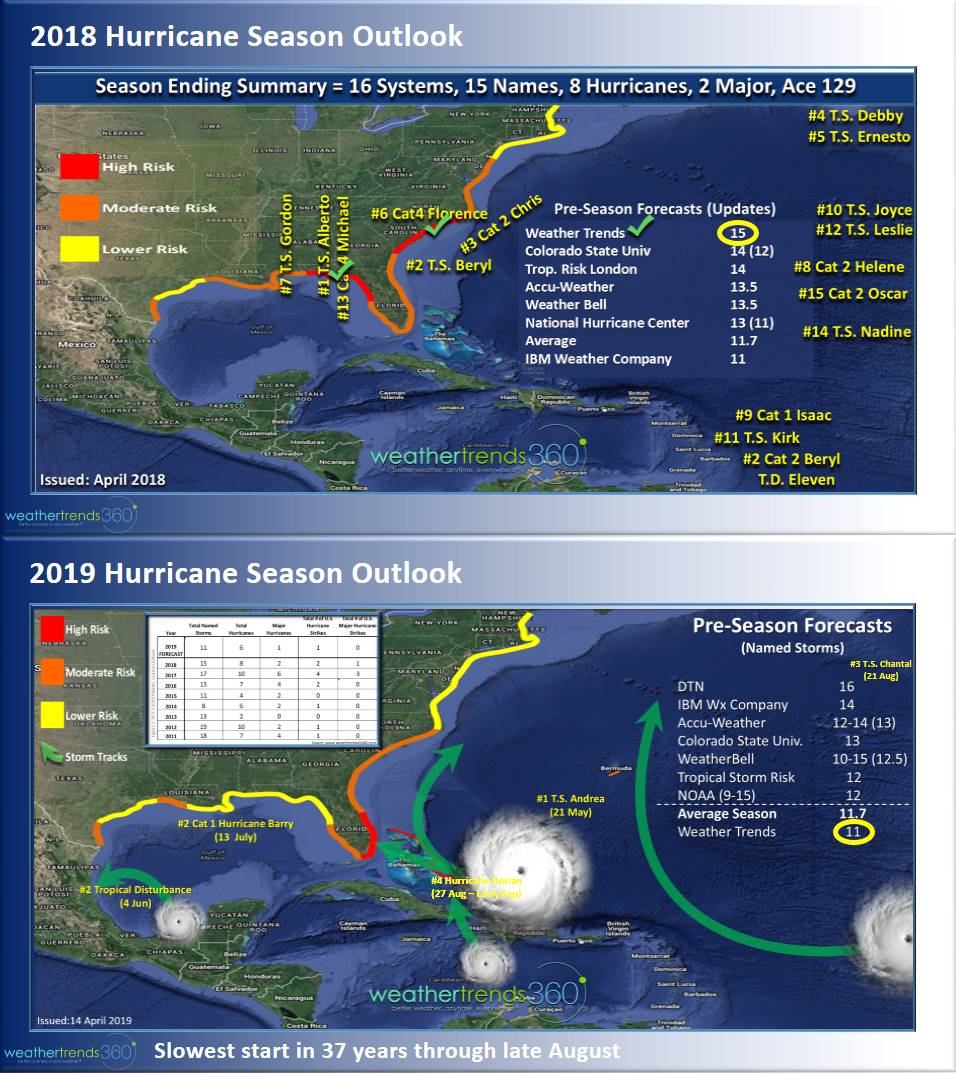 For the rest of Q3, airlines' on time statistics will fare better with fewer delays and cancellations after a very tough start to the year costing the industry hundreds of millions in losses. Fewer hurricane disruptions will also be favorable for the industry.
Retailers and seasonal merchandise suppliers will be harder hit coming off last year's coldest/snowiest start in 16 years with a warmer/drier 5-week delayed onset of really cold weather.
WTI's Power of 1° Degree® suggests seasonal sales for apparel will be off double digits with steep sales declines for early fall merchandise, especially in October and November. The Midwest and Northeast are a bit cooler than last year but only due to a couple brief cool periods in an overall warm/dry Fall.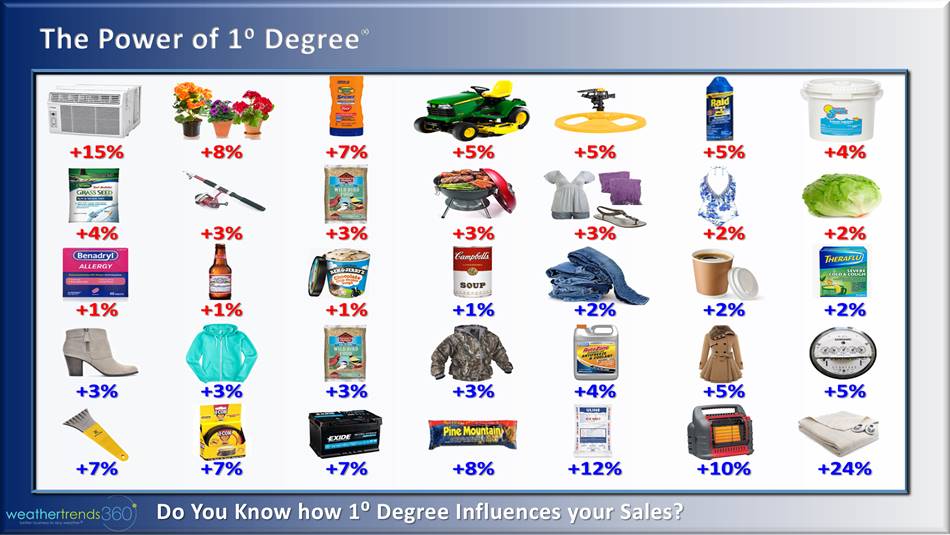 Home center and outdoor dining will fare best with an extended outdoor season well into October and early November. This differs from last year's cold/snowy weather that severely hurt traffic in middle to late Autumn. However, home centers will not benefit from the hurricane and flooding sales that occurred over the past couple years. We're predicting the lowest storm related sales since 2015.
A couple short lived cool snaps in the middle of September and October may help save the day for Eastern U.S. retailers, but overall the trends are not favorable for Q3 seasonal merchandise sales. This will result in excess seasonal merchandise inventory and steeper markdowns, especially in October and at the start of Q4 in November. Another challenging quarter ahead. WTI can assist with proactive vs reactive strategies. These include utilizing earlier season markdowns to drive sales while the weather is less favorable and capitalizing on the few favorable periods during the quarter.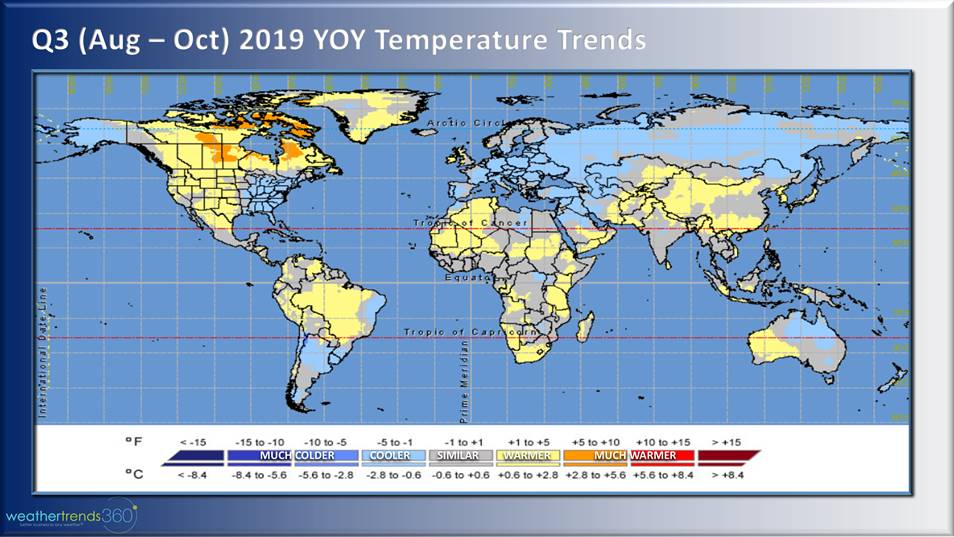 Conclusion
Weather affects every business. Weathertrends360's proprietary year-ahead forecasting model tells you exactly what's coming eleven months out. We give you time to proactively plan inventory, advertising, allocation and markdowns. Trusted by the Fortune 100 and Main Street, it's the next generation of weather-based predictive analytics. Our passion is Better Business in any Weather®...let's talk. E-mail sales@weathertrends360.com or phone 610-807-0118.
Warmest Regards,
Captain Bill Kirk