The end of the year is an important stretch for businesses. But the important, final months of the year are often when the weather is at its most volatile.

Here's a long-range outlook on the weather for the winter season and the start of the holiday season. You'll also find some insights on the November retail period and predictions for the flu season.

Winter Outlook

Meteorological winter started December 1st, kicking off a snowy start to the season. National snowfall across 70 major metropolitan areas is the highest in 6 years. So far, the snowfall is 17% above average and 40% more than last year.

As 2019 ends, expect the trend to continue, with more snow than last year in store for the holiday season. 2020 will start with a similar pattern. Snow levels in January are likely to be below last year's level but still above average. But if you're in the Deep South, East Coast and Rocky Mountains, expect twice as much snow in January as last year.

The above average snowfall is likely to increase delays for airlines during the busy travel season. In retail, the snowfall and cold weather will increase sales of seasonal items like snowblowers and space heaters.








Retail Recap for November and G20


November retail (the 3rd-30th) ended up 1.3°F warmer than last year but still 6th coldest of the past 30 years. Precipitation was 39% less than last year and 9th driest of the past 30 years for the nation as whole. Snowfall was up 10% - the most in 19 years and 3rd most in 30 years.


The weather had a tangible impact on seasonal merchandise sales during the biggest retail period of the year. The much drier trend at the beginning of the month was a plus for retail brick and mortar store traffic. But, the stormier end around Black Friday was a huge boon for e-commerce online shopping and sales.


For most G-20 countries, the trends were generally warmer and wetter. France and the U.K. showed the greatest YOY trends toward colder weather. The table below summarizes the weather trends for the G-20 countries.







Flu Season

The Flu season is off to its fastest start in 11 years. 30 states reported widespread to regional outbreaks at the end of November 2019. Last November, only 11 states reported these same conditions. This represents a significant 172% increase.


This is an aggressive start to the flu season. The cold, rainy and snowy weather conditions were likely the culprits. The early start means flu activity could peak in late December into early January. So, many of us will be sick for the holidays but we'll be feeling better at the start of 2020.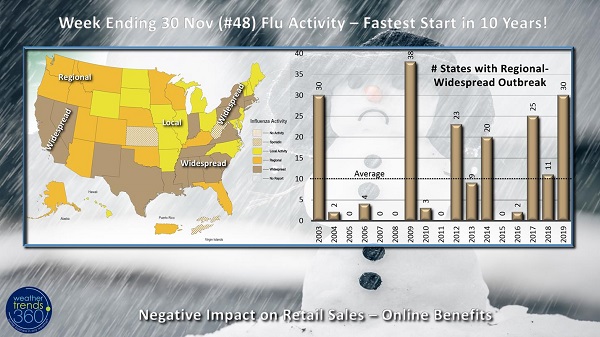 Conclusion
Planning your business can be challenging if you can't anticipate the weather before it happens. Statistics-based weather intelligence makes it easier to close the year out in the black.

Warm regards,

Captain Kirk