As the remnants of Cindy make their way across the eastern part of the U.S. today, we reflect on another early season tropical cyclone that packed a much more powerful punch 45 years ago in the Northeast. This week marks the 45th anniversary of Hurricane Agnes dumping over 10'' of rain from Virginia to New York state causing devastating flooding. At the time, Hurricane Agnes was the costliest hurricane to hit the United States in recorded history (adjusted for inflation, now Agnes ranks as the 10th costliest of all time, Katrina is number 1 and Andrew is number 2).

Agnes made landfall along Florida's panhandle on June 19th, 1972 as a category 1 hurricane and weakened to a tropical depression as she moved through Georgia. Agnes actually regained strength on the 21st just before exiting off the North Carolina coast, strengthening into a tropical storm. Agnes became a strong tropical storm, almost hurricane-strength, over the offshore waters of New Jersey and then curved back towards the U.S. making a second landfall on the 22nd near New York City.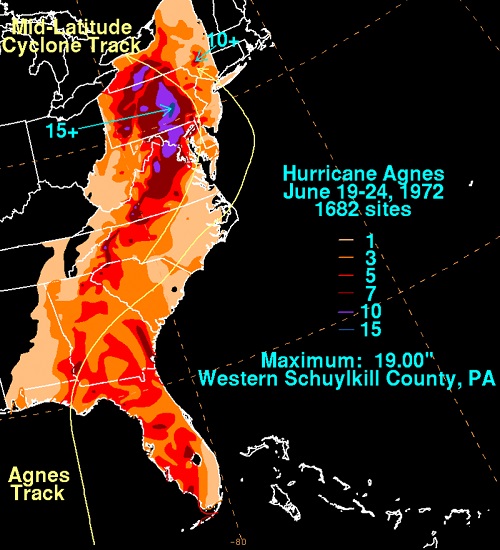 While the impacts in Florida were not that major, as Agnes was just barely a hurricane at landfall and the wind and storm surge were relatively minor, it was in the Northeast where the major impacts were felt. Agnes combined with a non-tropical low pressure system which helped to produce widespread 6-12'' of rain with local amounts between 14'' and 19'', the heaviest in east-central Pennsylvania's coal region. The heavy rain caused widespread flooding from Virginia to New York state with some flooding also in parts of the Carolinas. Flooding was very significant in the Susquehanna river basin.

Agnes occurred during an otherwise, relatively quiet Atlantic Hurricane Season that consisted of only 4 tropical cyclones (and 3 sub-tropical storms, see map below), a testament to the fact that it only takes one storm to make a big impact. This hurricane season, we expect near to slightly below normal activity in the Atlantic. As Agnes showed, no matter the seasonal forecast expectations, it's vital that we remain vigilant and prepared during every hurricane season for any storm headed our way.