It's Saturday - an early Captain's Log update! :)


A big HAPPY MOTHER'S DAY to all the Moms out there. The insanely cold weather in the East is HEADING OUT TO SEA with a much warmer pattern on the way...hang in there! CLICK ON IMAGES FOR A LARGER VIEW.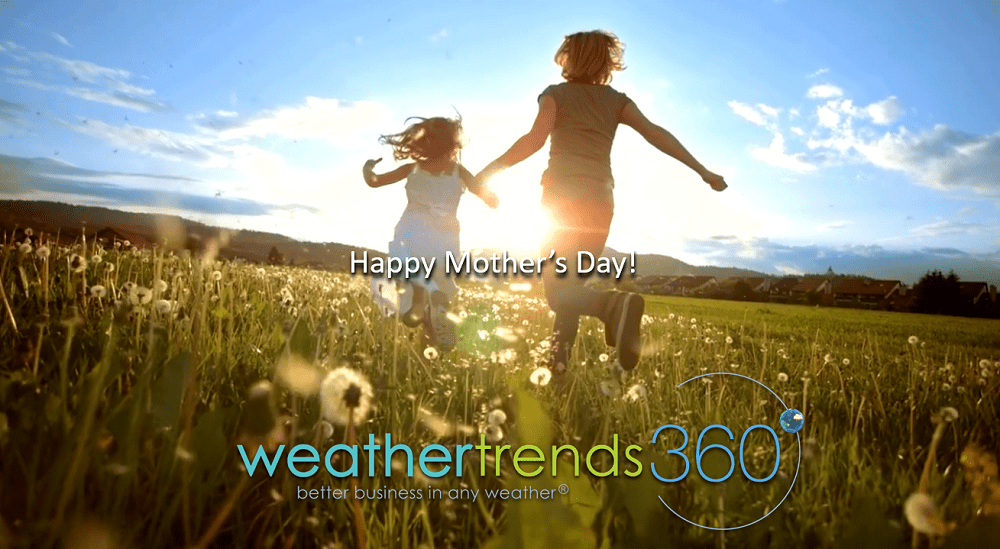 Last week (1-7 May) across the World
shows the U.S. trending +0.6F warmer than last year, warmest in 3 years, 19th warmest of the past 37 years with near average national temperatures. Rainfall was up +19% over last year, most in 3 years and 7th most in 37 years with above average rainfall. It was also another severe weather week with numerous tornadoes. Temperatures surged to the 70s well into the Northeast Thursday before they plummeted by Saturday with the coldest Mother's Day weekend in decades for the Northeast.
It was definitely a dry trend for many other areas of the World, especially in China where it was the driest in 13 years.
The U.K. had some of the best weather trends for Spring seasonal merchandise sales trending +9F warmer than last year and warmest in 4 years with well above average temperatures.
Recall that our Power of 1 Degree technology based on the analysis of 10,000 seasonal categories, shows every 1F warmer bringing a 2% bounce in cold beverage and allergy sales, 3% bounce in bird seed and fishing equipment sales, 7% bounce in suncare sales and 8% increase in bedding plant/flowers. Multiply those by 9F warmer and we're up +18% for cold beverages and allergy, +27% for fishing equipment and a whopping +72% for flower sales!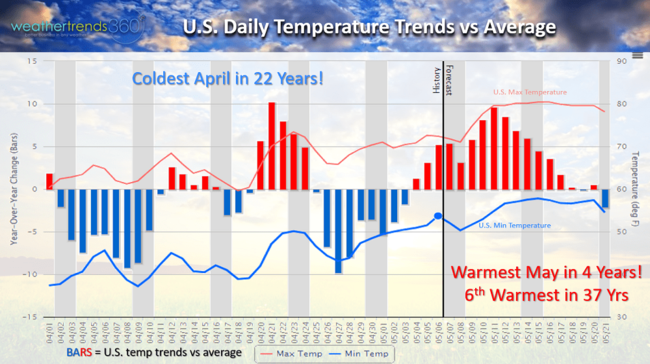 Here in the U.S. we're finally starting to see a sustained pattern shift if you like WARM SPRING WEATHER! After the coldest Retail April in 22 years, May is making a big flip flop here with the
warmest May in 4 years and 6th warmest in 37 years on the horizon
. Don't tell that to folks here in the Northeast where it's brutally cold for early May with temperatures in the 40s outside our Bethlehem PA offices. But 70s and 80s on the way for us this week! We'll take it. Expect Spring seasonal sales to surge over the next couple weeks in the Central and Eastern U.S.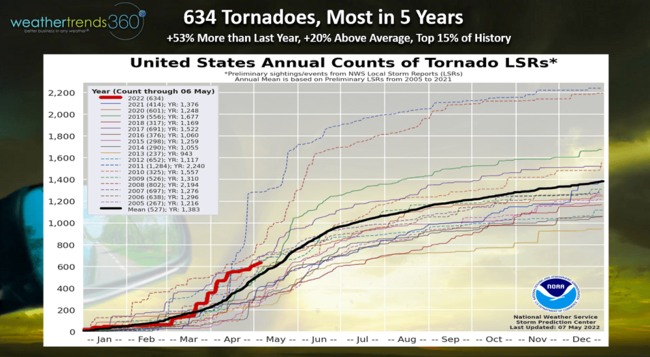 The
tornadoes were again active last week
, but a break in the pattern should help to slow things down a bit, but still some threats in the South Central Plains again next week. 634 so far this season, up +53% over last year, +20% above average and the most in 5 years.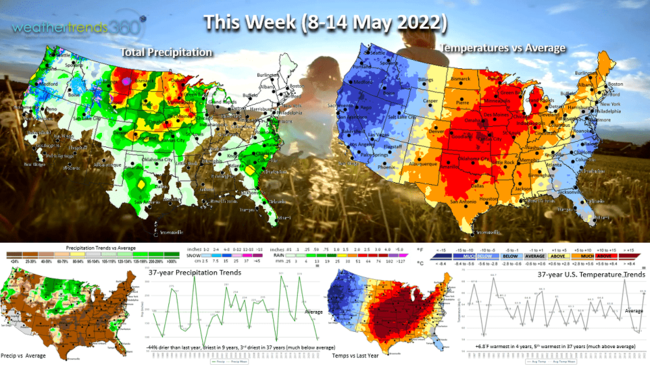 This week (8-14 May)
shows the U.S. trending a significant +6.8F warmer than last year, warmest in 4 years and 5th warmest of the past 37 years with much above average national temperatures. The heat in the Heartland will rapidly expand East by mid-week. Rainfall is also down -44% vs last year, least in 9 years and 3rd driest in 37 years with much below average national precipitation! Farmers will take that, as they too have been negatively impacted by the volatile up and down Spring weather. The West turns much colder!
Next week (15-21 May)
looks to trend +1.2F warmer than last year, warmest in 4 years and 4th warmest in 37 years with much above average national temperatures. The South and East and even the West Coast are the favored areas. Still cold in the Northwest and Upper Plains cools off. Rainfall down 10% vs last year, least in 8 years and 13th driest in 37 years with below average national rainfall.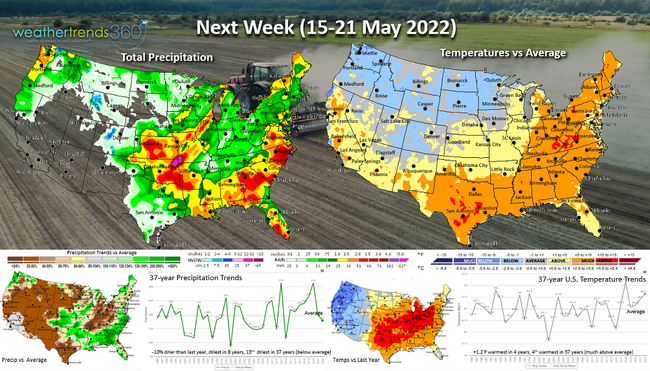 The 2-week World outlook (8-21 May) shows the Eastern U.S. the favorably warm spot, cold West, similar trends across Canada. Western Europe very favorable for Spring merchandise while Eastern Europe, Western Russia, Middle East and Eastern China are generally cooler and unfavorable for Spring sales.
We hope you have a great week ahead, and don't forget to follow us on social media for frequent updates:
Facebook
,
Twitter
,
YouTube
,
Pinterest
and
Linkedin
.
- Captain Kirk out