No shortage of weather stories this week as we have record rainfall in East Texas, Arkansas, Louisiana, and the Mississippi Delta region, heavy rain and snow moving into northern California, and record-smashing high temperatures in the Northeast.
Over a foot of rain has fallen across parts of Louisiana and Arkansas over the past couple of days and more rain is on the way. Flooding has been devastating across the region with reports of flood waters reaching rooftops on 1-story homes. The rain falls in association with a near-stationary storm system that has plenty of moisture to work with.
Here's a look at some of the precipitation records set over the past couple of days: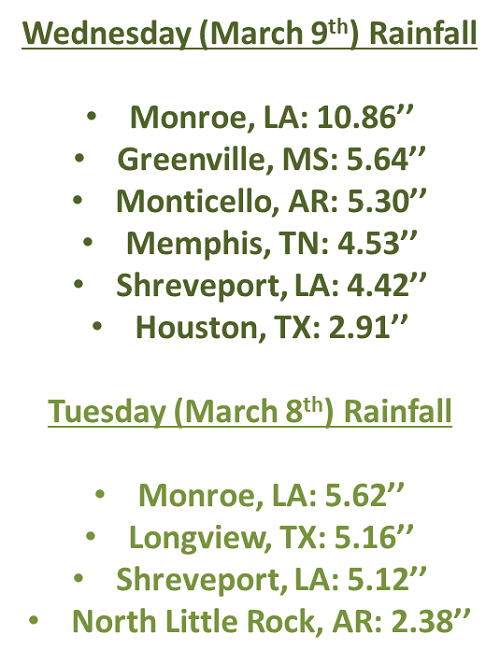 Over the weekend, we'll likely have more flooding and record rainfall as a series of storms move across northern California bringing the threat of 7-10'' of rain. Snowfall will total in at LEAST the 4-5' range in the mountains. While all the precipitation arriving at one time causes flooding, the precipitation is desperately needed as California continues to experience a near 5-year long drought.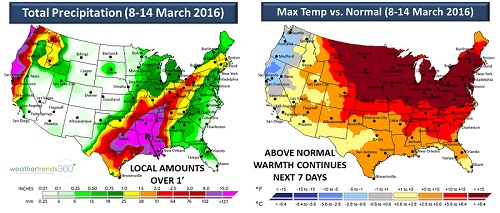 The Northeast and Mid-Atlantic definitely lucked out this week with temperatures soaring to record levels in the 70s and 80s. Reported sightings of mosquitoes, bees, and budding trees have risen as the temperatures have turned warmer. The record-setting warmth comes to an end tomorrow as a cold front slides through, but warm weather lovers don't fear, temperatures will still be some 5F to 10F, if not more, above normal! However, we wouldn't mothball those coats just yet, a cold snap looks likely towards the end of next week.
Here's a look at some of the maximum temperature records that have been set over the past couple of days: