1 October '22: Welcome to October...not so happy in light of IAN.


Hurricane IAN made landfall Wednesday 28 Sept
from Rotonda West and Sanibel Island around 1pm EDT, but the 35-mile-wide eye (very large) took almost 3 hours to completely move on shore. This large eye and slow movement compounded the surge and winds with major populations centers from Fort Myers to Port Charlotte hardest hit from the CAT 4 hurricane (sustained winds 155 mph gusting to 190 mph). As of today, the highest wind officially reported has been 126 mph, damage assessments in the months ahead will ultimately determine just how strong the winds really were. Either way, 10s of billions in damage will certainly place IAN in the top 10 most costliest weather natural disasters in U.S. history. Ironically, CAT 4 Hurricane Charley made landfall in the nearly identical spot 18 years ago but had a much smaller 7-mile-wide eye in part resulting in not as widespread damage. It was also a faster mover, compared to the very slow Northeast movement of IAN.
CLICK ON IMAGES FOR A LARGER VIEW.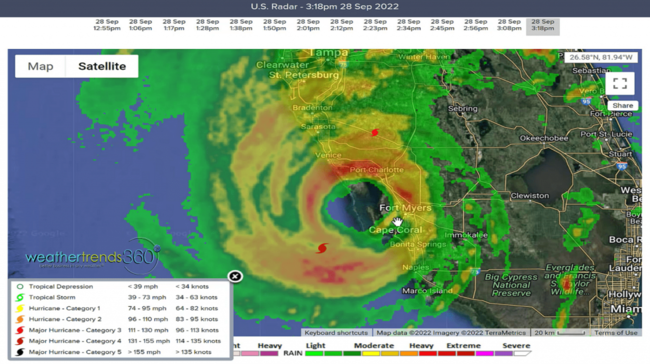 After devastating Southwest and Central Florida, I
AN made a second landfall as a CAT 1 near Georgetown, SC
Friday about 58 miles Northeast of Charleston or 28 miles Southwest of Myrtle Beach. More storm surge flooding damage in South Carolina.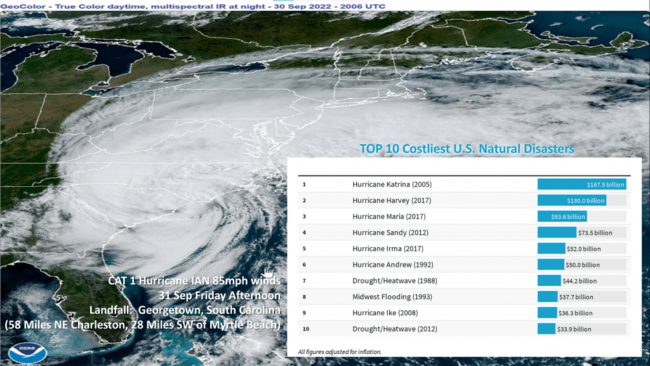 Last Week (25 Sep - 1 Oct) across the World
shows the U.S. trending -3.7F colder than last year, 16th coldest of the past 37 years with BELOW AVERAGE national temperatures. Last week as Major Hurricane FIONA went north into Southeast Canada it allowed this colder weather to plunge into the Eastern half of the U.S. Rainfall was also up +33%, most in 3 years and above average nationally due in large part to all the rain in the Southeast from IAN. These trends are very favorable for early Fall seasonal merchandise that had been building up due to the warmer start to September.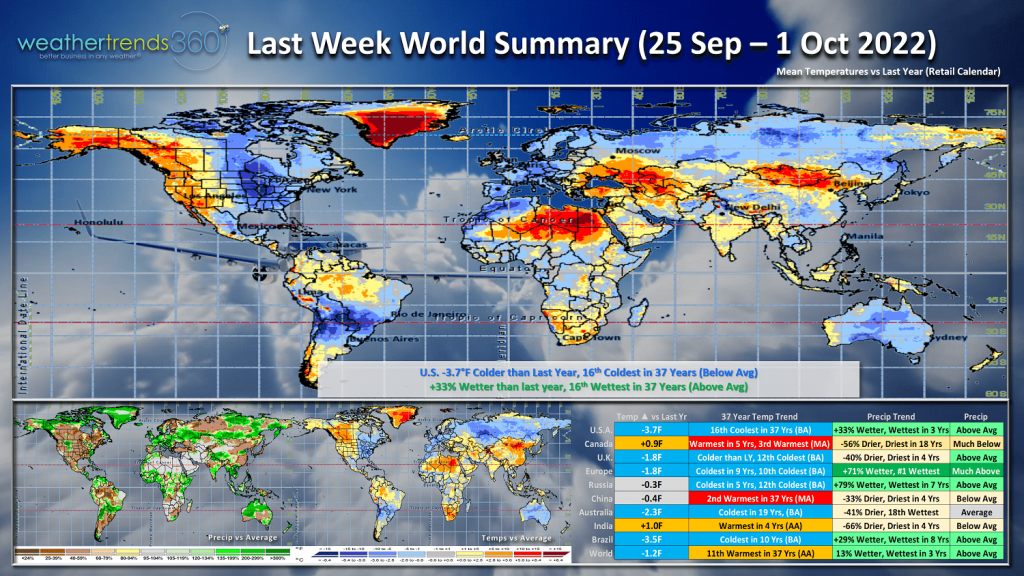 Europe, U.K. and Russia also had below average temperatures spurring sales for early Fall seasonal merchandise. This time of year cold and wet weather results in stronger sales for seasonal merchandise.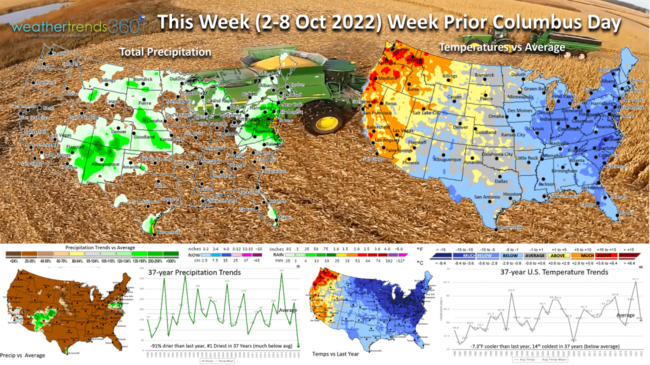 This Week (2-8 Oct)
shows an even more favorable trend with the U.S. trending -7.3F colder than last year, 16th coldest of the past 37 years with below average national temperatures. Demand for seasonal merchandise will be very strong from the Upper Midwest into the Southeast, outside of the hurricane damaged areas of Florida. Rainfall #1 driest nationally which is a plus to the Fall harvest season for farmers.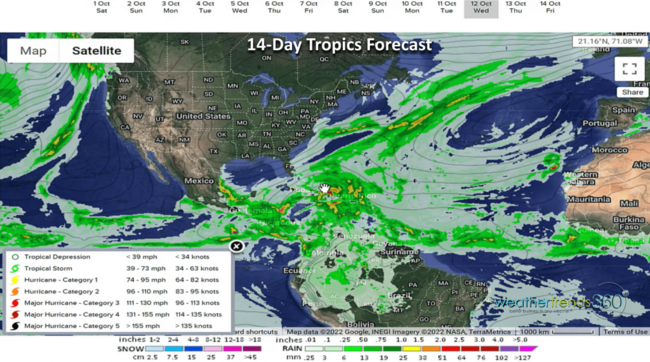 The 14-day tropical outlook
shows a few more waves coming off Africa heading through the Eastern Caribbean that need to be watched as this is where IAN developed quickly. The U.S. is still very much at risk for additional land falling tropical systems through the month of October.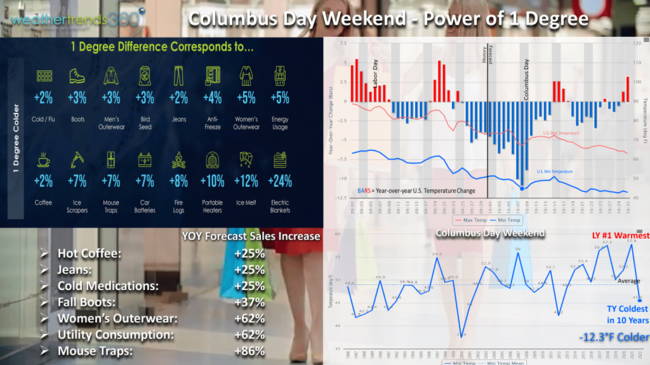 The most critical holiday of the Q3 (Aug - Oct) season for retailers and seasonal suppliers is Columbus Day weekend
and it looks exceptional! The year-over-year change toward colder weather is the 2nd largest drop in over 40 years going from #1 warmest last year to the coldest in 10 years this year. With the weekend trending -12.3F colder nationally vs last year, demand for early Fall seasonal sales will be very strong. WTI's Power of 1 Degree predictive sales analytics shows that every 1F colder there is a 5% increase in Women's Outerwear. Multiply that by 12.3F and YOY sales gains will likely be +62%. The Eastern half of the U.S. by far will have much stronger sales gains than the West where it remains very warm. WTI predicted this very strong trend for Columbus day sales a year ago!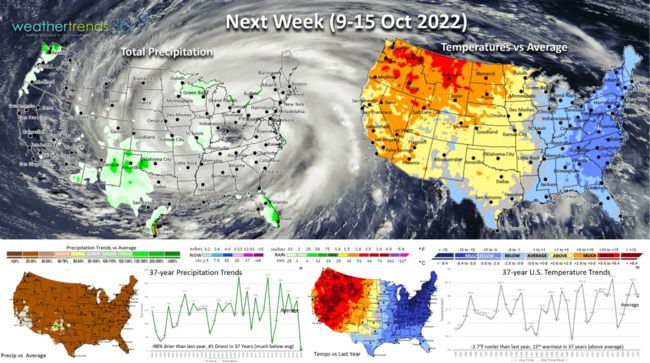 Next Week (9-15 Oct)
shows the cooler trends continuing in the East. The U.S. overall trends -2.7F colder than last year but 12th warmest of the past 37 years. The Eastern third of the country remains well below average, so early Fall sales will remain strong. The West will remain hot by early October standards. Most of the country is very dry which benefits store traffic and outdoor activities.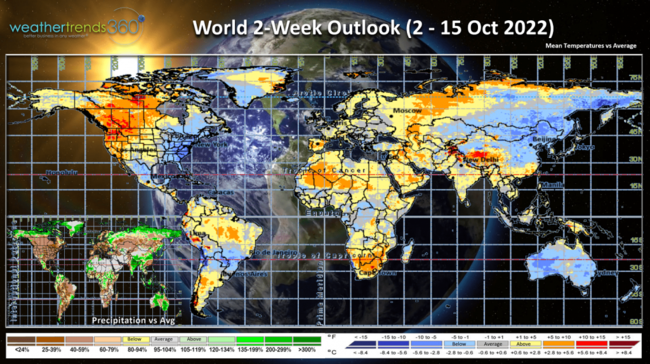 The World 2-week outlook (1-15 Oct)
shows both the Eastern U.S., Southeast Canada and much of China having colder weather benefiting seasonal merchandise sales and higher utility consumption for heating. Europe moderate a bit with slightly above average temperatures. Dry remains the them across the Americas and Europe.
Have a great week, and don't forget to follow us on social media for frequent updates:
Facebook
,
Twitter
,
YouTube
,
Pinterest
and
Linkedin
.
- Captain Kirk out.