Happy Saturday! :)


The annual 11-day
Musikfest
here in Bethlehem PA will end Sunday with a bang/fireworks. You can watch them live from our panoramic roof top
weather cameras
Sunday evening (SOUTH CAMERA IS BEST).
CLICK ON IMAGES FOR A LARGER VIEW.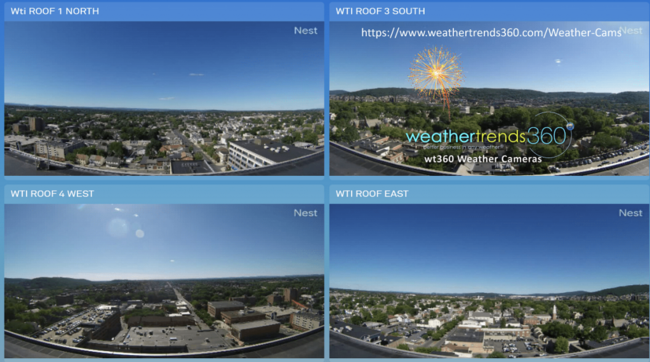 Just a couple weeks left of
"Meteorological Summer (Jun - Aug) and it's been a hot and dry Summer for the U.S. overall.
It's been volatile with the cooler June, very hot July and now cooler August compared to last year. For the U.S. overall, Summer has been trending -0.1F cooler than last year but still 2nd warmest in 37 years nationally. -33% drier than last year, 2nd driest in 37 years compared to the #1 wettest last year, so a big change on the rainfall trend.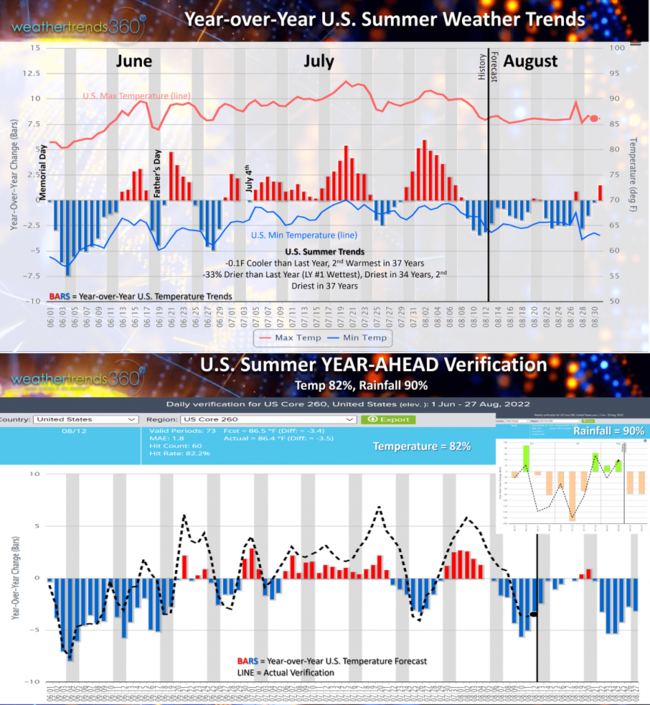 WTI's year-ahead forecast has done well capturing these trends
with year-ahead accuracy on temperatures at 82% and 90% on the rainfall front. Generally cooler/drier for the end of August with the hot shifting to the Northwest, much cooler Central. Overall retail sales generally do better in much colder and much wetter weather, so a slow start for Back2School sales.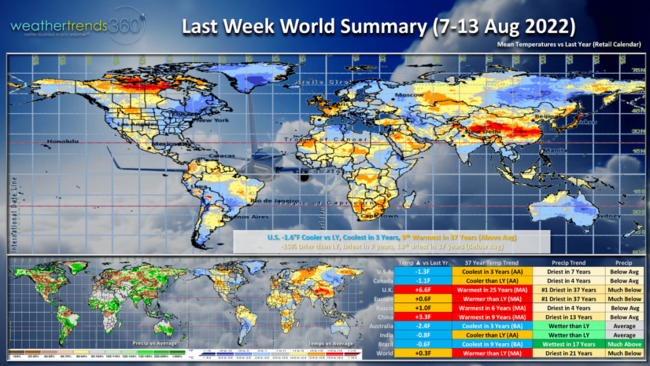 A recap of last week (7-13 August)
shows the U.S. trending -1.3F cooler than last year, coolest in 3 years but 9th warmest of the past 37 years. Rainfall -15% drier than last year, driest in 7 years, 13th driest in 37 years for the U.S. overall. These trends will likely keep consumers in the summer beach mindset, so not an overall favorable trend for store traffic. The U.K. was the hot spot trending hottest in 25 years, Brazil the cool spot, coolest in 9 years.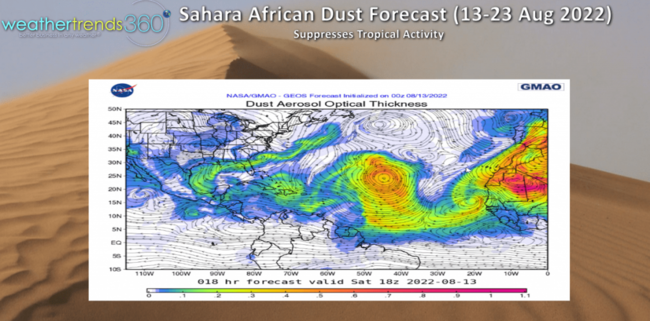 We're entering the
historical peak of the hurricane season,
which is off to a slow start in large part to dust/sand coming off the Sahara Desert of Africa. Dust suppressed activity and it's certainly done that. Forecast animations suggest this dust will tapper a bit, so we'll need to watch for systems to develop near the U.S. over the next two months. Still concerned about TX, FL and the Middle Atlantic.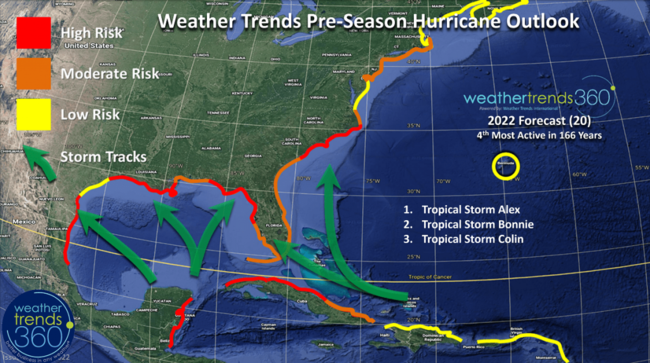 Most forecasts still expect an above average season
, so plenty of time for things to change. The combination of oceanic cycles has historically led to an active core season in the Atlantic basin. One interesting development other the than the cold La Nina cycle largely responsible for the U.S. drought, is "The Blob" of warmer waters in the North Pacific. The last time this emerged (2013-2015) we had a couple cold snowy winters in the U.S.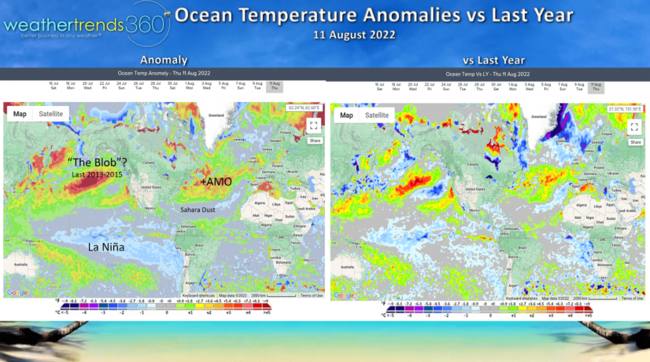 This week (14-20 Aug)
much cooler trends in the Central and East while the scorching heat shifts to the Northwest. The U.S. overall trends -1.1F cooler than last year, coolest in 4 years and 17th warmest of the past 37 years. Very dry conditions continue with rainfall down -74% from last year's #2 wettest in decades for a wholesale change to the #1 driest in 37 years this year. Cool/wet is historically a more favorable trend for Back2School sales and the wet certainly helped last year.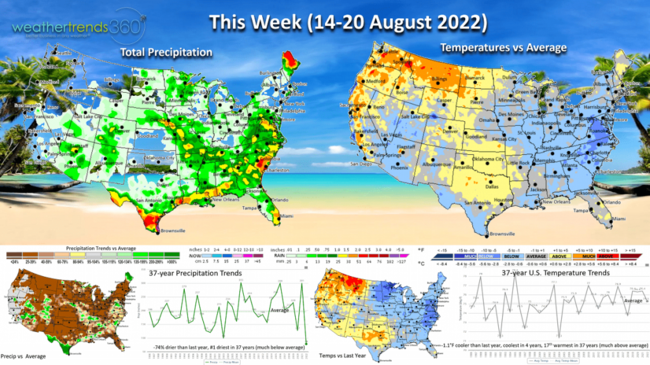 Next week (21-27 Aug)
shows very hot conditions in the Northwest while the Central U.S. remains both much cooler than last year and cooler than average for this time of year - welcome relief for sure! Rainfall is still very sparse trending #1 driest in 37 years for the U.S. overall. These trends will likely have consumers flocking to the beach, lake, pool and backyard picnics as opposed to retail stores.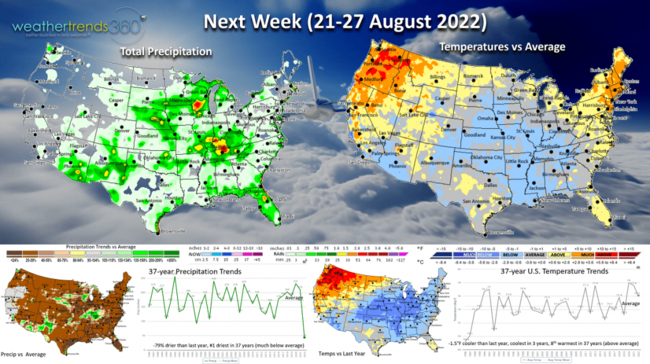 The 2-week World outlook (14-27 Aug)
shows Canada warm, the Western U.S. hot, hot in Eastern Europe, SW Russia and Southern half of China. Still cool in Australia and Brazil as their Winter is about to end.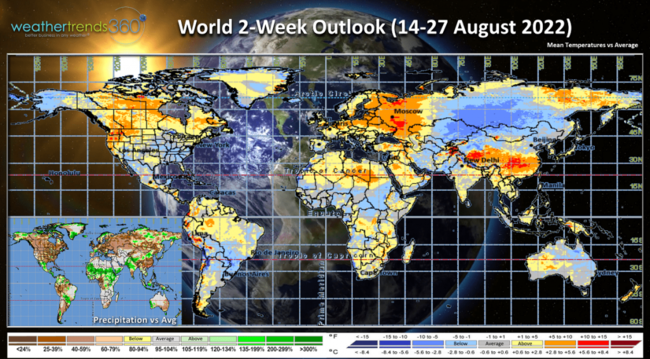 Took the
Mrs. Captain Kirk (Simona) to the beach last week for her birthday
with a few surprises. More sailing, their new favorite thing to do, but as an Air Force guy couldn't just do Navy like activities. ;) So, got Captain Bob to fly one of his advertising banner planes with a special birthday above Ocean City, Maryland! I was voted Hubby of the Year, so I guess advertising in the right weather at the right time works! :)
Happy Birthday to Mrs. Captain Kirk.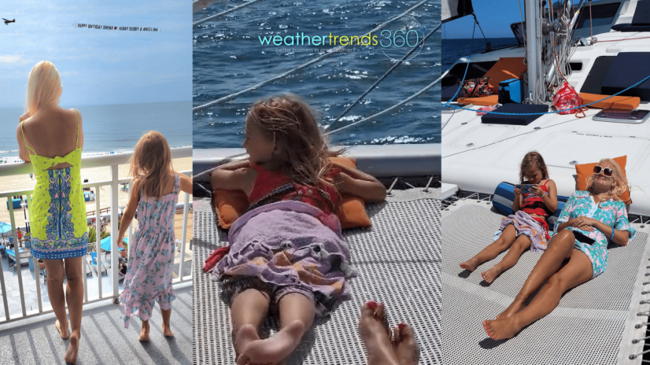 We hope you have a great week, and don't forget to follow us on social media for updates:
Facebook
,
Twitter
,
YouTube
,
Pinterest
and
Linkedin
.
- Captain Kirk out.