Happy Saturday! :)


A recap of last week (9-15 October) around the World
shows the U.S. again trending colder than last year for the 3rd week in a row. For the Northeast U.S. it's the 5th straight week trending colder than last year, a big plus for Fall seasonal merchandise sales.
CLICK ON IMAGES FOR A LARGER VIEW.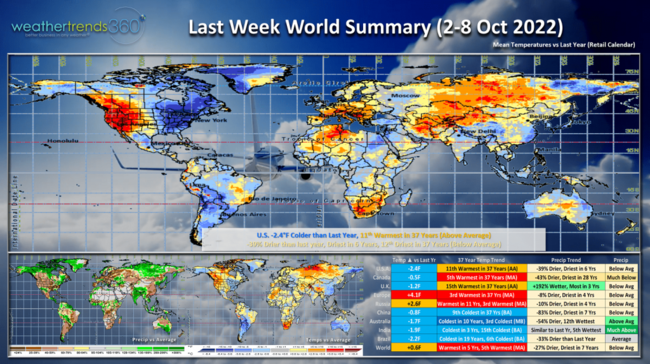 The U.S. trended -2.4F colder than last year but still 11th warmest of the past 37 years. Again, a tale of two halves with the Eastern U.S. below average, Western U.S. much above average. Rainfall was down -39% from last year, driest in 6 years and 12th driest in 37 years. 16 of the past 20 weeks have trended drier than last year and 15 of 20 below average nationally with the driest Summer-early Fall in 10 years. The cooler trends are a big plus for early Fall seasonal merchandise sales helping to move previously building inventories. Europe was 3rd warmest in 37 years while Australia continues their cold trends, 3rd coldest in 37 years to start their Spring.
Snow cover as of 15 October
, yes we're finally uttering that 4-letter word, shows less than 2% of the country with snow on the ground compared to 10% last year when the Rocky Mountains got off to a fast start.
With the prolonged colder trends in the East, it's not surprising that
Flu is off to a fast start
trending above last year and above baseline. With the Eastern half of the country trending the coldest in 10 years since school started, this is one major catalyst for the fast start. As we turn on our heat a lot of things happen like lowering humidity levels in our house that prolong virus viability.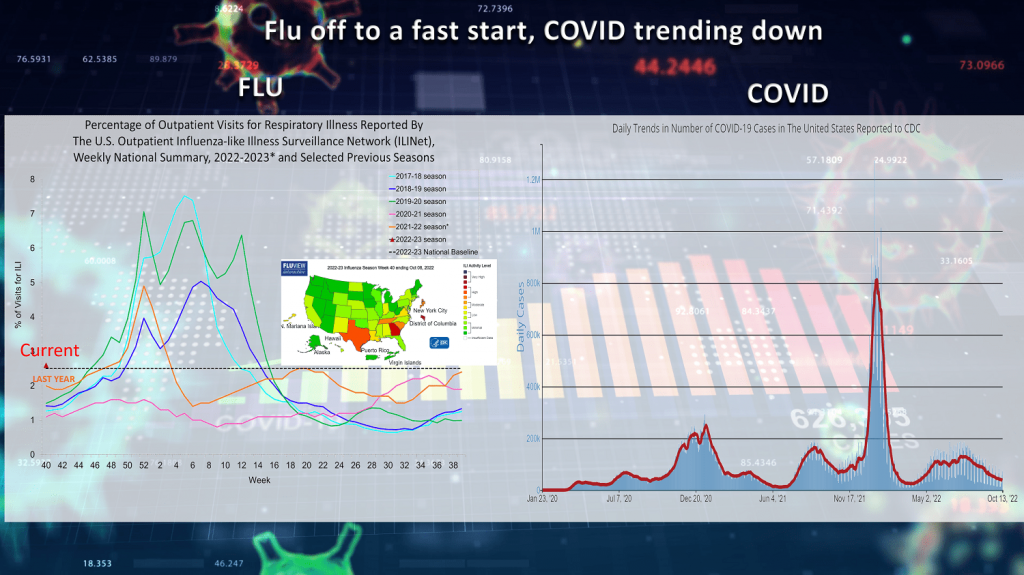 Colder weather keeps more of us indoors with more interaction allowing viruses to spread more quickly. Vitamin D from the sun begins to plummet. Viruses can survive on outdoor cold surface (gas pump, grocery cart, doorknobs, etc.) much longer than when it's hot and humid. Tis the season. Australia had a cold Winter and bad Type A flu season, as the U.S. did last Winter around Christmas with a big spike, we'll see if this is another fast start but quick end.
COVID trends continue to decline.
Last year the Omicron variant was beginning to become rampant in the Fall, right now there doesn't appear to be a variant that contagious, so any luck we'll spare the holiday shopping season that had to content with a huge nation surge in cases last year.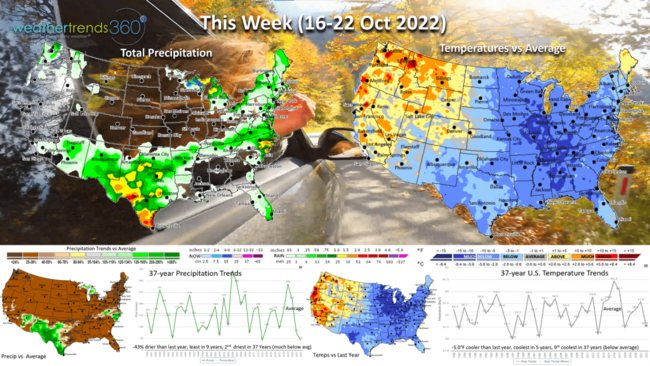 This week (16-22 Oct)
shows the same general theme of cold East, warm West with expansion of the cold into the Central U.S. The U.S. overall trends 5F colder than last year, coldest in 5 years and 9th coldest of the past 37 years with below average national temperatures. This will continue to favor strong sales for seasonal items. Rainfall remains light, 45% less than last year, least in 9 years and 2nd least in 37 years. The few wet spots are in the Southwest and Middle Atlantic.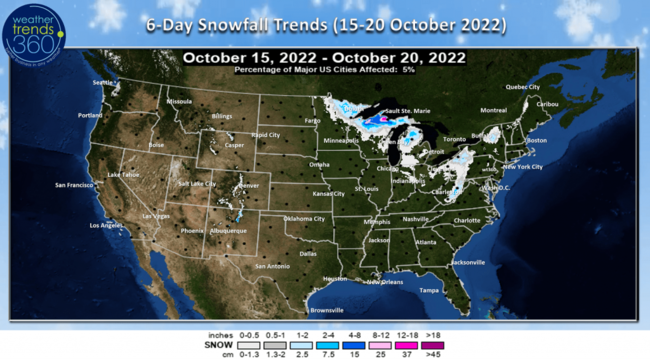 Lake effect snowfall looks to make an early appearance in the Great Lakes
early this week. Snowfall has been sparse in the West with the much warmer temperatures than last year, which has the national snowfall index down 83% vs last year, 86% below average, least in 8 years and 3rd least in 37 years.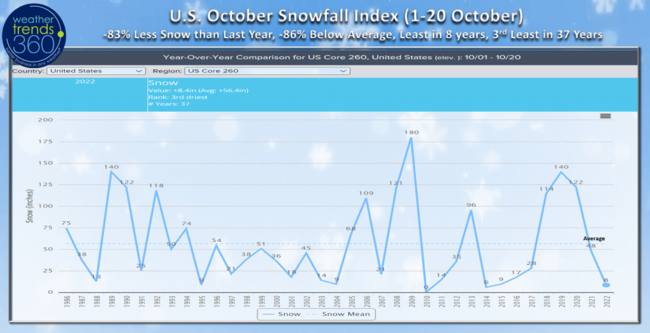 Next week (23-29 Oct)
a noticeable moderating trend in the West with some cooler weather. The cooler trends out West should finally spur some uptick in early Fall seasonal sales. The U.S. overall trends 2.5F cooler than last year with near average national temperatures. Widespread rainfall remains absent with 97% of the country dry.
Typical 3rd year La Niña, -PDO, +AMO weather cycle. These 3 climate cycle phases have only teamed up twice in the past 157 years (2000-2001 and 1950-1951) so a very unusual pattern for sure.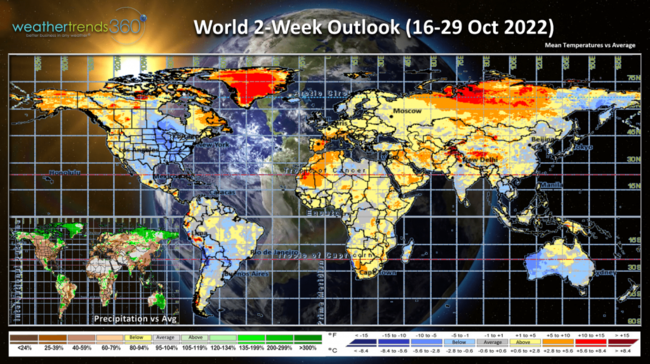 The World 2-week outlook (16-29 Oct)
shows the cool trends for the Central and Eastern U.S. and Canada, with some moderation of the warmth in Western North America. Much of Europe turning warmer which will slow sales for seasonal items.
We hope you have a great week, and don't forget to follow us on social media for frequent updates:
Facebook
,
Twitter
,
YouTube
,
Pinterest
and
Linkedin
.
- Captain Kirk out