16 Sep '23: Happy Saturday! :)


We're excited to be at
Grocery Shop 2023
in Vegas this week 19-21 September with our new partner
SEEK Insights
. Look for us in Booth #A 142 as we launch a couple new revolutionary products for seasonal storm product sales forecasting...it's a big-time game changer for retailers and category managers. Tools that show you exactly how much lift you'll get in storm merchandise sales with a hurricane threat - timely we know with all the tropical threats! :)
CLICK ON IMAGES FOR A LARGER VIEW.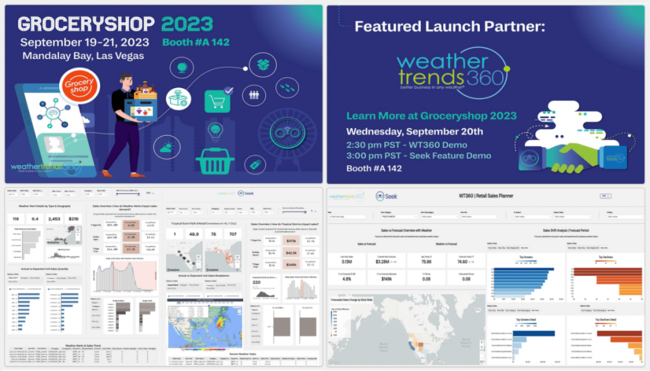 A recap of Last week (10-16 Sep) across the World
shows the U.S. trending -0.1F cooler than last year, coolest in 3 years but still 12th warmest of the past 38 years. The heart of the cooler weather was in the Central U.S. and Great Lakes. Rainfall was up +19% over last year and 19th driest of the past 38 years (near average). This was a very slight positive for early Fall merchandise sales. With the emerging strong El Niño, the World tends to heat up and that was certainly the case in Canada #1 warmest in 38 years. This time of year colder and wetter trends are more favorable for Fall seasonal merchandise sales.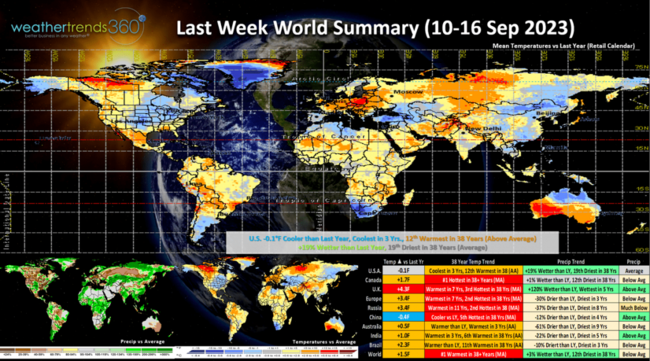 Only added 9 tornadoes last week (1,309 YTD) b
ut that still has the U.S. trending the most in 4 years, +24% above last year and +11% above average. This is a negative for property insurance firms, but a minor positive for Home Center sales.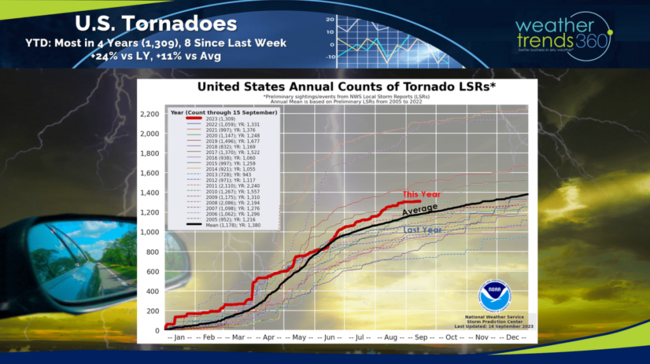 El Niño continues to strengthen
and likely peak by late Fall and then a gradual weakening trend into 2024. There's a lot of sub-surface cold water in the Pacific Ocean that will likely bubble to the surface in early 2024. This rapid pattern shift will create a lot of volatile weather across the World over the next year.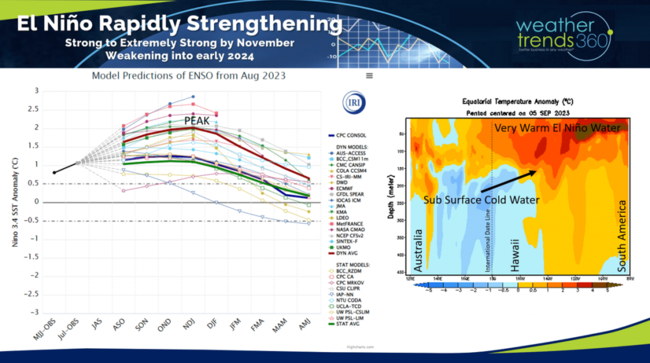 Now Post Tropical Cyclone Lee
will make landfall between East Port Maine and St. John's Canada. St. John's has a population of 71,000 so certainly some impact due to storm surge and flooding in the area. Lee still has 80mph sustained winds with gusts to 97 mph so a strong Nor'easter like storm only accompanied by a larger storm surge of 6-10+ feet with 15-30 foot waves on top of that.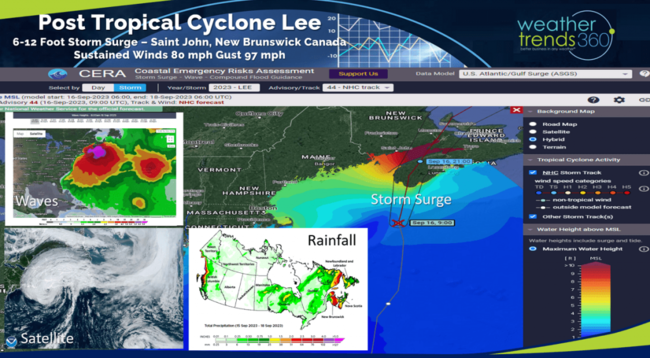 The 2023 Atlantic basin has been the most active of the entire World,
a little unusual with El Nino, but expected by Weather Trends. There have been 14 Tropical Storm level systems (9 would be average at this point in the season), 5 of which became hurricanes and 3 have reached major hurricane status.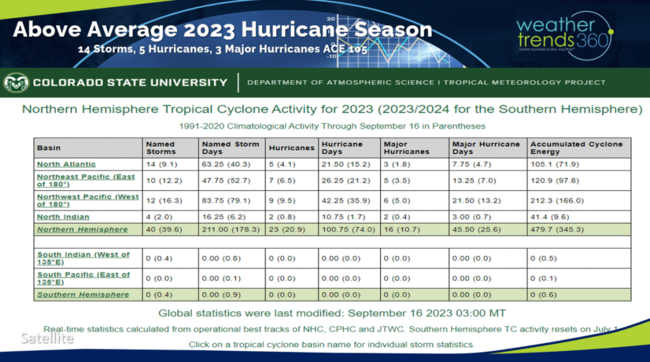 Ironically the Pacific is usually more active in emerging El Nino years, but only 10 named storms so far (12 is average).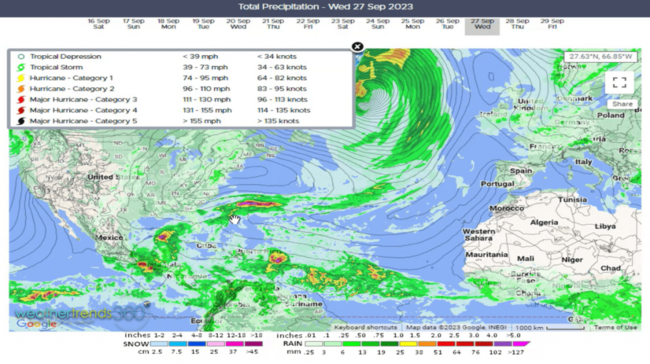 And we're not done yet as
models are hinting at a threat for the Southeast U.S. in late September
as the systems coming off Africa remain abundant.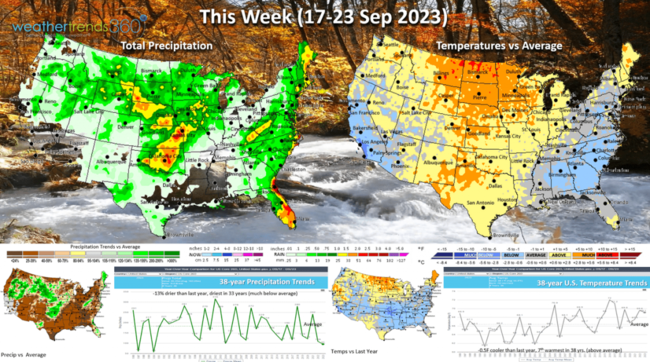 This week (17-23 Sep)
shows another slightly cooler week with the U.S. trending -0.5F cooler than a year ago, mainly in the Southeast. Still 7th warmest of the past 38 years nationally, so not a huge lift in seasonal merchandise. Rainfall down -13% vs last year and driest in 33 years. Wet weather this time of year is always better for seasonal item sales. Much needed rain in the Central U.S., but this will complicate farmers starting the Fall harvest.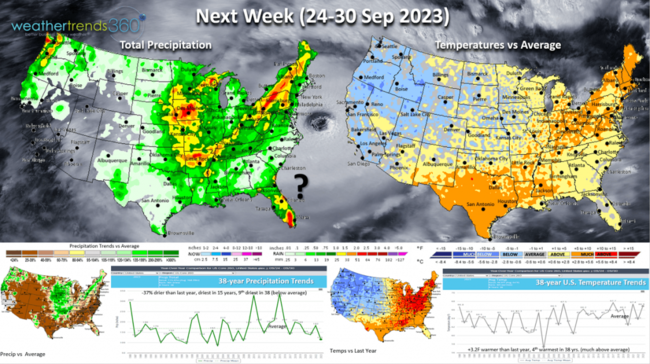 Next week (24-30 Sep)
Despite Fall officially arriving at 2:50am EDT on the 23rd, we're back to a warmer trend with the U.S. trending +3.2F warmer than last year and 4th warmest of the past 38 years. The Northwest is the most improved region for early Fall sales while the Northeast is very unfavorable with much warmer weather. Rainfall -37% drier than last year, driest in 15 years and 9th driest of the past 38 years for the nation overall. Again, negative trends for seasonal merchandise. Watch the Southeast U.S. and Gulf of Mexico for a potential hurricane to develop.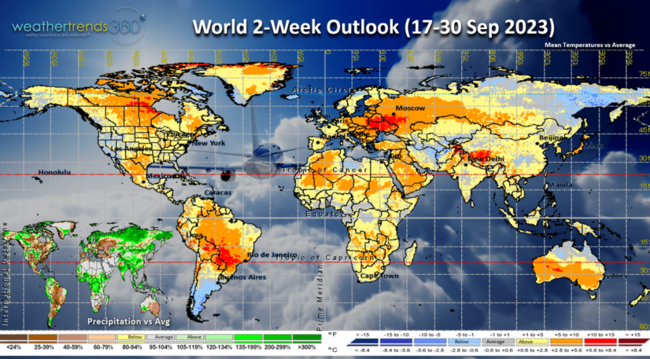 The 2-week World outlook (17-30 Sept)
for the back half of September continues to show an overall warm pattern in the U.S., Canada and Europe, a bigger negative for Fall merchandise with inventories likely to increase.
We hope you have a great week and don't forget to follow us on social media for frequent updates:
Facebook
,
Twitter
,
YouTube
,
Pinterest
and
Linkedin
.
- Captain Kirk out (U.S. Gulf War Veteran 1989-1999)