17 July 2022
Happy Sunday! :)
A recap of last week (10-16 July) around the World
shows the U.S. trending +0.9F warmer than last year, 10th warmest of the past 37 years with above average national temperatures.
CLICK ON IMAGES FOR A LARGER VIEW.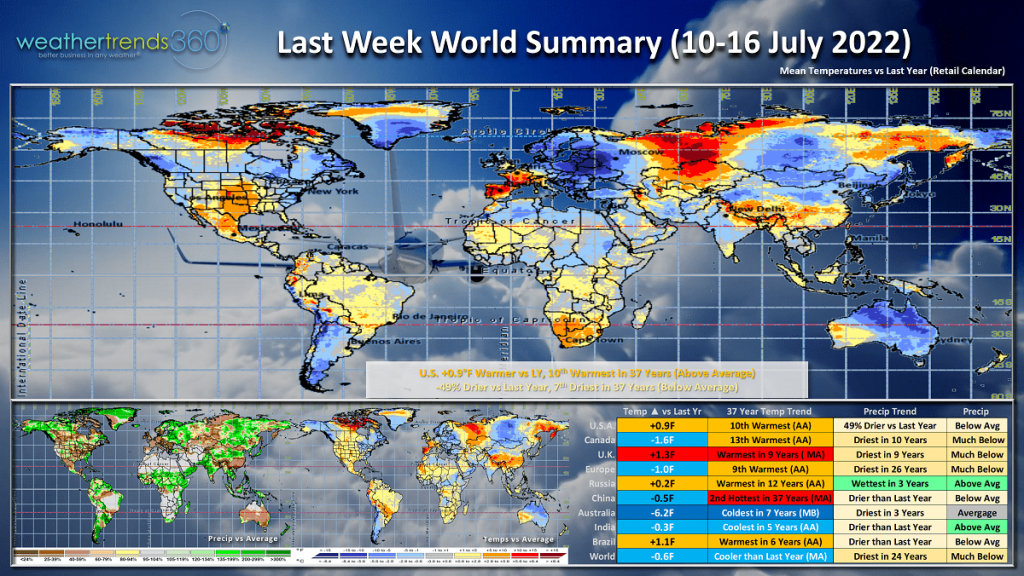 Rainfall was -49% less than last year, 7th driest of the past 37 years with below average national precipitation. These are favorable trends for the MUST HAVE hot Summer seasonal categories like auto batteries (fail in high heat), sun care, cold beverages, vegetables, pool chemicals and water toys, AC and fans. Not so good for overall store traffic as consumers enjoy outdoor activities at the beach, lake or back yard BBQ.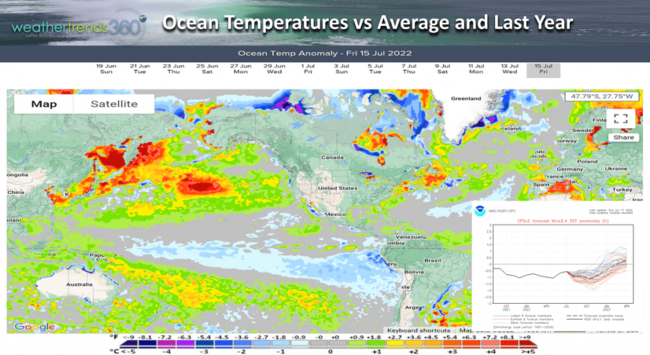 One major contributing factor to the hot/dry Summer is
La Niña
(cooler than average ocean temperatures in the equatorial Pacific) which continues to hang on for 2 years now. Models are probably overdone on intensity, but likely to continue into Fall before a major transition toward El Niño starts to develop in early 2023. WTI expects a moderate to strong El Niño for late 2023 into 2024 which will bring very wet conditions to the Americas and developing drought for Asia - China.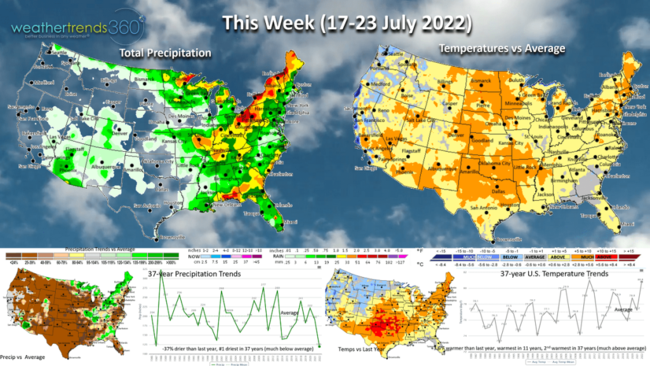 This week (17-23 July)
shows expanding heat and dryness in the U.S. with national temperatures trending +3.6F warmer than last year, warmest in 11 years and 2nd warmest of the past 37 years with much above average national temperatures. Again very favorable for the must have hot seasonal categories, but at the expense of over retail store traffic. Drought is becoming extreme and expanding quickly in the South Central U.S.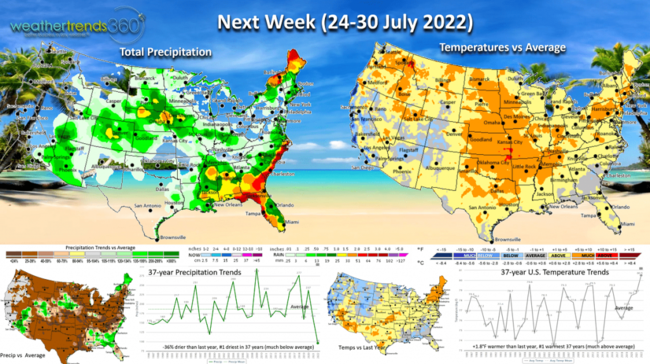 Next week (24-30 July)
hard to believe we're already talking about the end of July, but the Dog Days of Summer get even hotter. +1.8F warmer than last year for the U.S. overall making it the #1 hottest end to July in over 37 years! Rainfall also the #1 driest in over 37 years, so drought will continue to expand across the South and Central U.S.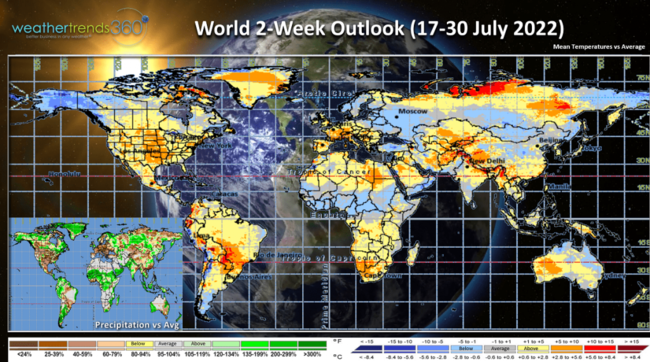 The 2-week World Outlook (17-30 July)
for the latter half of July shows the U.S. baking as is Europe. Also very warm in Brazil for their Winter season.
It won't be too hard to have great weather over the next couple weeks if you're on vacation, but we have some tools to help you plan a YEAR-AHEAD to find your ideal vacation weather. The wt360 vacation planner allows you to input your ideal temperatures and sky conditions for any location in the World and then provides the best, 2nd best and earliest dates for your desired weather. Visit
www.weathertrends360.com/Planner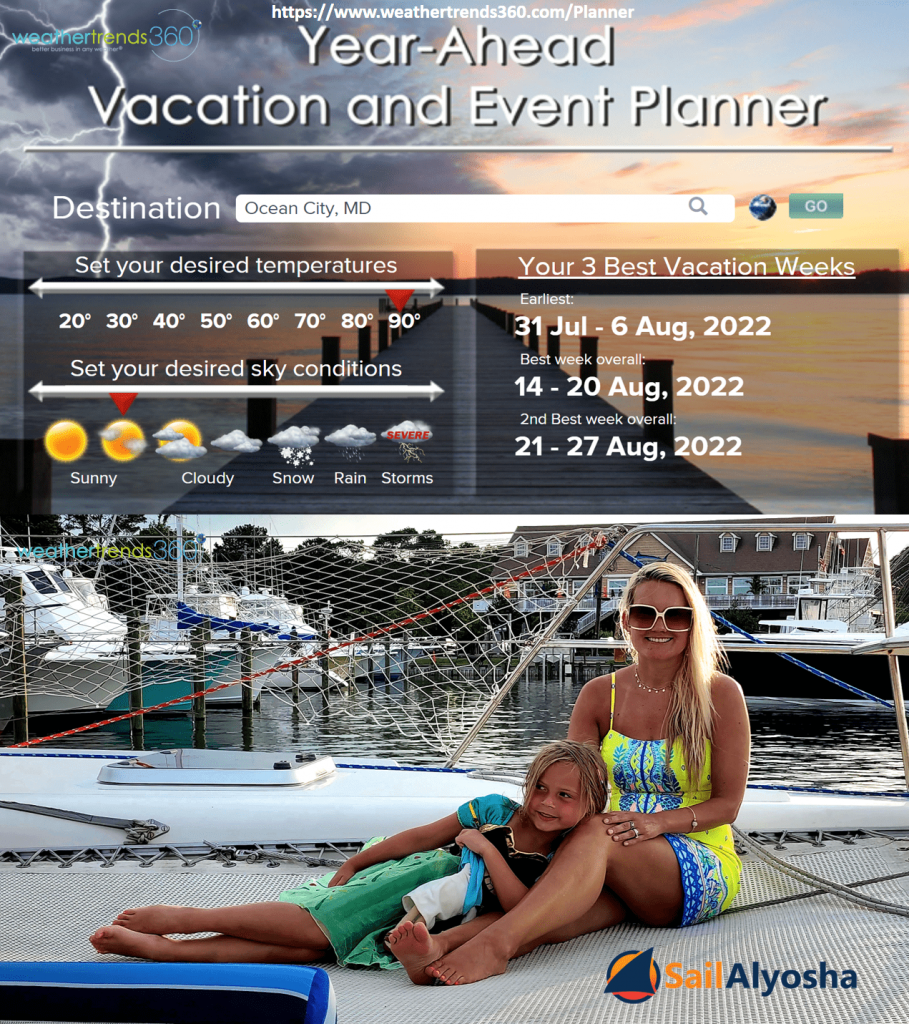 Captain Kirk is batting 900 over the past few years with family vacations, so it's worth putting trillions of statistics and 24 climate cycles to the test when planning your next vacation up to a year ahead! Our latest vacation was in Ocean City, Maryland and some great sailing on Sail Alyosha - see video for some of our journey, we didn't go around the World, but the boat has.
We hope you have a great week, and don't forget to follow us on social media for frequent updates:
Facebook
,
Twitter
,
YouTube
,
Pinterest
and
Linkedin
.
- Captain Kirk out.