Happy Saturday! :)


After some cool nights here in the Northeast (first 40s) a warming trend before another major cool down next weekend thanks to soon to be Hurricane Fiona.
CLICK ON IMAGES FOR A LARGER VIEW.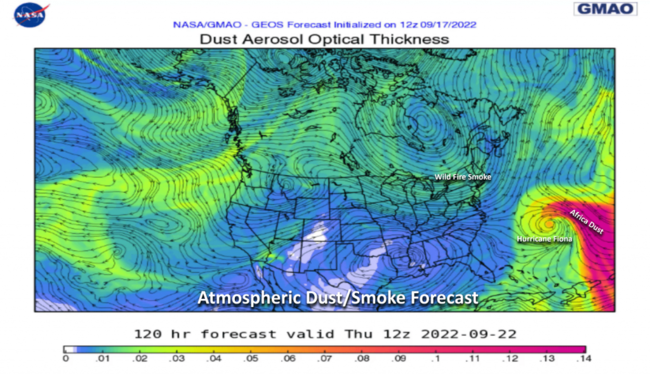 The milky skies in the Northeast
this weekend was from the wildfire smoke in the Northwest taking a ride on the Jet Stream. The NASA 7-day smoke/haze forecast animation shows dust from Africa will get caught up in soon to be CAT 2 Hurricane Fiona that SHOULD remain off the East Coast, some risk to Bermuda.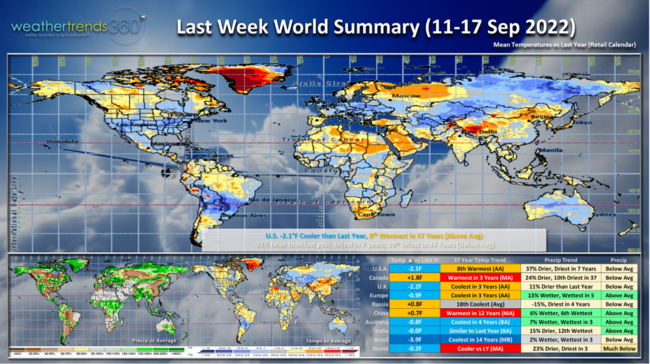 Last Week (11-17 Sep) around the World
shows the U.S. trending -2.1F cooler than last year, but still 8th warmest of the past 37 years. This time of year cooler and wetter year-over-year weather conditions are more favorable for Fall seasonal merchandise sales. National rainfall was 27% drier than last year, least in 7 years and 10th least in 37 years. These are classic La Niña conditions that bring drought to much of the Americas and Europe.
The U.K. and Europe were the coolest in 3 years, some benefit to seasonal category sales.
Australia and Brazil's last week of Winter down under was on the cold side trending coldest in 4 and 14 years respectively. The cold Winter trends in part can be explained by the sulfuric acid particles pumped high in the southern hemisphere circulation from the Tonga eruption last December. We'll see if some of this sun blocking aerosol gets wrapped up into the Northern Hemisphere circulation to bring us a cold Winter as well.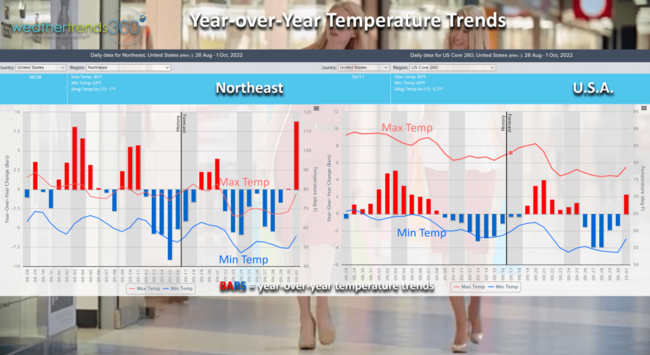 The year-over-year temperature trends since late August show the Northeast having their first good surge of colder trends this past week
, now a brief warm up before another shot of colder air invades this coming weekend. The coming weekend (24-25 Sep) should be very favorable for early Fall sales in the Northeast quarter of the country (see chart upper left). The U.S. overall shows warmer YOY trends, but a cool down for the last week of September.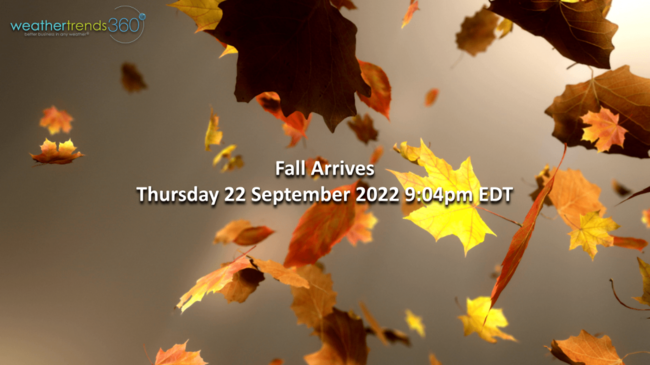 Fall officially arrives this Thursday at 9:04pm EDT.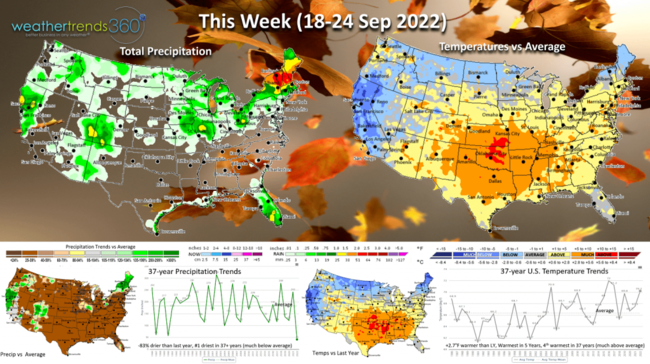 This Week (18-24 Sep)
shows the U.S. overall trending +2.7F warmer than last year, warmest in 5 years and 4th warmest in 37 years with very warm conditions in the Central U.S. The cool spots are the Northeast, Northern tier and West Coast. Rainfall remains very sparse, trending #1 driest in over 37 years. Some rain for California should help the fire situation a bit.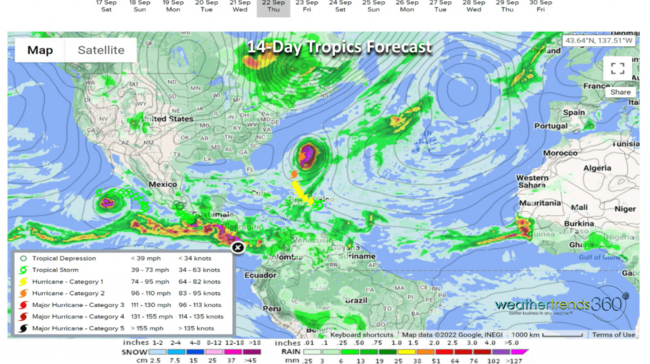 The 14-day tropics forecast shows Tropical Storm #7 Fiona
likely to become a hurricane as it passes near Western Puerto Rico and then most likely a right turn north sparing the U.S. East Coast. Bermuda may not be so lucky this time next weekend with Fiona expected to become a Cat 2 hurricane this week. Some dust from Africa looks to get wrapped up into Fiona hopefully keeping it from becoming a major hurricane. Another wave off Africa and a stormy West Caribbean bear watching for development.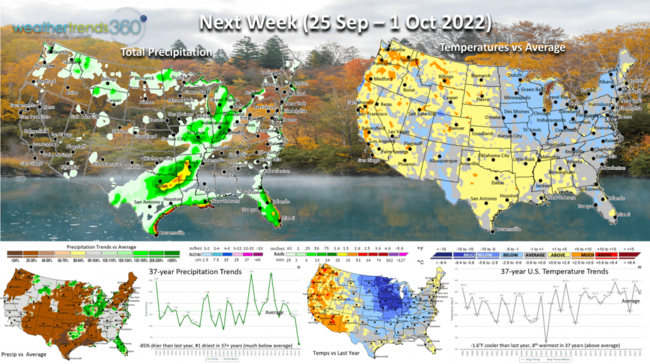 Next Week (25 Sep - 1 Oct)
shows that when a hurricane goes up, something comes down and that's likely to be pretty cold shot of air for the Great Lakes and Northeast next weekend into early October. This should be a very favorable period for stronger seasonal category sales. The heat will shift out of the Central U.S. back into the West. Still dry overall for most of the country, but a tropical threat could certainly flare up.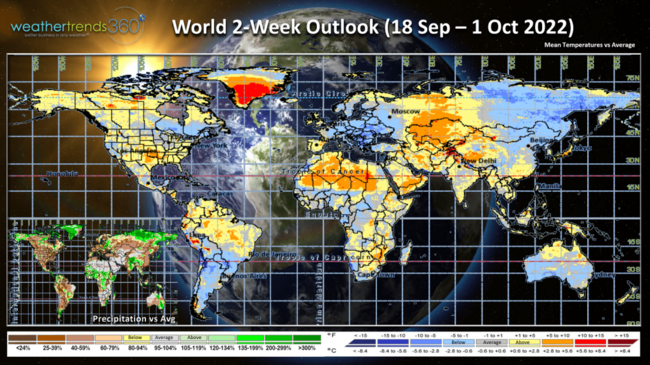 The 2-week World outlook (18 Sep - 1 Oct)
shows favorable conditions in Europe for Fall seasonal sales as well as the Northeast U.S. and Eastern Canada.
We hope you have a great week, and don't forget to follow us on social media for frequent updates:
Facebook
,
Twitter
,
YouTube
,
Pinterest
and
Linkedin
.
- Captain Kirk out.