18 March 2023
Happy Saturday! :)
What a difference a year makes! Saint Patrick's Day weekend last year was the warmest in 10 years, 4th warmest on record...this year the coldest in over 40 years with coast to coast below average temperatures with devastating freezes in the South.
CLICK ON IMAGES FOR A LARGER VIEW.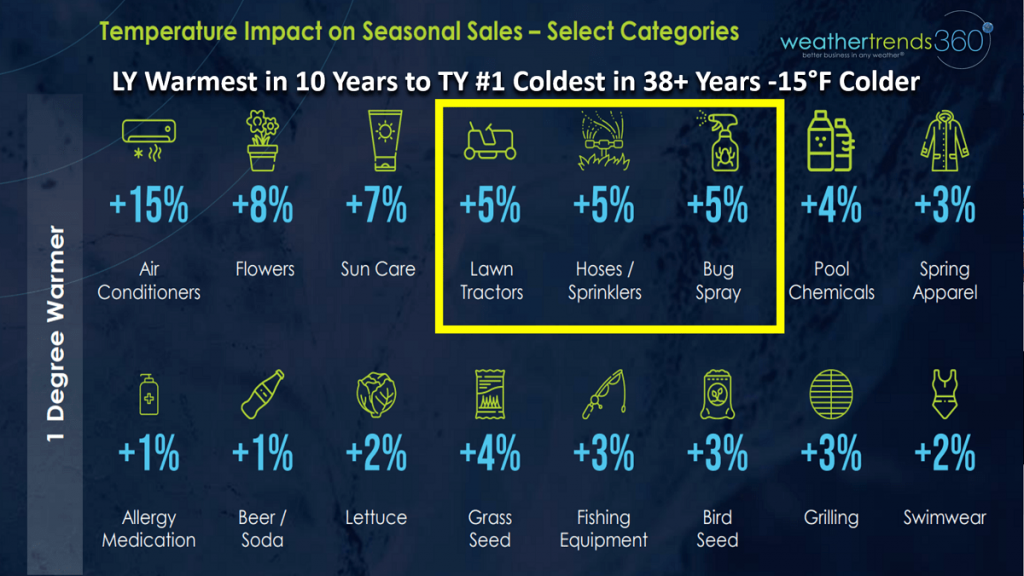 The Power of 1 Degree suggests there will be HUGE SALES DECLINES
this weekend for Spring seasonal merchandise sales with temperatures -15F colder than last year. Items like fertilizer could be down as much as -75%, spring apparel -45% and cold beverages -30% while coffee sales up as much as +30%.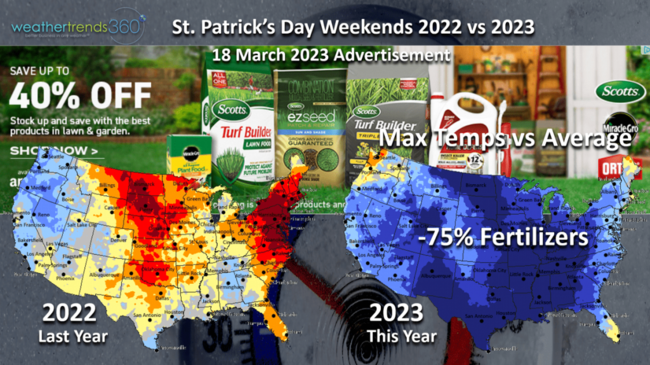 One way to trump the extreme weather is to give consumers an incentive to buy when they're not inclined to need the product yet.
This can help offset the huge decline in sales, but it can't trump the weather.
With vegetation off to a near record early start
in many areas from Texas to Maryland, the weekend severe freezes will be devastating for crops, fruit trees and consumers back yard gardens and flowers. Frost and Freezes all the way to the Gulf Coast - this will bring huge losses to Southeast fruit trees.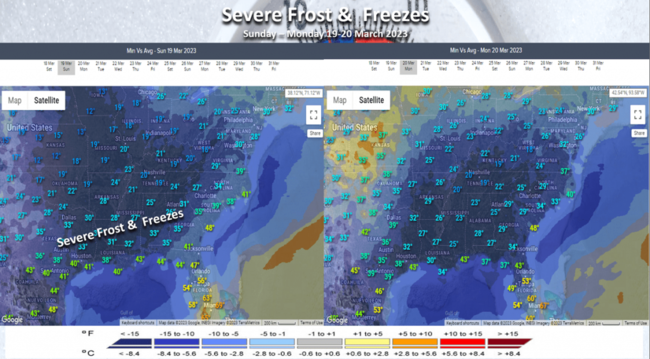 While the calendar will flip to
Spring on Monday 20 March at 5:24pm EDT
, the weather is not entirely cooperating, but certainly some improvement over this extremely unfavorable weekend.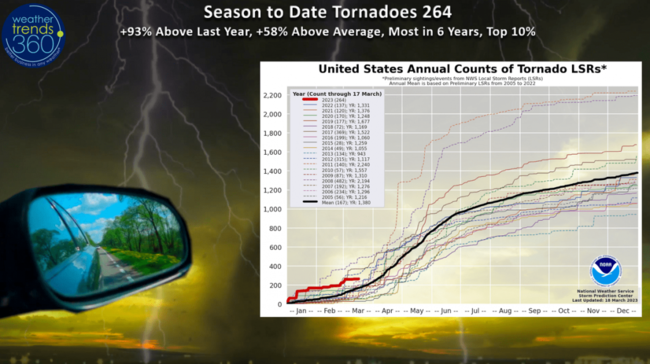 One thing that's still way up is tornadoes with 264 year to date across the U.S., up +93% over last year,
+58% above average, the most in 6 years and in the top 10% off history. This trend will unfortunately continue this Spring with a devastating season in the making.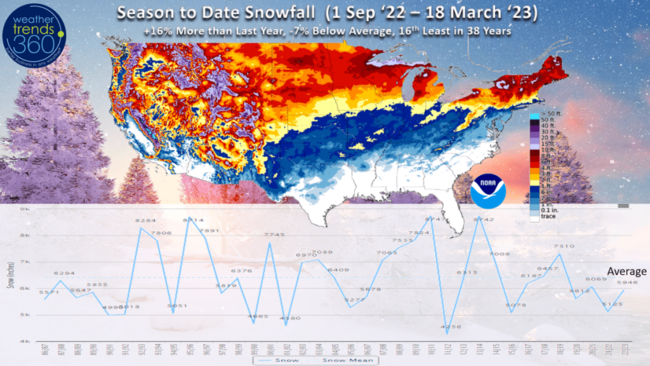 With the New England Nor'easter snowstorm, national seasonal to date snowfall has ticked up a bit with +16% more than last year,
still -7% below average and 16th least of the past 38 years. This snowier year on year trend likely to continue into early April potentially putting this season the snowiest in 4 years, but still below average. Next year will be extremely snowy...all we have to say about that for now.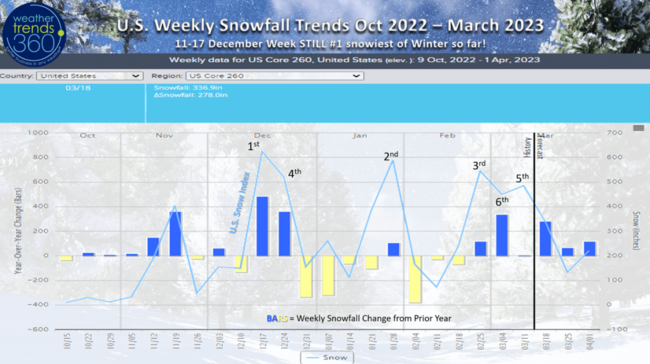 Week by week snowfall trends show middle December still hanging onto the #1 snowiest week of Winter.
The #2 spot was weekending 28 January, #3 weekending 25 February. Appears we're ending the season with 6 straight snowier weeks than last year.
The 6-day snowfall outlook still shows a fair amount of snow with +188% more than last year,
-10% below average, most in 3 years and 19th most of the past 38 years with 35% of the U.S. impacted.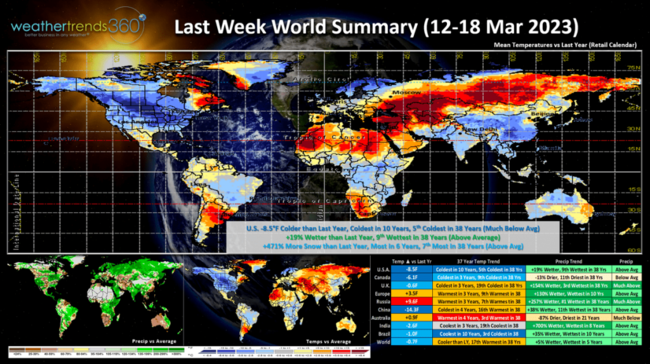 Last week (12-18 March) across the World
shows the very unfavorable weather trends for Spring seasonal merchandise sales with the U.S. overall trending -8.5F colder than last year, coldest in 10 years, 5th coldest in 38 years with nearly nationwide cold. Rainfall was +19% wetter than last year and 9th wettest of the past 38 years. Snowfall was way up +471% more than last year, most in 6 years and 7th most of the past 38 years. These are very unfavorable trends for retail store traffic and Spring seasonal merchandise. Canada was also the coldest in 3 years while the UK warmed up, warmest in 3 years. Finally very warm for folks in Australia - 3rd warmest in 38 years as their Summer comes to an end.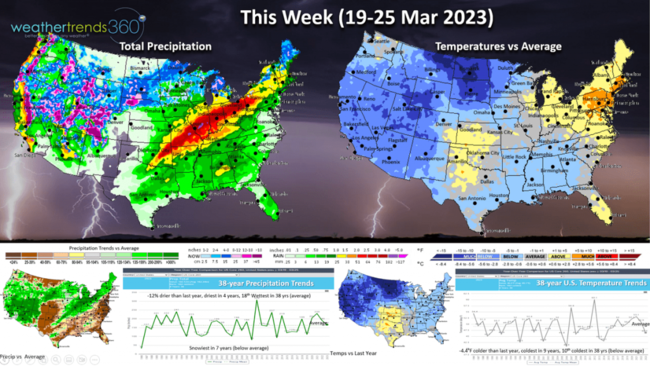 This week (19-25 March)
shows some improvement as the extreme cold lifts out, but still very unfavorable with the U.S. trending -4.4F colder than last year, coldest in 9 years and 10th coldest of the past 38 years. Rainfall down -12% vs last year, driest in 4 years but still 18th wettest of the past 38 years. Snowfall still up, the most 7 years. The risk for severe thunderstorms will continue from the Southern Plains to the Ohio Valley.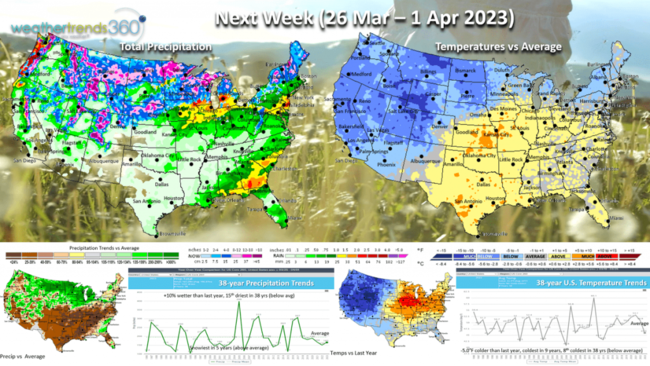 Next week (26 Mar - 1 Apr)
hard to believe we're already saying April but the week still trends -5F colder than last year, coldest in 9 years and 8th coldest of the past 38 years despite a warming trend across the South. Rainfall up +10% over last year but still 15th driest of the past 38 years. Snowfall likely to be the most in 5 years across the Northern third of the U.S. Overall a not so favorable week for Spring sales. Allergy and Asthma suffering will up tick a bit in the warmer/drier areas from Texas to Western Virginia.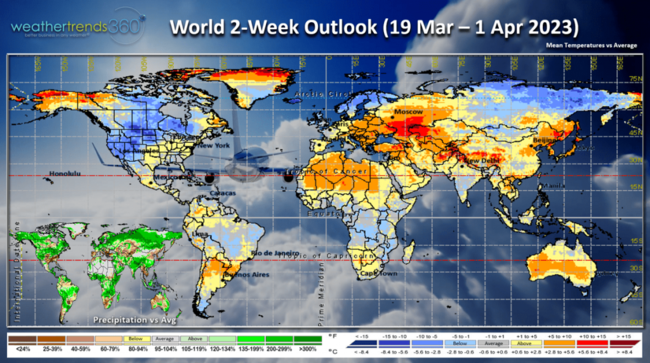 The World 2-week outlook (19 March - 1 Apr)
shows colder weather entrenched in the Western half of the U.S., most of Canada and much of Siberia.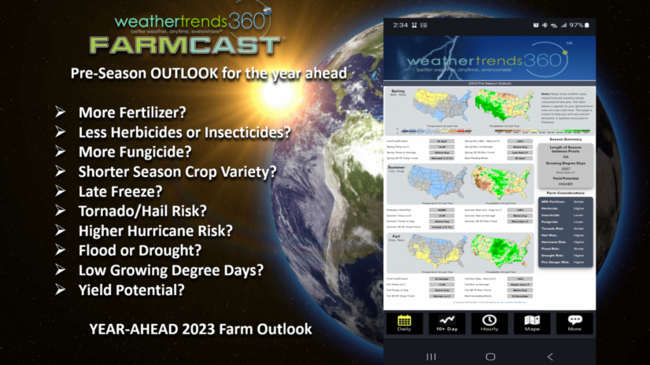 For farming interests, we've made some big improvements to our low cost FarmCast solution that provides today, next 2 weeks and YEAR-AHEAD planning information on the season ahead. FarmCast available across every mile on Earth,
see video for more information.
Have a great SPRING week ahead, and don't forget to follow us on social media for frequent updates:
Facebook
,
Twitter
,
YouTube
,
Pinterest
and
Linkedin
.
- Captain Kirk out.