19 Aug '23:
Happy Saturday! :)
We have a few hundred new subscribers on YouTube and quite a few new B2B clients, so a brief summary of
how wt360 helps make YEAR-AHEAD planning a lot less uncertain.
CLICK ON IMAGES FOR A LARGER VIEW.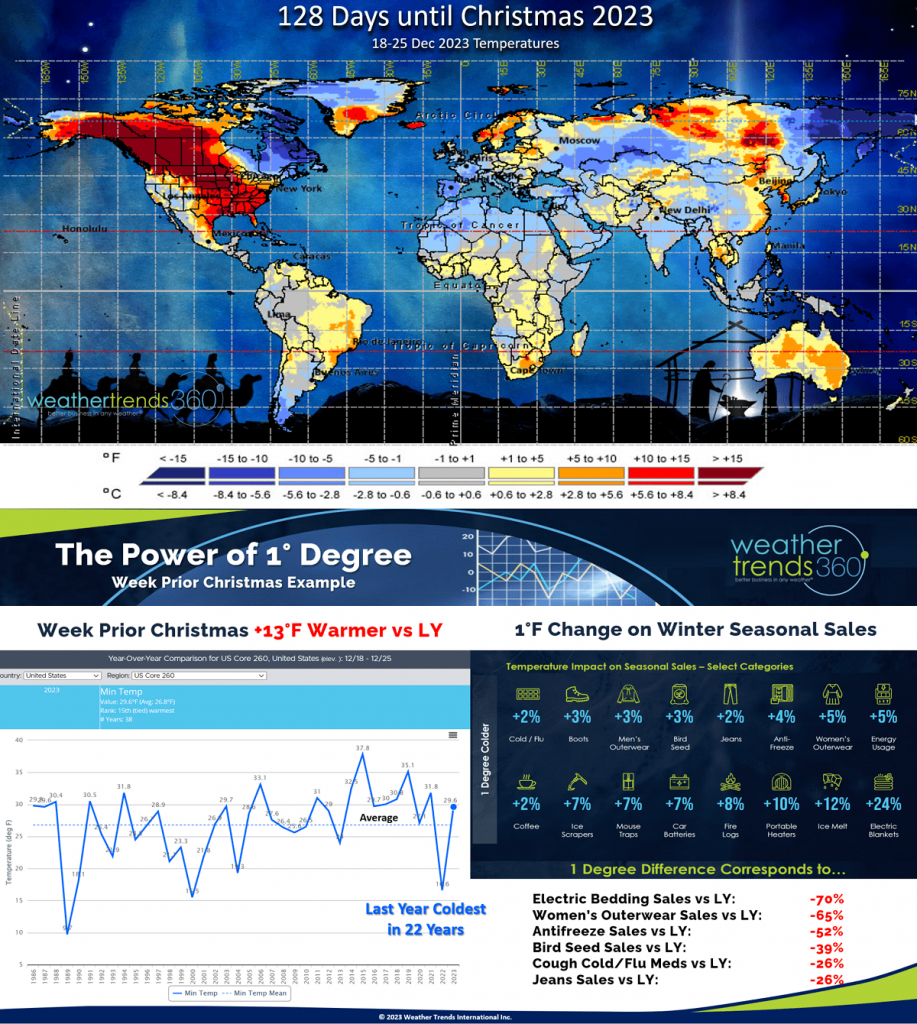 Looking at the
7 days before Christmas 2023,
we see a wholesale change from the near historic cold last year that sent seasonal category sales surging to near all-time highs. Not this year...at least not the period around Christmas. wt360 projects national temperatures to trend +13F warmer than last year; combining this with our Power of 1F technology on thousands of seasonal category sales shows some big negative sales numbers. Every 1F colder is a plus for Winter seasonal items but the downside is equally large. Every 1F warmer results in a -2% DECREASE in Jean sales, coffee sales and cold/flu medications. Women's outerwear moves 5% lower for every 1F warmer, so the negative sales trends are mid double-digit declines during this critical Christmas week.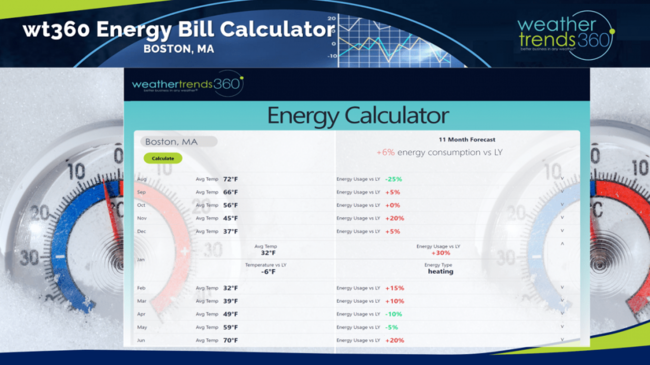 But, overall this is a much colder late Fall into early Spring which will
drive up both consumer heating bills and large retailer's store energy budgets
. wt360's year-ahead energy consumption calculator shows a lot more heating demand for the Eastern half of the country with January particularly brutal for both consumers and retailers budgets. Now would be a good time to lock in lower rates.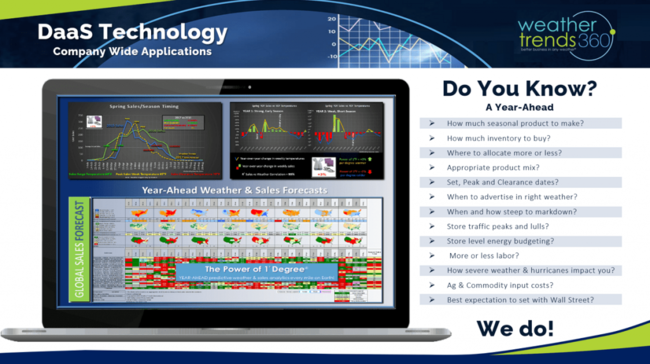 The outputs of our
global year-ahead technology
doesn't look like your TV weather forecast as it's designed to help answer all the headaches facing big retailers, seasonal suppliers, financial services and other weather sensitive companies. We call it PROACTIVE not REACTIVE planning.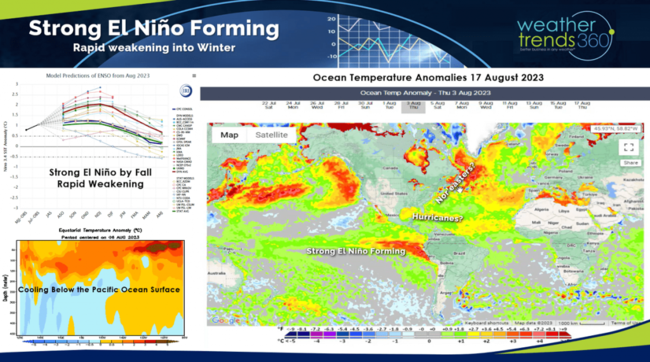 The update on
El Niño shows a rapidly intensifying and warming equatorial Pacific Ocean
that will have a major impact on altering the global weather patterns over the year ahead. But just as quickly as this strong El Nino develops it will likely be weakening this Winter into 2024 with much cooler sub-surface Pacific Ocean temperatures already developing. This will make for a very challenging 2023-2024 for many weather sensitive businesses as the global weather will be dramatically different than the past few years.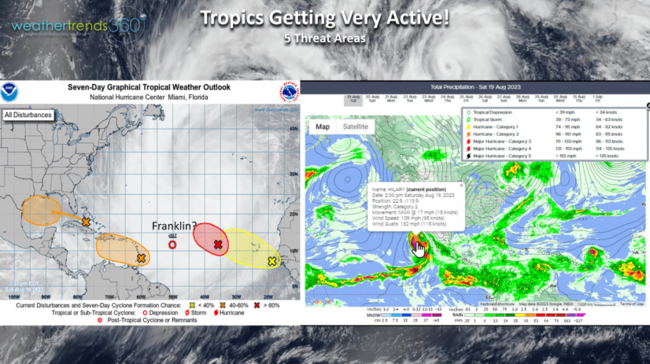 El Nino's development, the
Atlantic basin is very much alive with tropical threat areas
with no signs of inhibiting upper-level wind shear. The next two months are likely to be very active with high risk for a major landfalling hurricane or two in the Southeast. The Eastern Pacific is also coming to life after a slow start with once CAT 4 Hurricane Hillary heading for Southern California as a much weaker Tropical Storm. Flooding is still a real threat for the Southwest Deserts.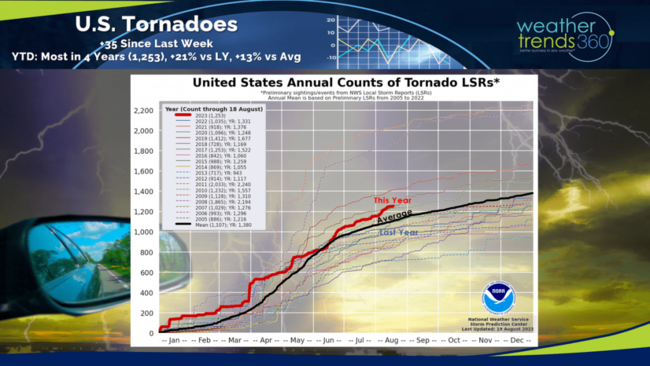 Tornadoes continue their fast pace
trending +21% more than last year, +13% above average and the most in 4 years. This is a net minor positive for home center focused retailers.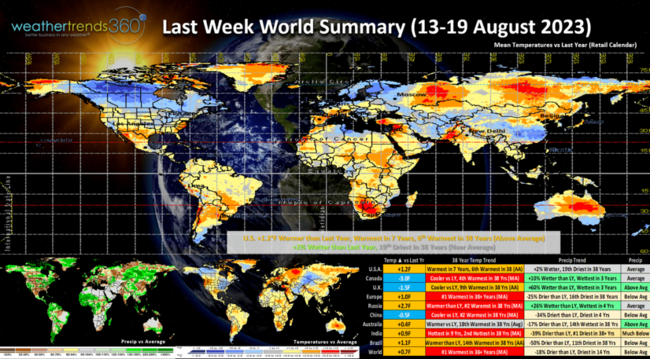 Last week (13-19 Aug) across the World
shows the U.S. trending +1.2F warmer than last year, warmest in 7 years and 6th warmest of the past 38 years for the U.S. overall. The Midwest and Northeast were the cooler spots while the West and particularly Northwest baked. Rainfall was +2% wetter than last year and 19th driest of the past 38 years, near average for the U.S. overall. Europe baked with the #1 hottest conditions in over 38 years, China and India were #2 hot and Canada #4 hottest despite trending cooler than last year.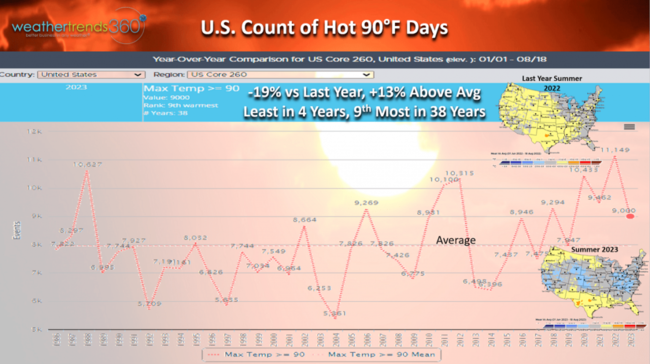 But in the U.S.,
hot 90F days year-to-date are actually DOWN -19% vs last year and least in 4 years
which in part explains the weak demand for AC, suncare and other hot weather categories for the U.S. overall and especially the Northeast U.S. The coolest June in 19 years was a big negative leading to excess inventory for seasonal categories. Heat helping now to clear out excess inventory but at a steeper markdown.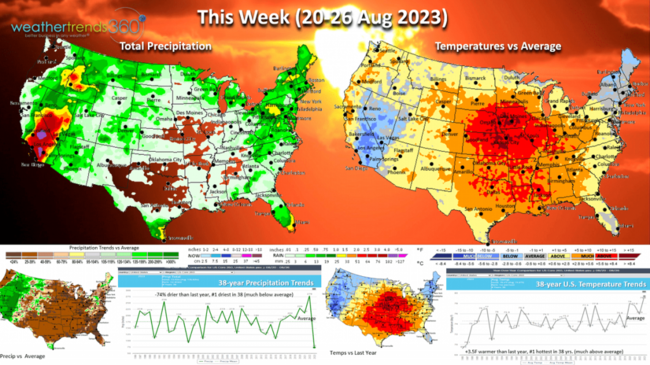 This week (20-26 Aug)
we'll make up SOME ground with a much hotter and drier pattern for the U.S. overall. National temperatures look to trend +3.5F warmer than last year making this the #1 hottest late August period in over 38 years. The really hot spot is in the Central U.S. while the Southwest and Northeast are the cooler spots. Rainfall down -74% vs last year and also the #1 driest in 38 years. Don't tell that to folks in California and Nevada where flash flooding is possible as the remnants of Hurricane Hillary move in Sunday into early next week.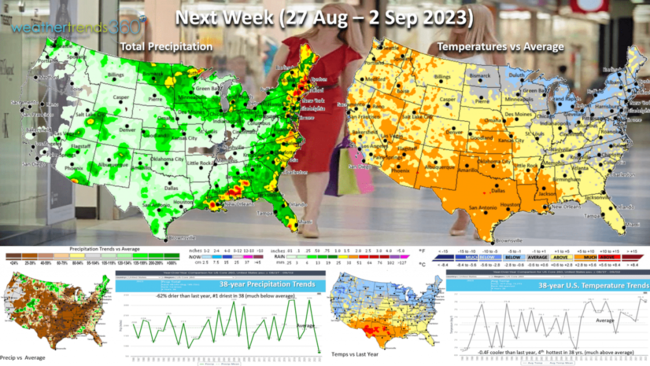 Next week (27 Aug - 2 Sep)
not much change with the U.S. trending -0.4F cooler than last year, but still 4th hottest of the past 38 years nationally. The cooler spots remain the Great Lakes and Northeast while the heat shifts back to the South-Central U.S. Rainfall again down -62% vs last year and #1 driest. These are not good trends for back2school early Fall apparel sales.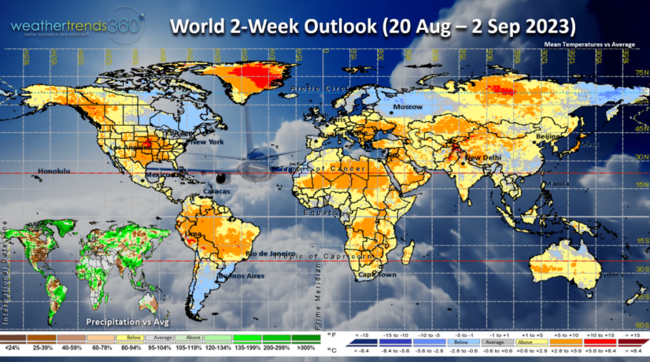 The 2-week World outlook (20 Aug - 2 Sep)
shows a somewhat typical WARM cycle with an emerging strong El Nino. The coolest spots are Eastern Canada, the U.S. Northeast and Western Russia.
We hope you have a great week, and don't forget to follow us on social media for frequent updates:
Facebook
,
Twitter
,
YouTube
,
Pinterest
and
Linkedin
.
- Captain Kirk out