Happy Sunday! :)


A recap of
last week (12-18 Dec) across the World
shows the U.S. trending a whopping 9.2F warmer than last year, warmest in 15 years and 2nd warmest of the past 36 years for the U.S. overall. Rainfall down 43% vs last year, least in 4 years and 7th least in 36 years. Snowfall also down 72%, least in 3 years and 8th least in 36 years despite the high elevation snows in the western mountains.
CLICK ON IMAGES FOR A LARGER VIEW.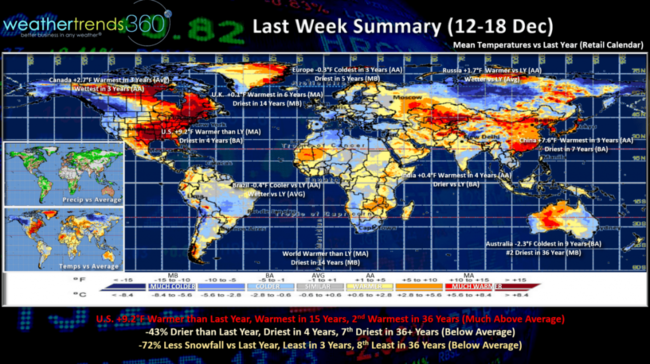 The warmer spots compared to last year were up in Canada, U.K., Russia, China and India. Cooler spots Europe, Australia and Brazil.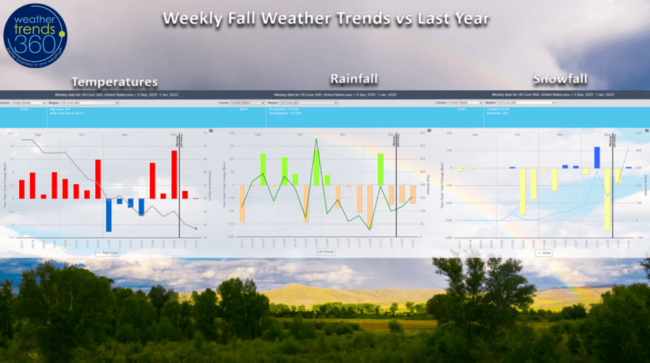 The Fall year-over-year weekly trends across the U.S.
show the much warmer early Fall, colder November and warmer December. Generally a dry national pattern since November with the West Coast being the exception. A couple snowier weeks in November and early December but generally much less snowfall than last year to date. That might be about to change for late December into January.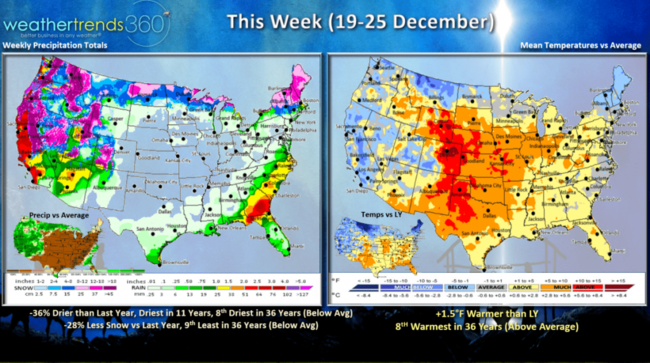 This Week (19-25 Dec)
shows the U.S. overall trending 1.5F warmer than last year and 8th warmest of the past 36 years. The colder spots compared to last year are in the Northeast, West and Northern Rocky Mountains. Rainfall down 36% vs last year, driest in 11 years and 8th least in 36 years. Snowfall 28% less than a year ago, 9th least in 36 years but continued very snowy in the higher elevations of the West. The milder/drier trends are great for retail store traffic and gift sales at the expense of cold seasonal merchandise.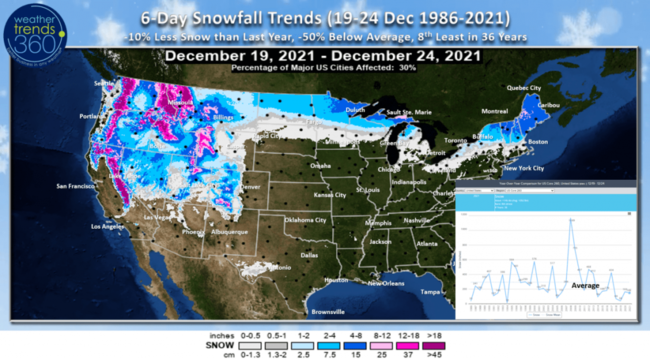 The 6-day snowfall outlooks
shows the heavier snow in the Western mountains, northern tier of the U.S. and New England.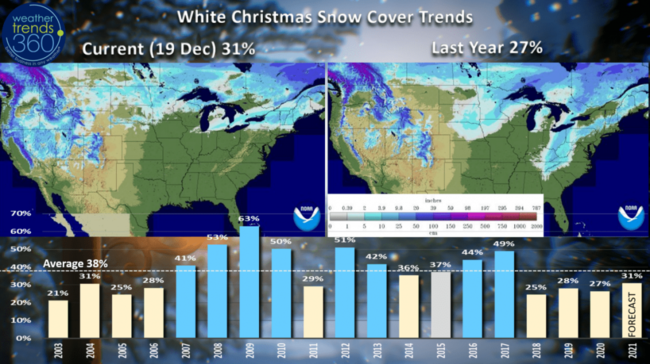 If you're dreaming of a
white Christmas, only about 31% of us are likely to have that.
But, that's up over the past few years and most in 4 years despite trending below the average of 38%. The big snowy Christmas was back in 2009 when 63% of the country had some snow on the ground. The least snowy was 2003 when only 21% of us had some snow.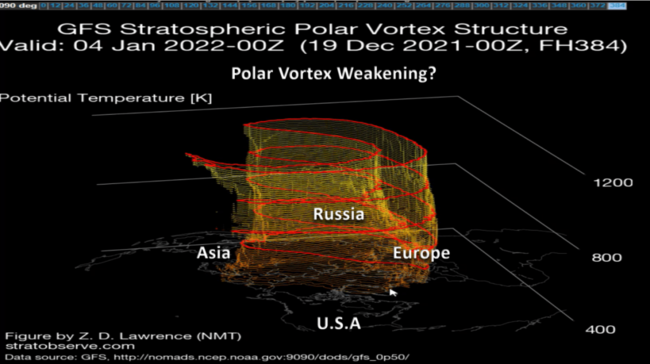 If you like Winter and snow than you need to watch the
Polar Vortex which appears to be making a change.
Lately it's been very strong and symmetrical keeping the Arctic air bottled up at the North Pole. But, the forecast shows it weakening and elongating which allows the cold to start moving! Signs of that colder weather invading the U.S. next week.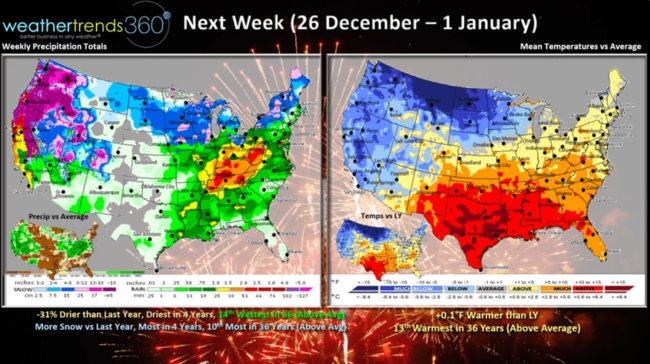 Next Week (26 Dec - 1 Jan)
still shows the U.S. trending similar to last year with some of that cold air beginning to invade the U.S. 31% drier than last year, least in 4 years but that's a bit above average. Snowfall also looks to trend up to close out the last week of 2021.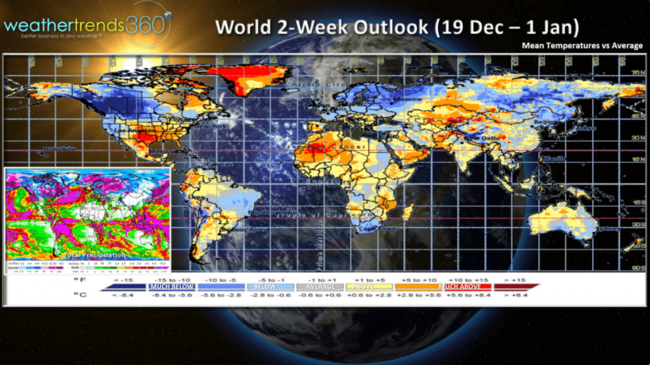 The
2-week World aggregate forecast (19 Dec - 1 Jan)
shows the colder spots are in Canada, NW U.S., Northern Europe, Siberia, NE China, South Africa and Brazil.
We hope you have a wonderful Christmas and happy, healthy start to 2022! Visit us on social media for frequent updates:
Facebook
,
Twitter
,
YouTube
,
Pinterest
and
Linkedin
- Captain Kirk out.