Happy first Saturday in July! :)


It's a hot start to the July 4th holiday weekend, so let's talk about Christmas...in July. Looks COLD in the U.S. and WARM in Europe. That's all we have to say about that for now. Clients knew this 6 months ago and what it specifically means for their sales forecasts, by store, anywhere on Earth...where to allocate or more or less seasonal inventory, when to run advertising campaigns, energy budgets, when to markdown for Better Business in any Weather.
CLICK ON IMAGES FOR A LARGER VIEW.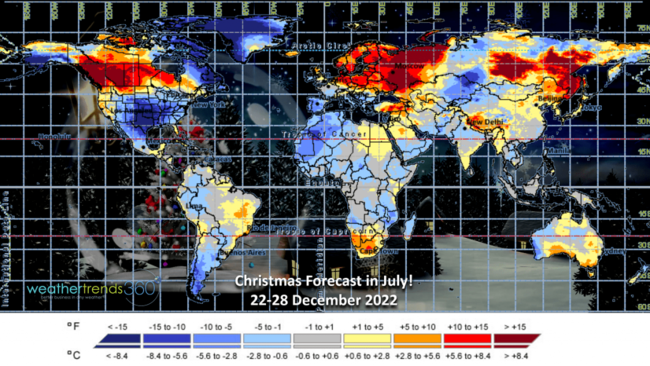 Last Week (26 Jun - 2 Jul) across the world
shows the U.S. trending 1.5F cooler than last year, coolest in 5 years but still 15th warmest of the past 37 years with above average national temperatures. Rainfall was down -51% vs last year, driest in 10 years and 4th driest in 37 years with much below average national rainfall. These are favorable trends for grilling food categories, garden, pool chemicals, but not favorable for hot seasonal categories like AC and beverages. Consumers likely to capitalize on the dry weather and spend more time at the beach, lake, backyard BBQ than in store shopping.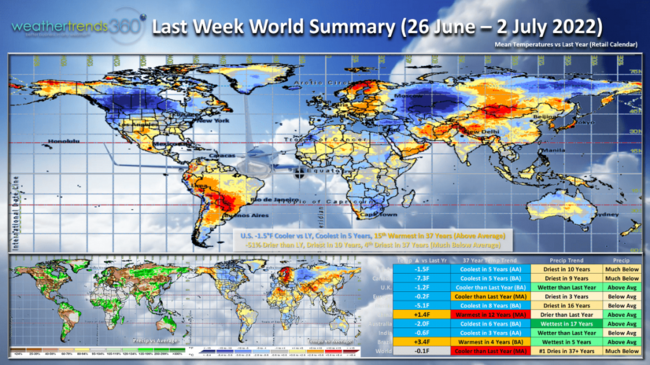 Canada was also the coolest in 5 years with below average national temperatures, an overall dampening effect on hot seasonal categories. China was the winner trending hottest in 12 years with much above average temperatures.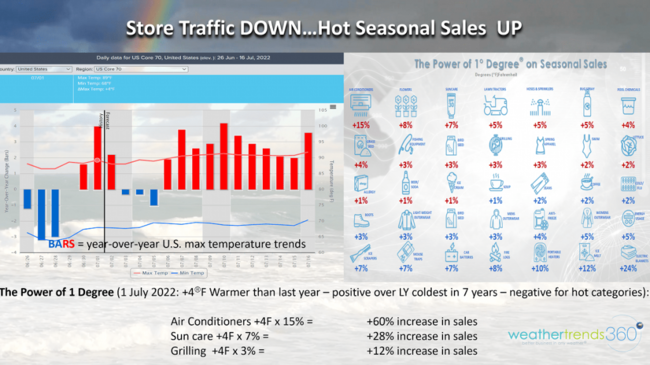 An example of how
Weather Trends quantifies the influence of weather on thousands of seasonal category sales using our Power of 1 Degree technology
shows a good start on 1 July. Last year was the coolest 1 July in 7 years, this year +4F warmer. Applying this to our Power of 1 Degree rules of thumb for hot seasonal categories shows a favorable trends for AC sales +60%, Sun Care +28%, Pool Chemicals +16% and Grilling food categories +12%. Small changes in weather have a significant influence on seasonal merchandise sales. The drier trends were more likely to have consumers outside enjoying the weather as opposed to in store - a negative for overall store traffic.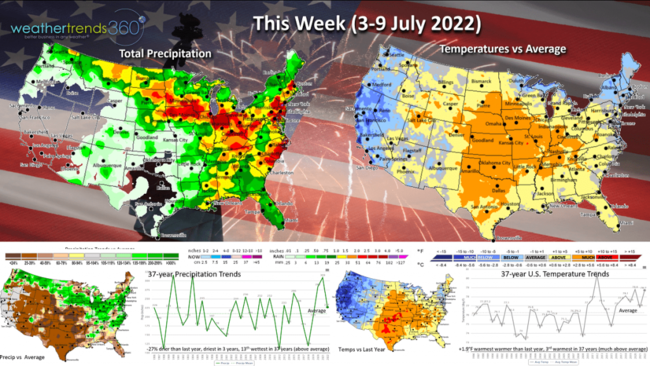 This week (3-9 July)
shows a briefly cooler start to the week but another warming trend into the coming weekend. The week overall trends +1.9F warmer than last year, 3rd warmest in 37 years with much above average national temperatures, especially in the Central U.S. Still cool in the West and Northeast. Rainfall down 27% vs last year, driest in 3 years, but still an overall wet week (13th wettest of the past 37 years) especially from the Northern Plains into the East.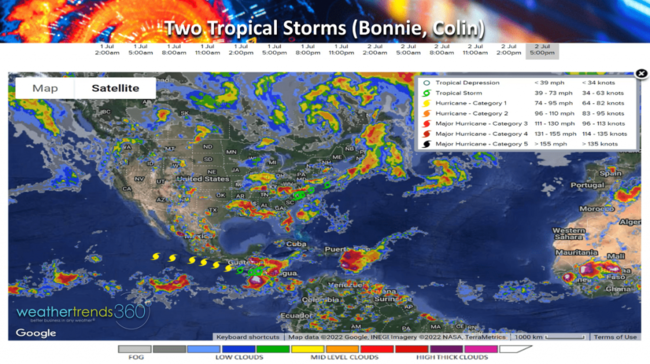 An uptick in tropical activity with two named systems
(T.S. Bonnie heading into the East Pacific after forming in the Caribbean) and T.S. Colin off the Carolina Coast. Bonnie was tracking south of 8 degree latitude for one of the furthers South track on record. Another stronger wave in West Africa looks promising, so the season is starting to pick up. Again, WTI expect 20 named systems for the 4th most active season in 165+ years with high risk for East Coast.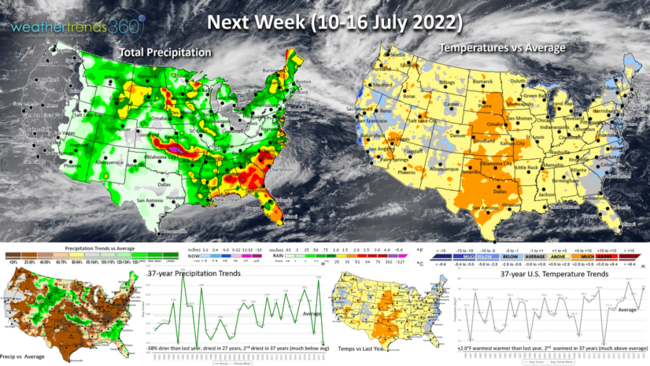 Next week (10-16 July)
more of the same with a warmer/drier pattern continuing benefiting the must have hot Summer categories at the expense of in-store traffic as consumers enjoy the favorable weather for outdoor activities. The U.S. looks to trend +2F warmer than a year ago and 2nd warmest of the past 37 years with much above average national temperatures for all but the immediate East Coast. Rainfall down 58% vs last year and driest in 27 years, 2nd driest in 37 years for the U.S. overall. The Southeast is the stormy spot - need to keep an eye on the tropics.
For the 2-week World outlook (3-16 July)
The U.S. is favorable for hot seasonal merchandise especially in the Central U.S. where drought is expanding in the South Central, but generally improving a bit in the Corn Belt to the North. Very hot in China and cool down under for Australia's Winter.
We hope you have a great Independence Day weekend, and don't forget to follow us on social media for frequent updates:
Facebook
,
Twitter
,
YouTube
,
Pinterest
and
Linkedin
.
- Captain Kirk out.