Happy Saturday. :)


Summer rainfall can be an indicator how bad the last Summer-early Fall Ragweed allergy season will be and how vibrant your Fall leaf color will be.
CLICK ON IMAGES FOR A LARGER VIEW.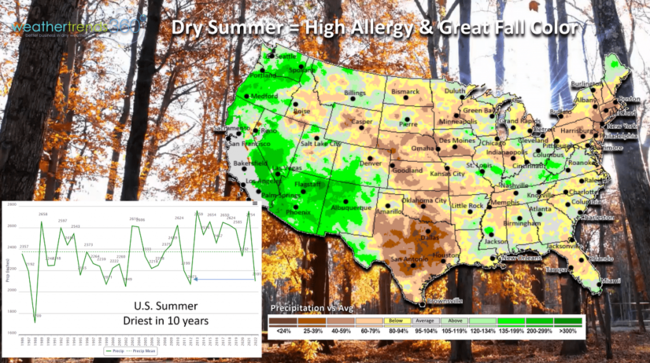 Summer-to-date rainfall in the U.S.
has made a wholesale change from last year when it was near record wet, to the driest in 10 years, down 24% with widespread drought. The hardest hit has certainly been Texas where some good news is on the way this week. The dry areas in the North are certainly making for a bad Ragweed allergy season with pollen being suspended in the air longer. These same areas also have trees in a stressed state which can lead to early Fall color and potentially vibrant color later this Fall.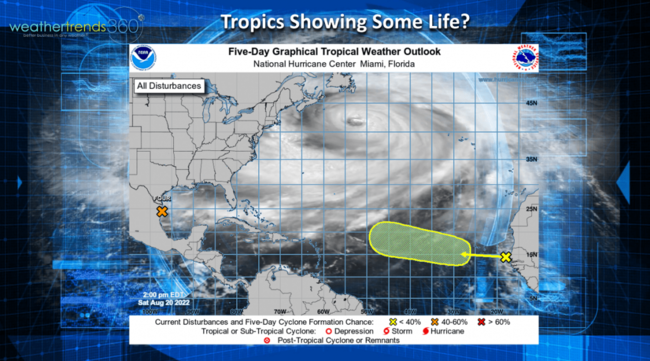 We almost had our 4th named storm
, but the Tropical Depression moved in south of Brownsville TX tonight before getting named. The good news, a lot of beneficial rain will soak Texas as this system stalls over the state. Some flash flooding is possible, but the ground is so dry it has a lot of room to soak up the pending torrent. Another system off Africa might impact Florida by months end, something to watch for now.
Last Week (14-20 Aug) across the World
shows the U.S. trending -1.0F cooler than last year, coolest in 4 years but still 16th warmest of the past 37 years with above average national temperatures. The real hot spot continued to be Pacific Northwest, much cooler East. National rainfall was down -45% from last year, 12th driest in 37 years. Some needed rain in southern and Western TX. This time of year cooler and wetter conditions are more favorable for over retail back2school sales, so the trends are not overly favorable with the dry conditions. It continues to trend cold in Australia and Brazil as their Winter season is about to end.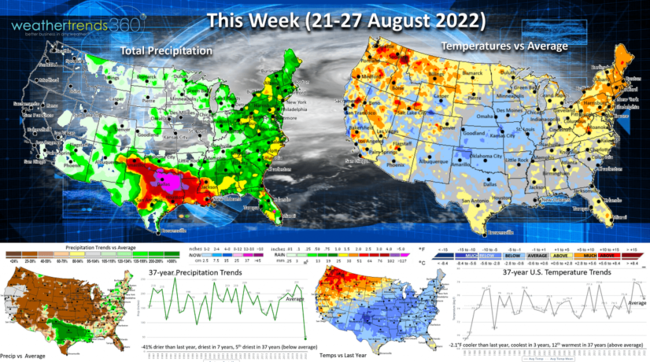 This Week (21-27 Aug) in the U.S.
shows the tropical moisture from the remnants of Tropical Depression #4 bringing beneficial rainfall to drought plagued Texas. The U.S. overall trending -2.1F cooler than last year, coolest in 3 years but still 12th warmest of the past 37 years. Same generally them of hot Northwest, cooler central and moderately hot in the Northeast. Rainfall down -41% vs last year, driest in 7 years, 5th driest in 37 years. Heavy rainfall limited to the South Central U.S. and spotty much needed rain in the Northeast early in the week. Again, these are not very favorable trends for back2school early Fall items.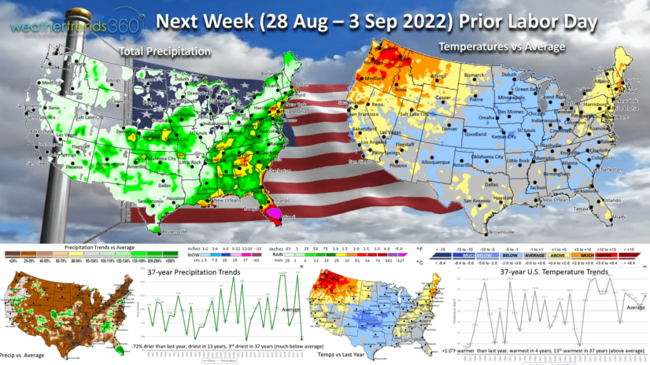 Next week (28 Aug - 3 Sept) is the week before the Labor Day weekend
and the trends remain favorable for the hot summer consumable categories like pool chemicals, lake or beach trip vegetable and fruit categories, cold beverages, sunscreen, stinging insect sprays and allergy medications. These weather trends can also exacerbate suffering for those with Asthma. The U.S. overall trends +1.0F warmer than last year, warmest in 4 years and 13th warmest of the past 37 years. Same general pattern of hot NW, cooler middle and warm East. Need to watch South Florida for a potential tropical threat. U.S. rainfall down -72%, driest in 13 years and 3rd driest in 37 years.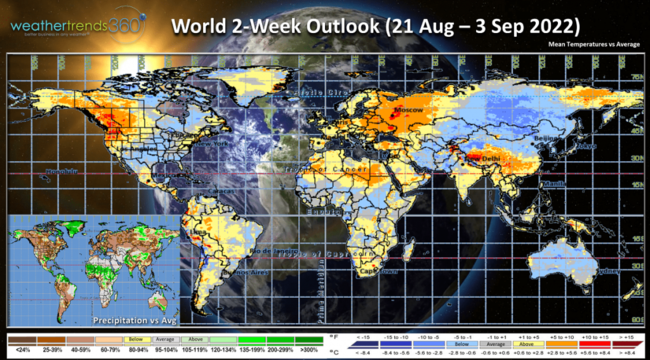 The World 2-week Outlook (21 Aug - 3 Sept)
shows hot conditions for the Northwest U.S., Western Canada, Europe and Southern half of China. Still cool in Australia.
We hope you have a great week ahead, and don't forget to follow us on social media for updates:
Facebook
,
Twitter
,
YouTube
,
Pinterest
and
Linkedin
.
- Captain Kirk out.