20 May '23: Happy Saturday! :)


Added another 24 tornadoes last week which has the season on the fastest pace in 6 years.
Still trending +20% above average to date and +3% more than last year. This trend likely to continue through the Summer season. This is a minor benefit to home and garden center sales.
CLICK ON IMAGES FOR A LARGER VIEW.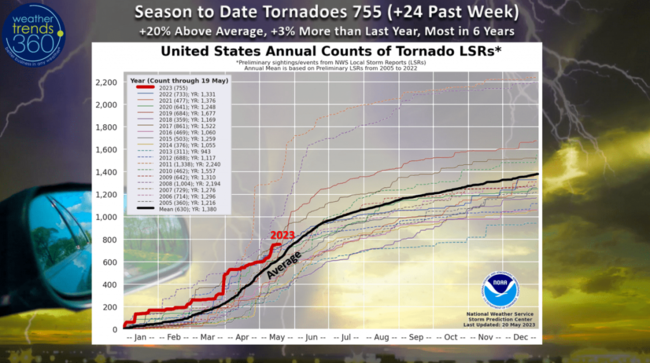 Will your name be a Tropical Storm or Hurricane this year or over the next 6 seasons? Keep in mind if a storm becomes deadly with significant storm damage, it could get retired removing it from future lists.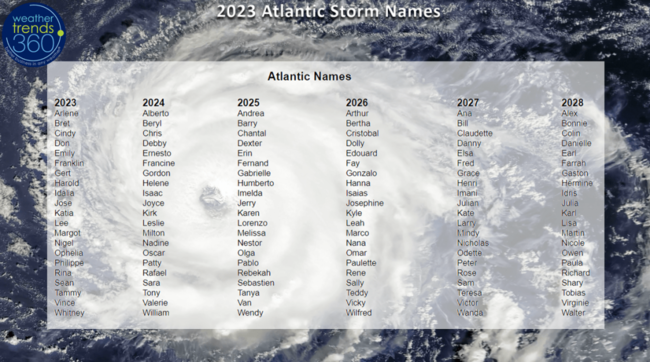 wt360 does expect an above average season despite the developing El Nino
which can suppress activity, but that suppression is more likely for the Caribbean and Cape Verde systems with closer in storm development near the U.S. Florida is still a high risk target for 2023.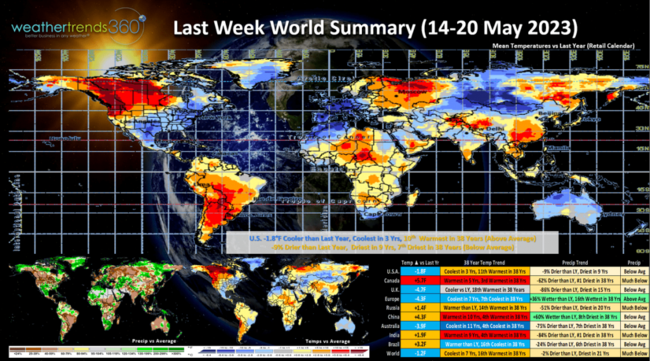 Last week (14-20 May) across the World
shows the U.S. trending -1.8F cooler than last year, coolest in 3 years but still 10th warmest of the past 38 years. This is a generally negative trend for YOY seasonal sales growth. Rainfall was down -9% vs last year, driest in 9 years and 7th driest in 38 years. These are favorable trends for outdoor dining and restaurant traffic. Canada, China and India were all much warmer than the past 5-10 years, while cool across Europe and Australia.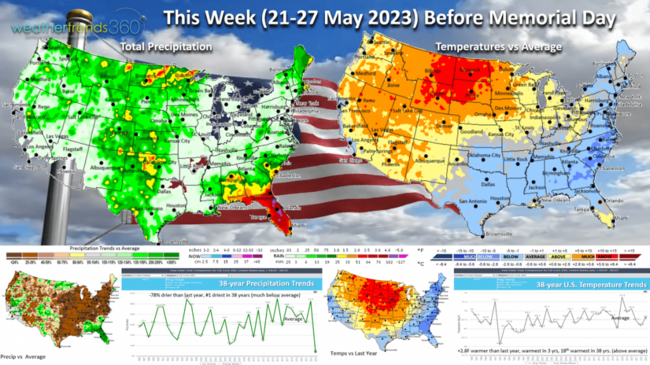 This week (21-27 May) before Memorial Day
should bring a decent bounce in seasonal category sales with temperatures trending +2.8F warmer than last year, warmest in 3 years and 18th warmest of the past 38 years. Every 1F warmer brings a 2% bounce in cold beverage sales, so +6% for that category. Lawn & Garden and Pool Chemicals can move 7% per degree warmer so +21% for garden sales and pool supplies compared to last year. Rainfall is down a whopping -78% vs last year and #1 driest in 38 years nationally. This is a very positive trend for everything under the sun and outdoor activities.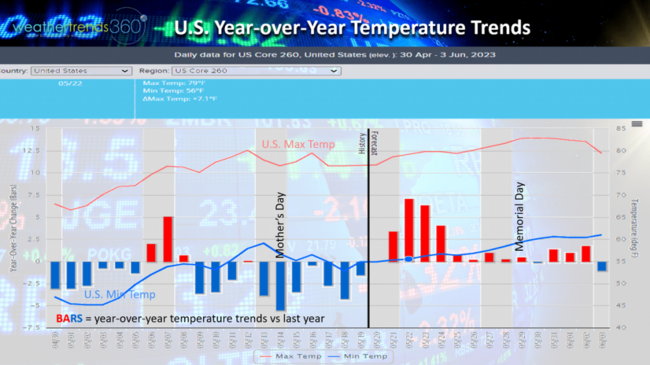 The U.S. national year-over-year temperature trends show a cooler slower start to May
, but a stronger finish this week going into Memorial Day. The immediate U.S. East Coast is the least improved location with tougher comps to last year.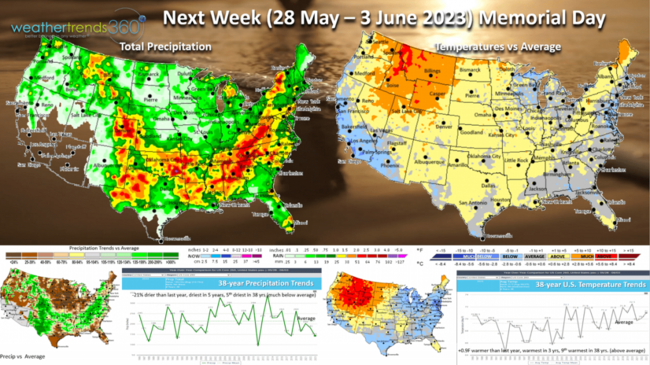 Next week (28 May - 3 June)
shows similar trends with the U.S. trending +0.9F warmer than last year, warmest in 3 years and 9th warmest of the past 38 years. Rainfall still on the dry side trending -21% drier than last year, driest in 5 years and 5th driest of the past 38 years. These remain favorable trends for higher YOY sales gains as we start the retail June.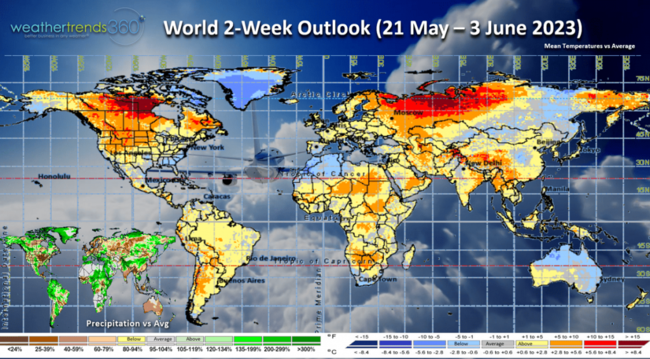 The 2-week World outlook (21 May - 3 June)
shows an improving worldwide trend more conducive to higher YOY sales gains for late Spring seasonal categories, especially consumable food and beverage categories and items like pool supplies and garden categories.
We hope you have a great week and don't forget to follow us on social media for frequent updates:
Facebook
,
Twitter
,
YouTube
,
Pinterest
and
Linkedin
.
- Captain Kirk out.