21 Jan '23:
Happy Saturday! :)
A recap of Last Week (15-21 Jan) across the World
shows the U.S. and Canada the warm spots, U.K. and Australia cold.
CLICK ON IMAGES FOR A LARGER VIEW.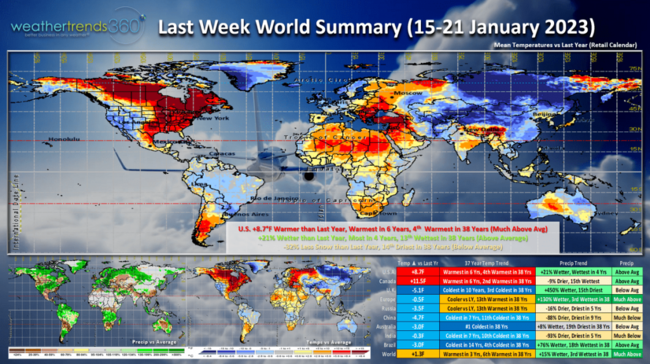 The U.S. trended +8.7F warmer than last year, warmest in 6 years and 4th warmest of the past 38 years. Rainfall was up +21% vs last year, most in 4 years and 13th wettest in 38 years with above average national rainfall. Snowfall still down -32% vs a year ago and 14th least of the past 38 years. Canada was the warmest in 6 years, 2nd warmest in 38 years with nearly coast-to-coast much above average temperatures. The frigid air associated with the Polar Vortex was over most of Siberia and China and it's on the move!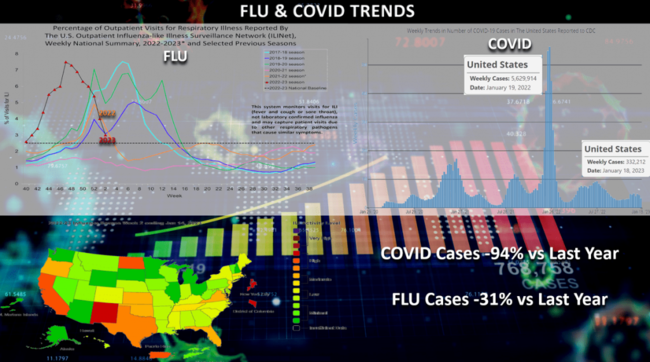 FLU and COVID trends continue to plummet
and way off last year's peaks that was occurring in middle January. Flu plummeting from the November spike in Type A cases and down approximately -31% vs last year while COVID is down a whopping -94% from the huge Omicron spike this time last year. This is good news for overall store traffic.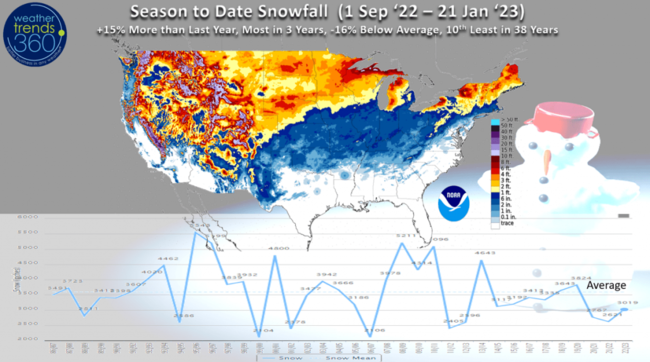 Despite the very heavy mountain snows in the West this year,
National snowfall to date is still -16% below average
but up +15% vs last year and most in 3 years. Still 10th least in 38 years based on a population weighted 260 market sampling. 1996 was the snowiest season at this point and 2000 was the least snowy for the U.S. overall.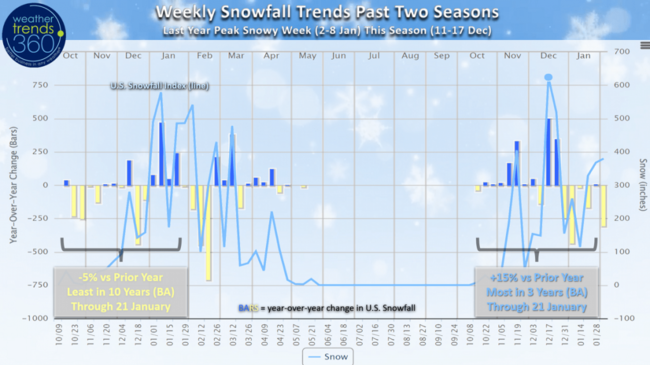 Looking at the weekly U.S. year-over-year snowfall trends,
we see that last season got off to a very slow start with peak snows in January (peak week was 2-8 Jan). At this point in the season last year the U.S. was -5% below the prior seasons totals and least in 10 years with well below average snowfall. This year we've had a much snowier start to the season with the peak snowy week 11-17 December and national snowfall the most in 3 years up +15% over last year. Still well below average nationally to date.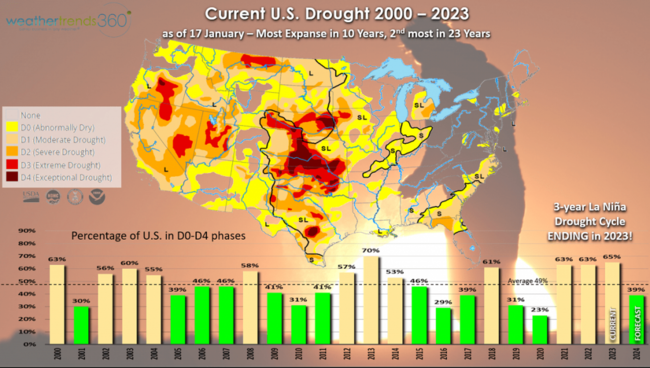 Drought is dramatically improving out West
and will almost certainly be erased in early 2023 as the 3-year La Nina drought cycle collapses. Weather Trends expects dry to drought coverage currently at 65% of the U.S. to drop to +45% by late Summer and even lower going into 2024. Droughts will end with floods as we transition to El Nino by Summer 2023!
To help farmers navigate the huge changes coming here in 2023 and 2024, we've made some improvements to our
FarmCast offering
. We added some farm specific intelligence on big things we see here in 2023 to include last/first frost dates, seasonal forecast summaries for the 2023 growing season and recommendations on chemical needs based on the 2023 forecast. It's a well like daily email PDF and web version available globally. Visit our
PLAN
page to get started (takes about 5 minutes to sign up).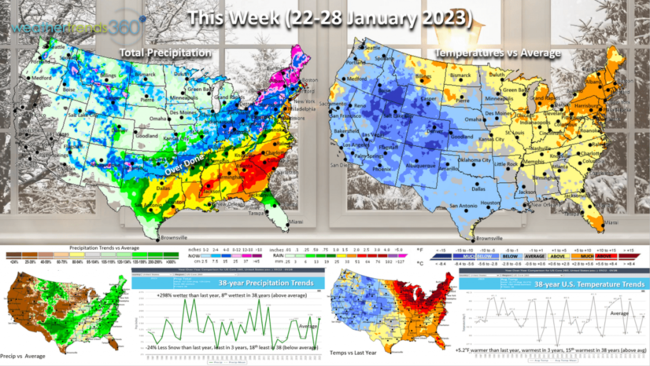 This Week (22-28 Jan)
is starting to show the breakdown of the warm zonal weather pattern we've been in with SOME influence of the much weaker and elongated Polar Vortex. It's still a tale of two halves with the West Cold but turning much drier while the East is still relatively mild and stormy. FINALLY, some interior Northeast snow but the big cities from D.C. to Boston continue to have virtually no snow so far this season. The U.S. overall trends +5.2F warmer than last year, warmest in 3 years, 15th warmest in 38 years. Rainfall up +298% over last year and 8th wettest of the past 38. Snowfall still down -24%, least in 3 years and 18th least of the past 38 despite a couple snow events possible from the Central U.S. into New England.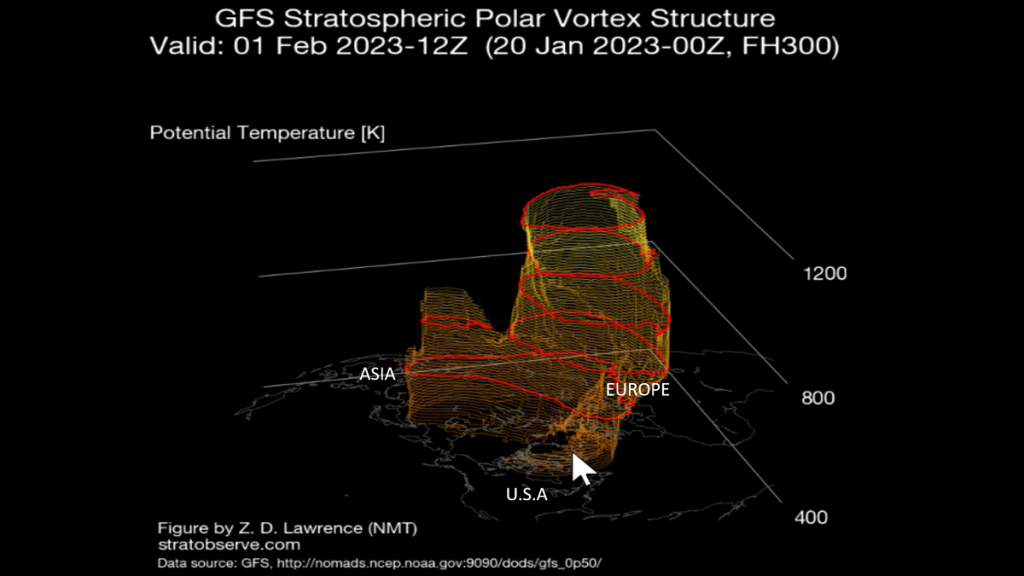 The 14-day forecast animation of the PolarVortex
shows the weakening and erratic movement which is allowing the cold air to finally start to invade areas of North America. It's still battling a strong High Pressure and ridge in the Atlantic which may not allow the really cold air to invade the East Coast or Southeast as the frigid air ejects more inland Northeast toward Southeast Canada.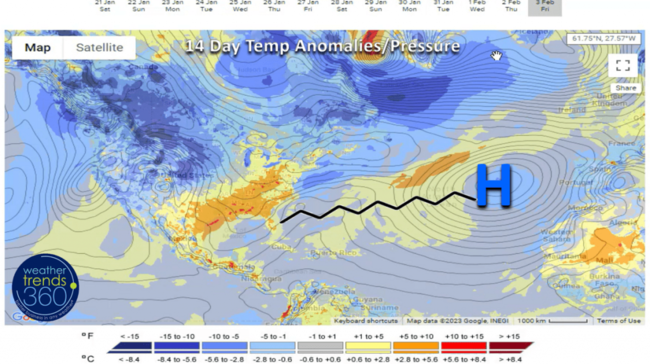 Next Week (29 Jan - 4 Feb)
still trends +1.0F warmer than a year ago for the U.S. overall, but it is finally below average and 11th coldest of the past 38 years. This will be the coldest week since the major nationwide cold snap around Christmas and will certainly help clear out remaining Winter merchandise. Rainfall expected to be -56% less than a year ago, least in 6 years and 9th least in 38 years. Snowfall also down -30%, least in 6 years and 17th least of the past 38 years nationally. Groundhog day is 2 February...we'll see what the rodent has to say, but we expect an up and down February, still warmer than last year followed by a colder/snowier March suggesting Winter will hang on into Spring, a negative for early Q1 retail/seasonal sales.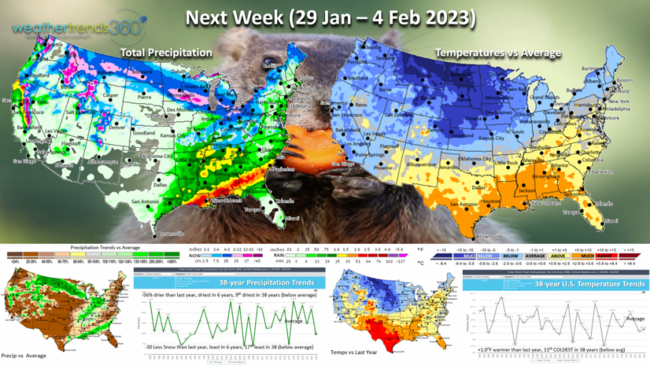 The 2-week World Outlook (22 Jan - 4 Feb)
shows the cold air for Canada and the Western 2/3rds of the U.S. Western Europe trends colder while Eastern Europe is much milder.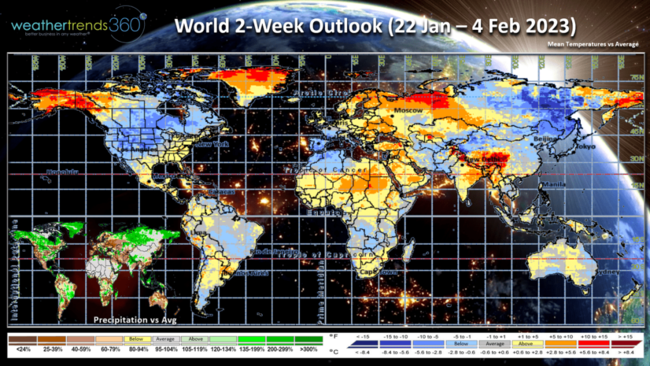 We hope you have a great week, and don't forget to follow us on social media for frequent updates:
Facebook
,
Twitter
,
YouTube
,
Pinterest
and
Linkedin
.
- Captain Kirk out.