22 July '23
Happy Saturday! :)
El Niño continues to intensify rapidly
with models suggesting it will reach strong levels by Fall and then weaken through the Winter. The atmospheric weather pattern hasn't adjusted entirely just yet but is starting to shift globally.
CLICK ON IMAGES FOR A LARGER VIEW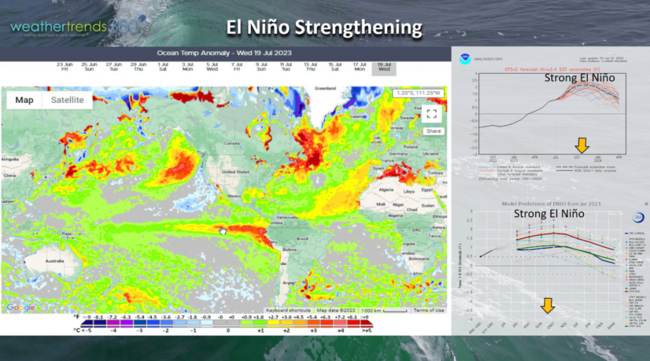 U.S. Drought has made dramatic improvement over this time last year
when 69% of the U.S. was in dry to drought phases vs only 49% this year which is exactly average. Still dry in the Western Corn Belt and a dry couple weeks ahead will bring an uptick in drought coverage.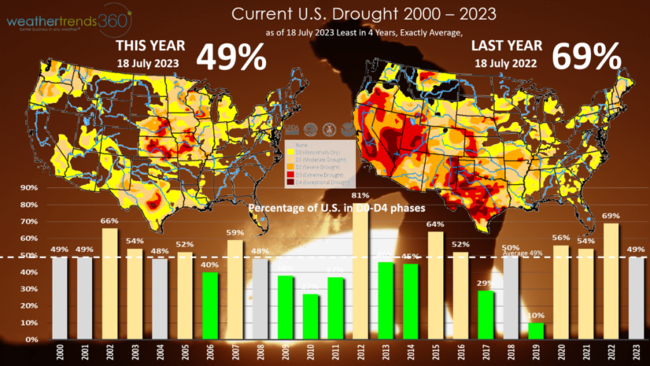 Last week (16-22 July) across the World
shows the U.S. trending -2.5F cooler than last year but still 11th warmest of the past 38 years. This was a net negative for hot Summer seasonal categories where inventories are excessive for things like room AC. Rainfall was -44% drier than last year and #1 driest of the past 38 years. Overall, this is a win for vacationing consumers, DOT outdoor construction projects but that puts a damper on retail store traffic. The U.K. was the cool spot trending -9.9F cooler than last year and coolest in 8 years. India the hot spot trending the hottest in 36 years.
.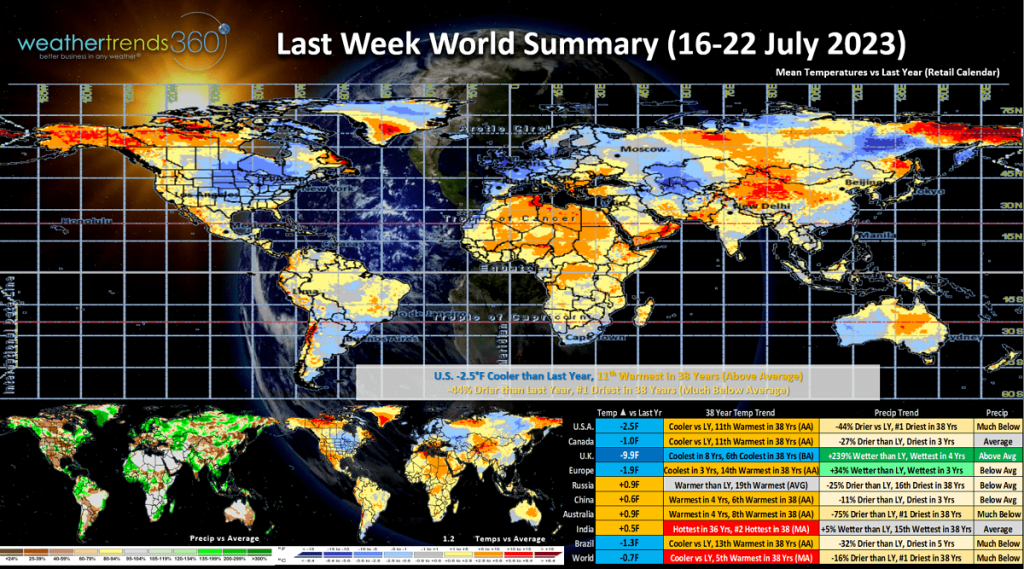 Quantifying how the weather influences sales is the next step in our process with our Power of 1 Degree technology
. Every 1F cooler brings a NEGATIVE influence on many Summer seasonal items. One of the hardest hit categories is room AC with the cool Spring - Summer in the Northeast. Every 1F cooler can bring a 15% decline in AC sales. Doing the simple math of -2.5F cooler this past week shows just how significant everyday changes in weather have on thousands of seasonal items. This week is a bright spot with a rare warmer YOY week, so a good Summer clearance week.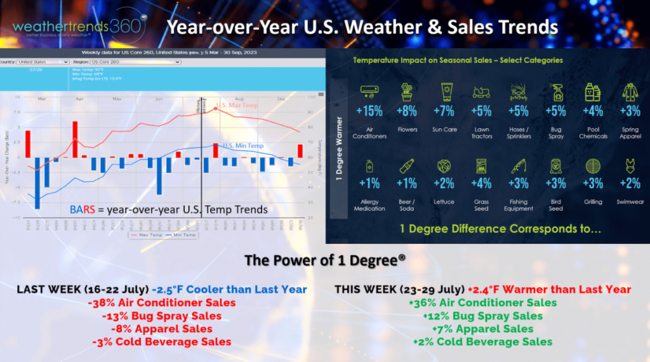 This week (23-29 July)
shows much of the really hot weather is shifting a bit from California toward the Central Plains. The Northeast is warmer, but only one really hot day midweek and then cooling again. The U.S. overall trends +2.4F warmer than last year making it the #1 hottest in 38+ years. Rainfall still way down and #1 driest in 38 years. These trends will benefit beach, lake, pool, suncare, cold beverage and even AC categories.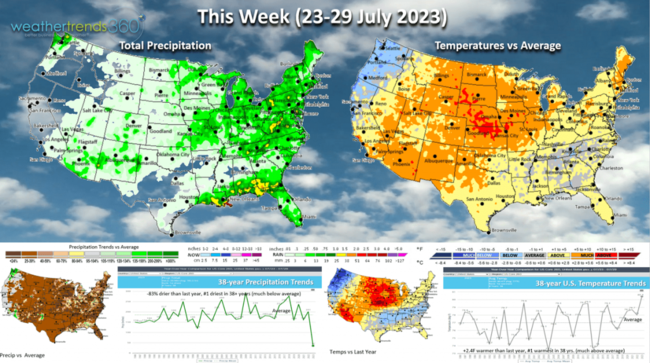 The tropics look to heat up
with our 5th named storm which would be Emily. This is a fast start to the Atlantic hurricane season that typically peaks in late August into early October. To have more systems in the Atlantic vs the Eastern Pacific is unusual under developing El Nino conditions.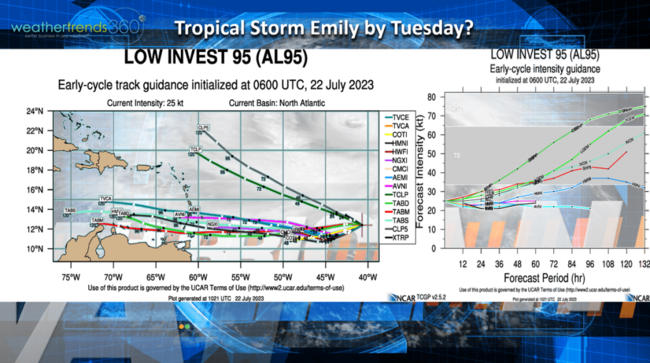 Soon to be
Major Typhoon Doksuri looks to threaten Taiwan
and then Southeast China and the Korean Peninsula this week.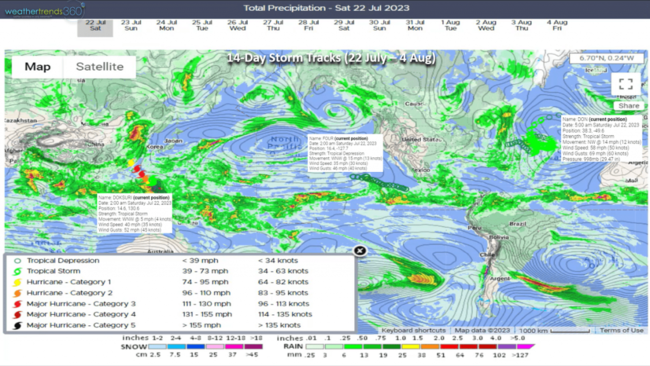 Next week (30 July - 5 Aug)
shows a dramatic cooling trend for the Midwest and Northeast with the heat shifting back West and especially the Northwest. U.S. looks to trend -1.3F cooler than last year and still #1 driest in 38 years. This will soften demand for hot Summer categories in the Midwest to Northeast.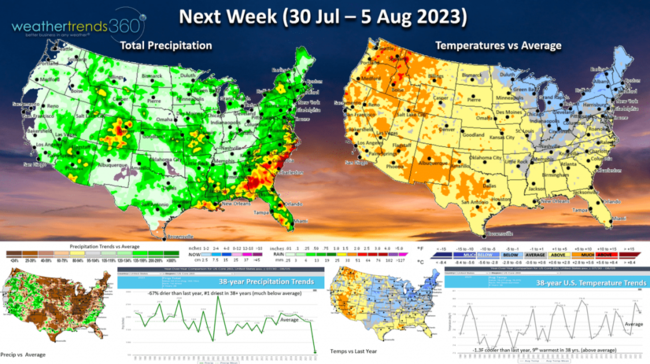 The World 2-week outlook (23 July - 5 Aug)
shows cooler trends for Eastern Canada into the Northeast U.S. and while still cool across the U.K. and Europe, not as cool as this past week.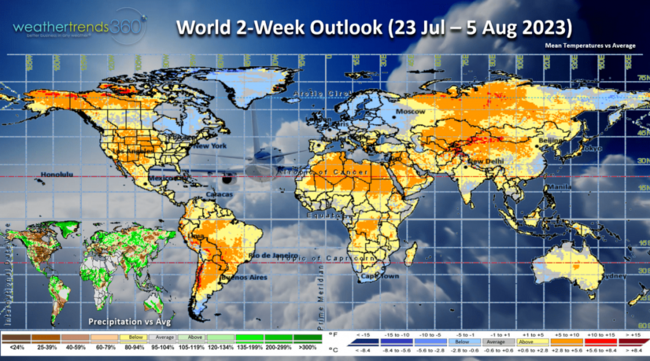 Have a great week and don't forget to follow us on social media for frequent updates:
Facebook
,
Twitter
,
YouTube
,
Pinterest
and
Linkedin
.
- Captain Kirk out