Happy Saturday! :)


A recap of last week (16-22 October) around the World
shows the U.S. trending -3.6F colder than last year, coldest in 4 years, 11th coldest in 37 years with below average national temperatures. Record cold and early freezes plunged all the way to the Gulf Coast with the Southeast having the 2nd coldest 3rd week of October in 37 years, while the West Coast was still trending the warmest in 19 years. This was a continued strong trend for Fall seasonal merchandise sales that benefit from colder YOY weather, especially in the Eastern half of the country. Precipitation was nearly identical to last year, +1% more, but still 7th driest of the past 37 years with below average national rainfall and snowfall.
CLICK ON IMAGES FOR A LARGER VIEW.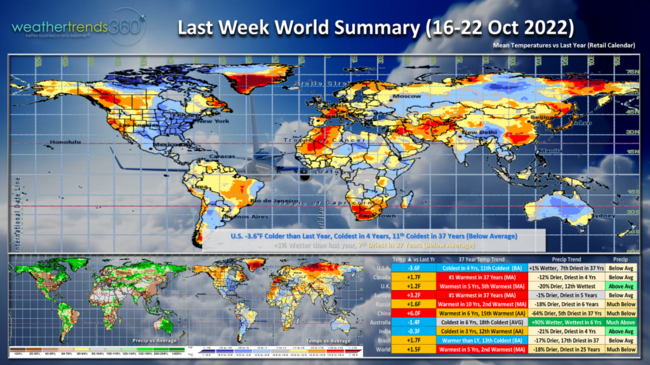 Canada and Europe were the #1 hottest in over 37 years, with the U.K. not far behind trending 5th warmest in 37 years and warmest in 5 years. Australia continues to be the colder spot (their Spring) trending coldest in 6 years.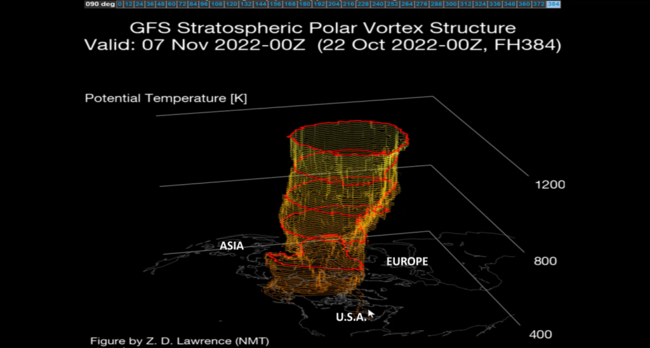 The Polar Vortex allowed some colder weather to finally invade the Western part of North America,
but it looks to strengthen for a couple weeks before wobbling again by the first week of November. A weaker PV makes the Jet Stream weaker and in turn can allow for colder weather to head south into the U.S.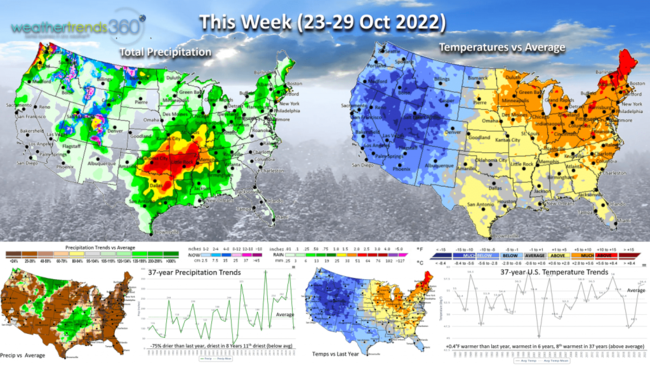 This week (23-29 October)
shows the bigger pattern shift with the cold and snowy weather in the Western half of the U.S. after four straight weeks of below normal temperatures in the Northeast. The Northeast will now have a bigger warm up after a frosty start to Fall. The West Coast had 15 straight weeks with above average temperatures and now FINALLY getting a colder than typical week to end the month of October. This colder weather will certainly drive consumers to purchase cold weather items they haven't needed until now. National temperatures up +0.4F over last year, warmest in 6 years and 8th warmest of the past 37 years - a less favorable trend for overall retail seasonal sales. Rainfall still down 75% nationally vs last year, driest in 8 years and 11th driest in 37 years, but some much needed rainfall possible in the Central U.S. where drought is expanding.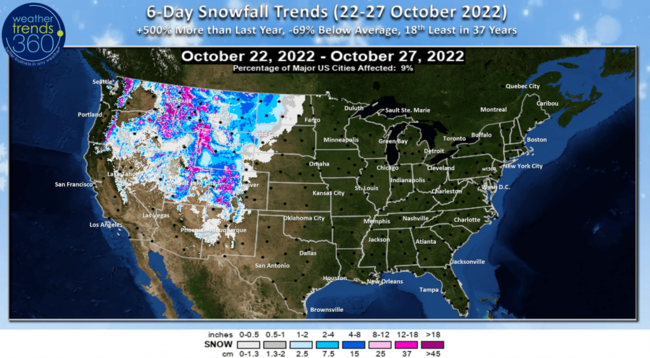 The 6-day snowfall outlook
shows heavier mountain snow in the Rockies as the colder air finally moves in. While snowfall is up over very little last year, it's still 69% below average nationally.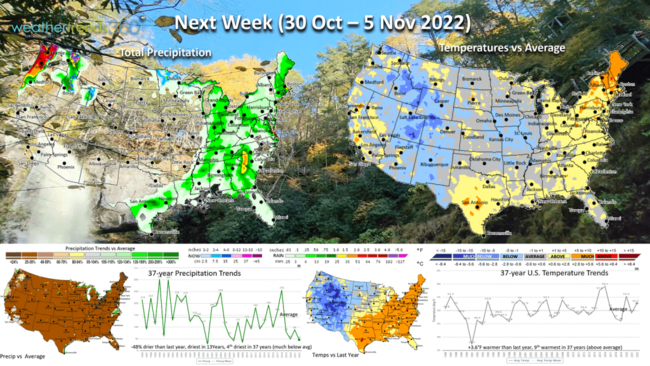 Next week (30 Oct - 5 Nov)
shows the colder trends in the West beginning to abate while it turns much cooler in the Central States. Nationally the week trends +3.6F warmer than last year making it the 9th coolest of the past 37 years with above average national temperatures. Rainfall again sparse with 48% less than last year, least in 13 years and 4th least in 37 years. Seasonal sales will begin to taper off a bit nationally with all regions having at least 2-4 weeks of colder weather in October. The next big surge in Winter seasonal sales will develop in December.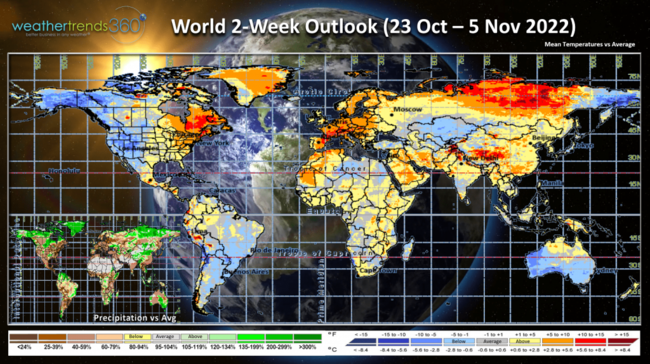 The 2-week World Outlook (23 Oct - 5 Nov)
shows the cooler trends for Western North America, warmer East and continued very unfavorable for Europe with much above average national temperatures.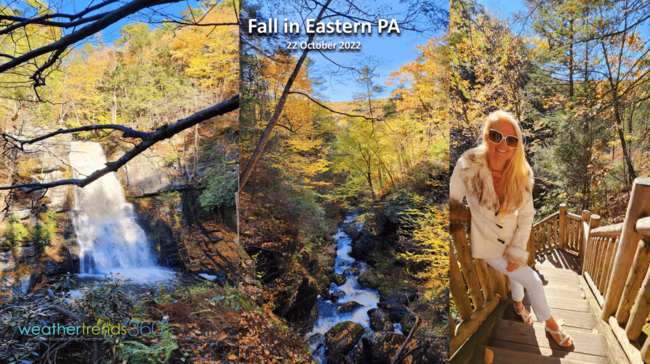 Fall color here in Eastern PA has peaked, enjoy some of the sights and sounds in today's video update.
Have a great week, and don't forget to follow us on social media for frequent updates:
Facebook
,
Twitter
,
YouTube
,
Pinterest
and
Linkedin
.
- Captain Kirk out