Happy Saturday! :)


A recap of
Last Week (17-23 July) around the World
shows the U.S. trending +3.6F warmer than last year, warmest in 11 years and 2nd warmest in 37 years with above average national temperatures. These are very favorable trends for the must have hot Summer replenishment categories like AC, fans, Auto Batteries, Belts/Hoses, Antifreeze, Pool Chemicals, Cold Beverage and Fruit/Vegetable items.
CLICK ON IMAGES FOR A LARGER VIEW.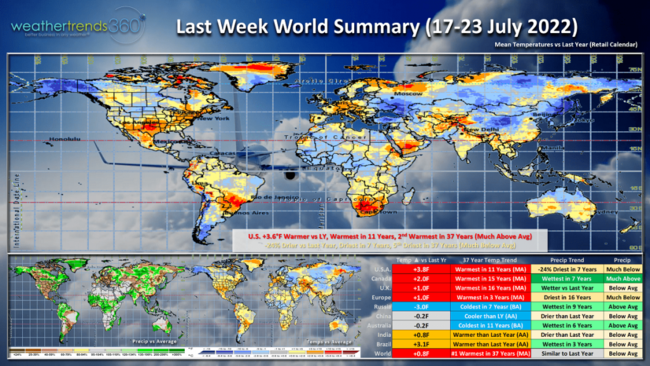 Rainfall was -24% less than last year, least in 7 years and 5th least of the past 37 years with much below average national precipitation. Similarly warm across Canada, but much wetter than the U.S. Russia was the cool spot as was Australia.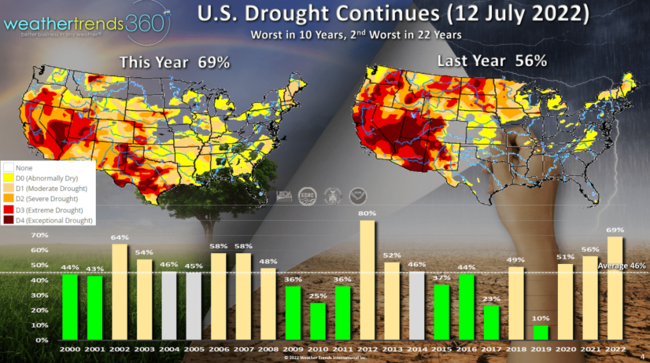 Drought expanded in the U.S. with 69% of the country in dry to drought phases
, the most in 10 years and 2nd most coverage in 22 years. Average for this time of year is around 46%.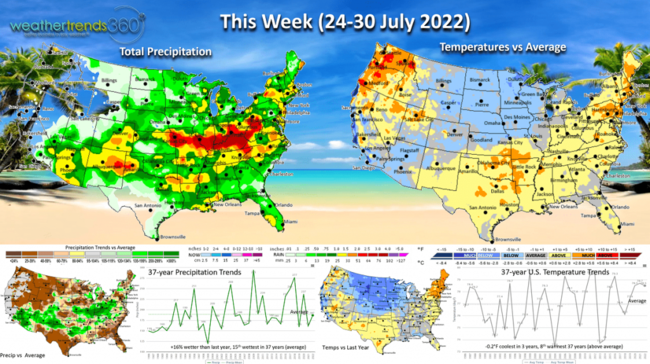 This Week (24-30 July)
A decent cold front will bring much needed relief to the North Central U.S., Midwest but it won't make it into the Deep South where heat and drought expand. For the U.S. overall, the week trends -0.2F cooler than a year ago, coolest in 3 years but still 8th warmest of the past 37 years. Rainfall is up +16% vs last year making it the 15th wettest in 37 years with above average national rainfall. Wettest spot is the Southern Ohio Valley where the cold front will stall. Briefly cooler in the Northeast, but more heat returns, just not as hot as Sunday.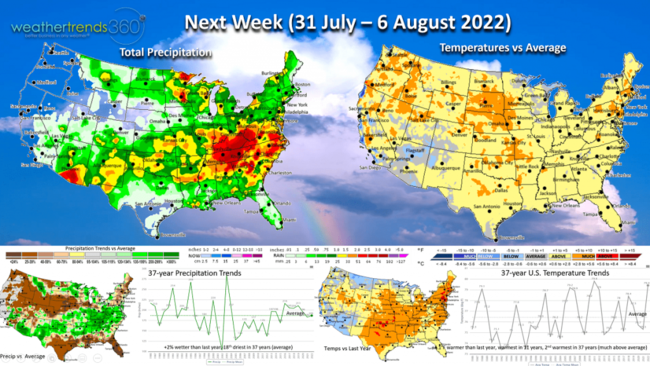 Next Week (31 July - 6 August)
The Dog Days of Summer continue with the U.S. trending +4.1F warmer than last year, warmest in 11 years and 2nd warmest of the past 37 years. Heat again returns to the North Central U.S. after the brief cool down. These remain favorable trends for only the hot seasonal categories with a slow down for store traffic as consumers escape to the beach, lake or pool. This is a negative for early Back2School shopping that had a very strong season last year with an exceptionally wet August.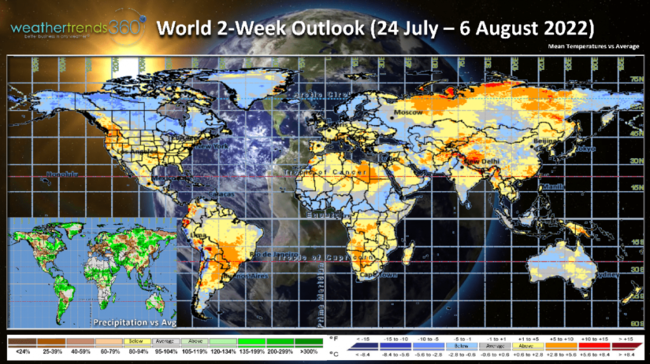 For the World overall, the next 2-weeks show continued overall hot pattern in the U.S. and Europe, but cooler for Canada, SW Russia and Australia (Winter).

This past week we provide a
Back2School update
with one of our financial services clients with a recap of Q2 and our Q3 world outlook. We always share an updated summary of our YEAR-AHEAD forecast accuracy which is important if you're not only going to predict the long-term weather trends, but also how they'll influence seasonal category sales and retail stock performance. Y
TD WTI has been trending 82% on year-ahead daily temperature forecasts, more accurate than a week 2 short range physics based forecasts and 86% on year-ahead weekly precipitation trends.
The forecast did exceptionally well predicting the hot/dry conditions here in July.

Another way to quantify the validity of our year-ahead forecasts is to compare them to NOAA's month ahead forecasts. PhD Climatologists at the University of Miami and West Point Military Academy proved the
WTI's year-ahead temperature forecasts out perform NOAA 85% of the time and 86% for precipitation, despite being year-ahead vs their month ahead outlooks.
If you can get the long-term weather trends right and a very granular basis of both time and space, it's possible to predict business outcomes for almost any industry in retail, seasonal categories, pharma, agriculture, etc.

The
Columbus Day holiday weekend
is one of the more important holidays in Q3 (Aug - Oct) for retailers and we show some good news! Using our Power of 1 Degree predictive sales analytics technology we can quantify that the 4.5F colder holiday weekend that trends the coldest in 10 years for the U.S. overall will bring a +23% bounce in fall outerwear sales. Most favorable areas are in the North Central U.S. and interior Northeast, while the West Coast and Southeast will be much less favorable for holiday sales. Q3 overall looks a tad more favorable than last year for retailers and seasonal suppliers (See map right).
We hope you have a great week ahead, stay cool and don't forget to follow us on social media for frequent updates:
Facebook
,
Twitter
,
YouTube
,
Pinterest
and
Linkedin
.
- Captain Kirk, CEO & Founder out! Actually in since the heat index is over 100F today. ;)