27 Sep 2022 Tuesday 1PM EDT Update on IAN: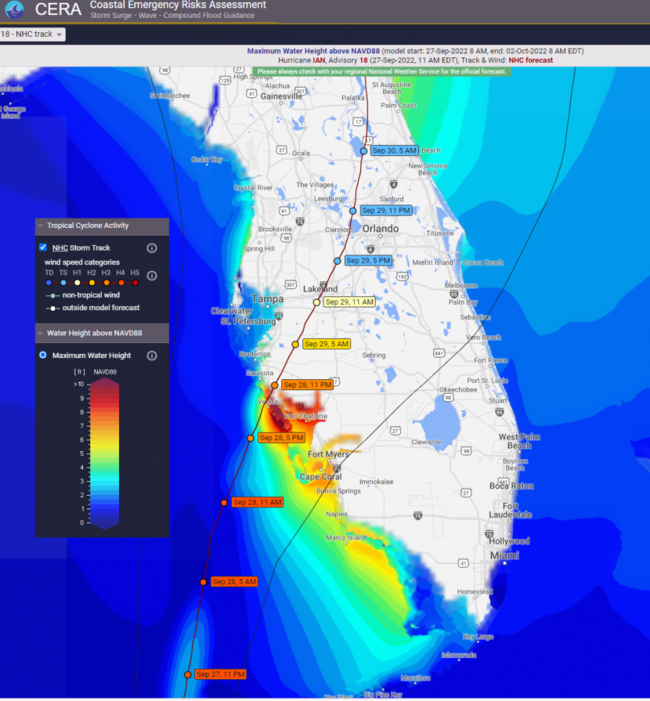 The forecast track continues to shift South and East with the track of Major Hurricane IAN. The Tampa Bay area still at high risk for winds, but a track south of the city dramatically reduces the storm surge risk. Now land fall looks to be closer to Venice FL around 9pm EDT Wednesday. The 10'+ storm surge is now projected for Venice and the Port Charlotte areas. Waves of 10-15 feet on top of the surge suggests a 25' wall of water over the low lying coastal areas.
CAT 3 winds of 122 mph gusting to 150 mph at landfall. Catastrophic damage within 25 miles either side of this path still has the Tampa area at risk for wind damage and flooding due to rainfall, not surge!
Storm surge is always a major factor with the right front quadrant of the eyewall compared to the left side of the hurricane. Notice in these CERA storm surge forecast maps how dramatically different the surge is across Tampa Bay now as winds will be out of the northeast rather than southwest allowing the water to exit out of the bay rather than pile up if the storm went just West of Tampa Bay. There is still uncertainty on the exact track!
Unfortunately, even a few hours out, the eye can wobble left and right, it can go through an eyewall replacement cycle and either scenario could cause a 25+ mile shift in the eyewall track, so Tampa is not out of the woods entirely. Either way this is a catastrophic hurricane that will rank in the top 3 most powerful to hit in and around the Tampa Bay area.
The last hurricane of this strength to hit Tampa was 101 years ago in 1921 which caused major storm surge flooding. The strongest on record is way back in 1848, 174 years ago, when a CAT 4 system hit Tampa. The population in 1848 was 800 people, in 1921 around 135,000 people, today 3,500,000 are in harms way! Please heed all warnings from local officials.
The slow moving IAN will exit North Florida by Friday afternoon which will result in widespread 6-20"+ rainfall totals for Central and North Florida and widespread flash flooding.
Be safe!
24 Sep 2022:
Happy Saturday. :)
The big headline weather wise is going to be an almost certain U.S. landfall from soon to be
major hurricane IAN,
currently a Tropical Storm in the Central Caribbean.
CLICK ON IMAGES FOR A LARGER VIEW.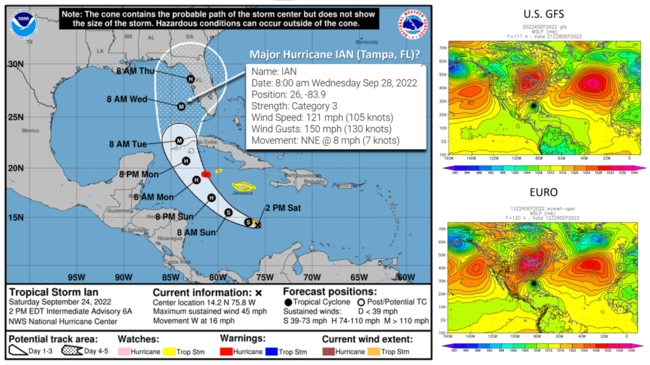 The tropics have exploded with life here in the peak of the
2022 hurricane season with 5 systems.
The only immediate threat to the U.S. is IAN.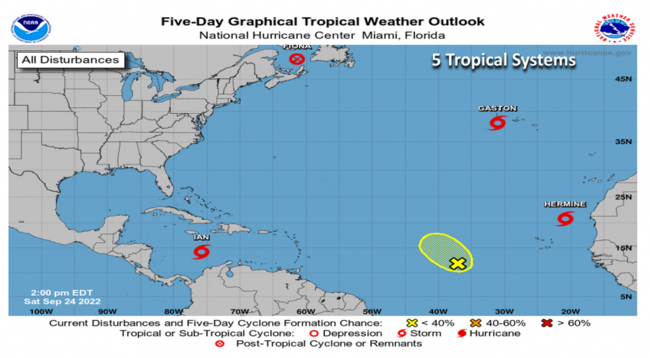 All the models show a U.S. landfall later next week as a strong Cat 2 or Major Cat 3 hurricane. It's common that 5-days out the range of possible outcomes results in a wide range of landfalls from New Orleans LA to Naples FL. The current official National Hurricane Center track is very far East of most of the guidance, more in sync with the European model guidance.
This makes Tampa, FL the highest threat major city for landfall with a Cat 3 or Cat 2 hurricane around Thursday 29 September.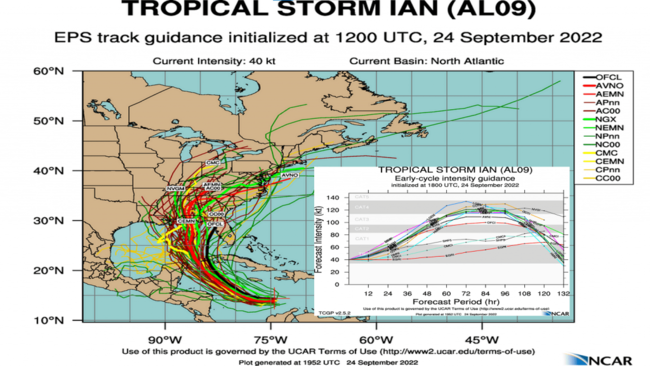 Intensity guidance suggests a near certainty for a Major Cat 3, even Cat 4 hurricane
prior to some weakening before landfall later next week (see chart above bottom right).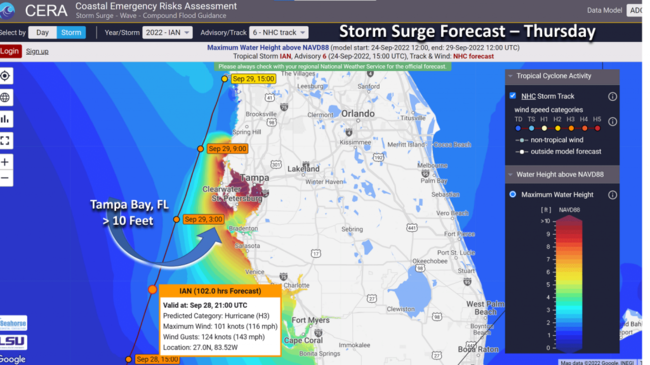 I recall at Rutgers studying coastline configuration and hurricanes and how three cities in particular were always highest on the list for catastrophic damage if a hurricane passed just South or West of these cities: New Orleans, New York City and Tampa Bay. The concave nature of the bays around these cities allow water to pile up on the East side of a stronger hurricane and that's t
he current scenario for Tampa Bay Thursday with an early projection of a 10+ foot storm surge (waves on top of that)!
Tampa has managed to dodge a direct hit from a major hurricane since 1848, 174 years ago! Obviously New Orleans was ultimately hit in 2005 with Katrina and New York City Sandy (only a Cat 1 but passing just South of the city in 2012 put the city in the Right Front Quadrant of the storm with the greatest storm surge).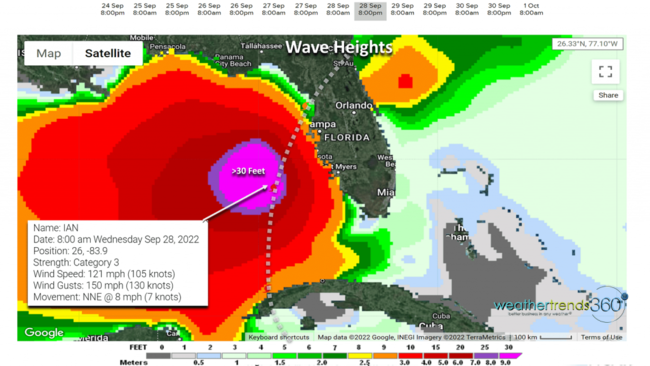 Waves are then added on top of the storm surge which is simply the ocean rising.
With waves in the center of IAN over 30 feet next week and 10-15 feet near Tampa Bay, the threat for 20 to 25 feet of water for the city of Tampa would certainly be catastrophic.
Every 10 miles further West that IAN tracks from Tampa will dramatically reduce this catastrophic potential. Please heed all warnings from local officials. Sadly millions of new residents in Florida have never experienced a hurricane let alone a major hurricane.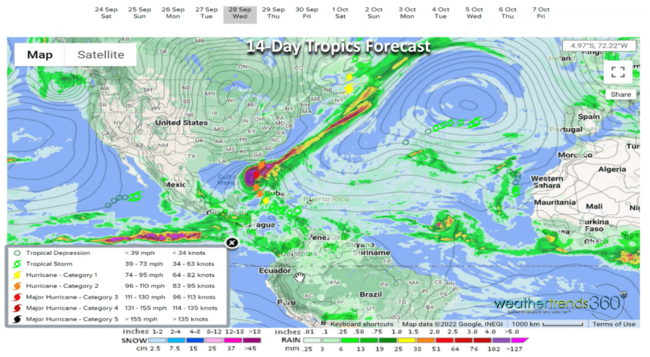 Sadly this may not be the last threat for Florida,
as some models show another strong hurricane threat for the East Coast of FL a week or so after IAN
with another wave coming off Africa.
A recap of Last Week (18-24 Sept) around the World
shows the U.S. trending +2.2F warmer than last year, warmest in 3 years and 6th warmest of the past 37 years. The cooler spots were the Northeast and California which would help early Fall seasonal merchandise sales. Very unfavorable in the South Central U.S. Rainfall was again down -58% drier than last year, driest in 18 years and 4th driest in 37 years for the U.S. overall. Canada, U.K. and Europe were all generally cooler than last year bringing a slight uptick in consumer demand for Fall seasonal merchandise sales. Nova Scotia was hit by once Major Hurricane Fiona with 100 mph wind gusts and one of the strongest hurricanes to hit Eastern Canada.
This week (25 Sep - 1 Oct) shows the U.S. tending -3.2F cooler than last year
and 18th coolest of the past 37 years. Much colder conditions than last year in the Eastern half of the country will drive very strong sales for early Fall seasonal categories while the West warms up. Rainfall will be sparse except in the Southeast where the exact track of IAN will determine just how much rain will fall. Some models show a slow moving system after landfall and with the wetter weather in parts of Florida, SE Georgia, Mississippi, the threat for severe flooding with IAN is a risk.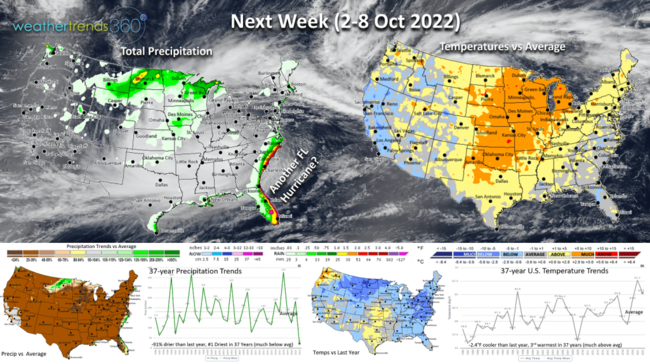 Next week (2-8 Oct) again has the U.S. trending -2.4F cooler than last year,
but 3rd warmest of the past 37 years. This is subject to change depending on IAN's ultimate track. A quicker more Northeast track would allow for a cooler pattern than currently forecast and wetter. Currently the only significant rainfall is the Southeast Coastal areas as the next tropical system could threaten once again.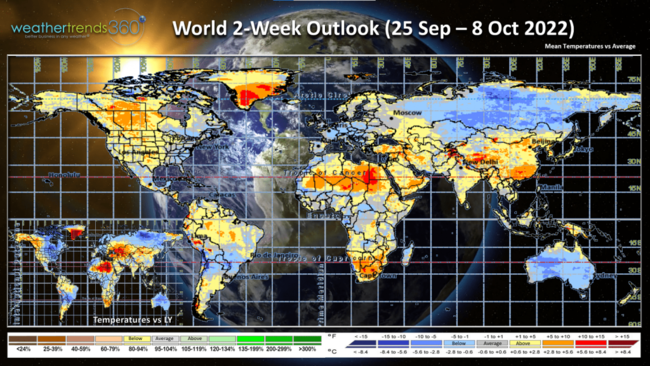 The 2-week World Outlook (25 Sep - 8 Oct)
shows the Eastern half of North America trending cooler than last year, a plus for early Fall seasonal items. The West appears to warm up dramatically. Europe also a bit cooler.
We will end tonight's blog with a cool video of the
SpaceX Falcon9 launch from Cape Canaveral Florida tonight at 7:32pm EDT
. WT360's roof top weather cameras picked up the soaring rocket from 7:36pm to 7:41pm over downtown Bethlehem PA! Enjoy the show.
VIDEO:
https://youtu.be/K7Tm0Tqxva4
We hope you have a great week ahead. Look for frequent IAN updates on our social media accounts:
Facebook
,
Twitter
,
YouTube
,
Pinterest
and
Linkedin
.
- Captain Kirk out.