29 July '23:
Happy Saturday! :)
Can you believe it's the last weekend of July ? And can you believe 2% of U.S. school districts are already back to school and another 36% will be in by middle August - that's too early. :(
CLICK ON IMAGES FOR A LARGER VIEW.
The Back-2-School school season
is a favorite time for some of our financial services to get an update on the months ahead to see just how good or bad the back half of the year will be for retailers and suppliers. Our outlook was on the bearish, not so favorable side. We'll share some of our discussion points below.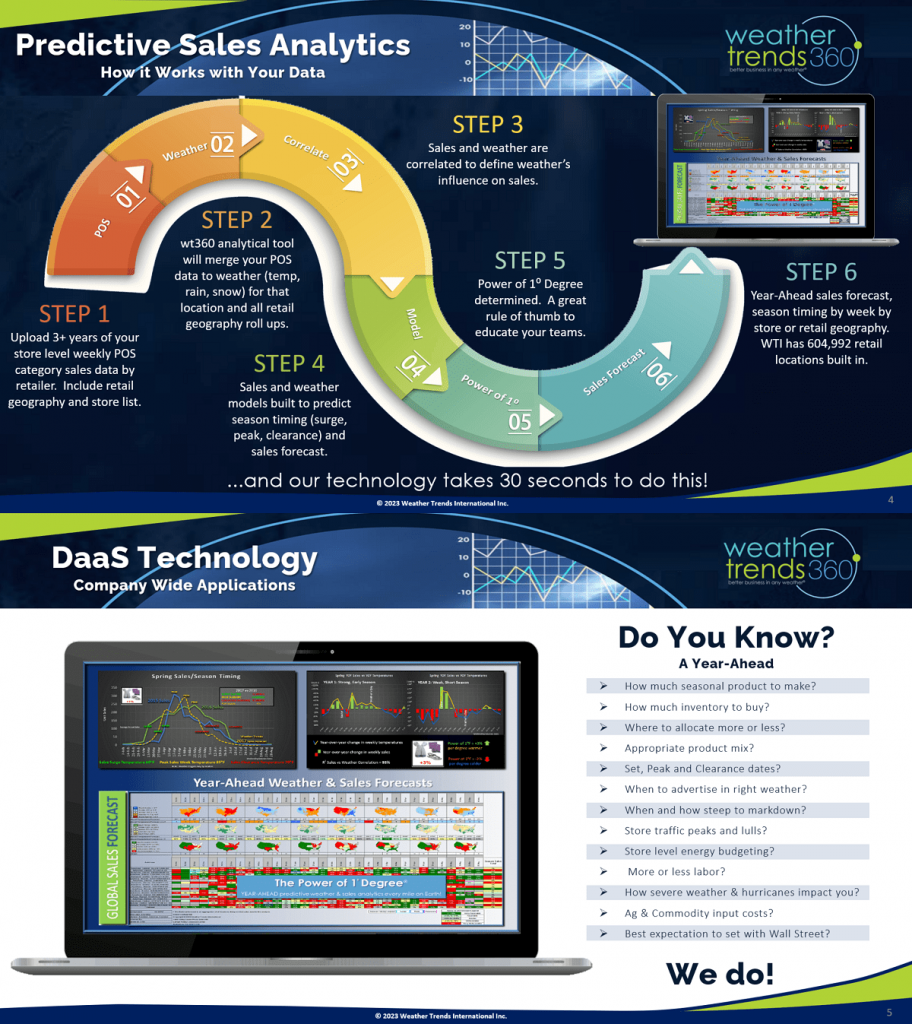 The first thing we discussed was how we use year-ahead weather forecasting covering every mile on Earth along with our
Power of 1 Degree® technology
to project seasonal category sales out a year! If you can do that well, there is unlimited value to help big retail predict inventory levels, advertising timing, marketing, markdowns, you name it, we do it. The outputs don't look anything like your TV weather forecast, but they do help wt360 clients make better informed decisions up to a year in advance.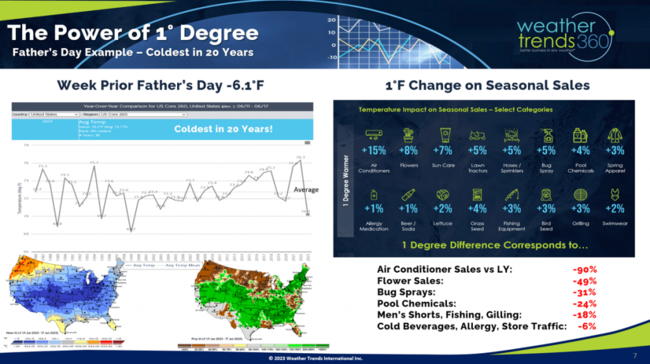 As an example, the F
ather's Day week in middle June was COLD...coldest in 20 years
and that brought a huge negative to seasonal category sales you and I buy. Particularly hard hit were expensive bulky items like Room Air Conditioners. While we're getting some favorable clearance weather now, they really want to sell you ACs in May-June at higher prices and that cool weather resulted in significant excess inventories.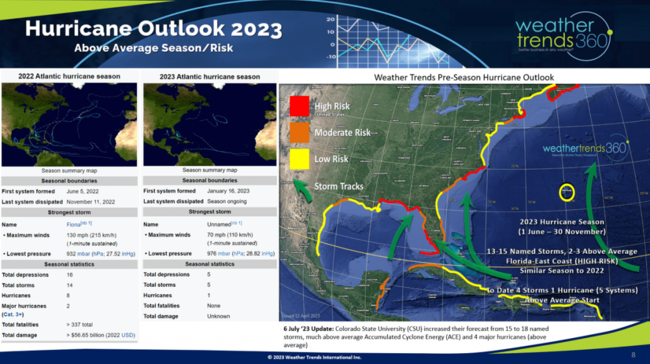 We reviewed
the 2023 hurricane season
and just because we have an El Nino developing rapidly, that doesn't mean the season will be below average. One sign that the atmosphere hasn't responded to El Nino yet is the lack of hurricanes in the Eastern Pacific - only 4 vs 5 in the Atlantic. Without that deep convection, there isn't the typical downstream suppressing wind shear in the Atlantic, at least not yet. Plus, the waters off the East Coast are much above average suggesting the threat for close in development which dramatically reduces warning times. So, get ready as we enter the core August - October season...should be interesting.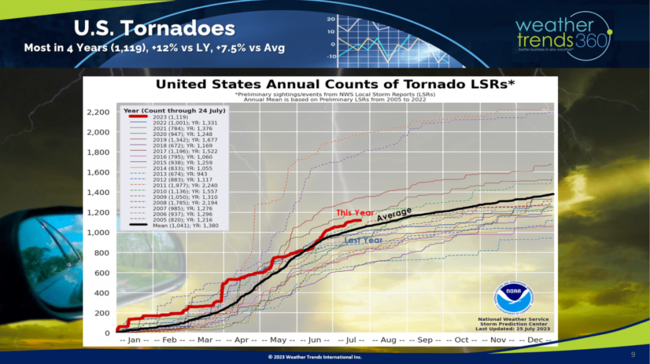 Tornadoes continue to be a secondary benefit to home center sales, they of course love a big hurricane threat sending you flocking to their stores only to have the storm make a near miss. They got the sales, and no homes or stores were damaged in the process.
Tornadoes to date are up +12% vs last year
and +8% above average the most in 4 years.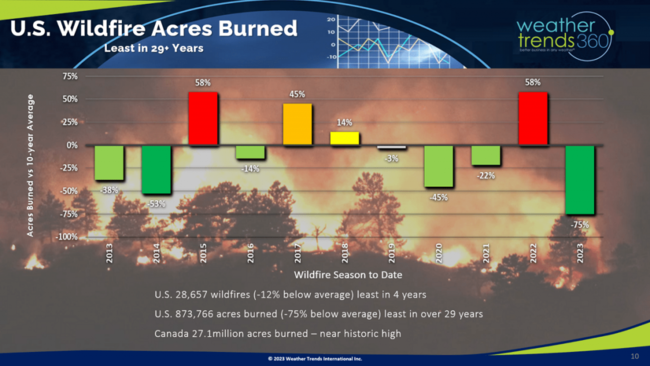 Wildfires in the U.S. are near historic lows
with the fewest acres burned in 29+ years. Acres burned in the U.S. id down -75% below average with only 873,766 acres burned. Last year at this point in the season we were up +58% above average with 5.6 million acres burned. Canada is the unfortunate country this year with 27.1 million acres burned in the far Northwest. This has an impact on air quality in turn benefiting some seasonal categories like allergy and asthma medications.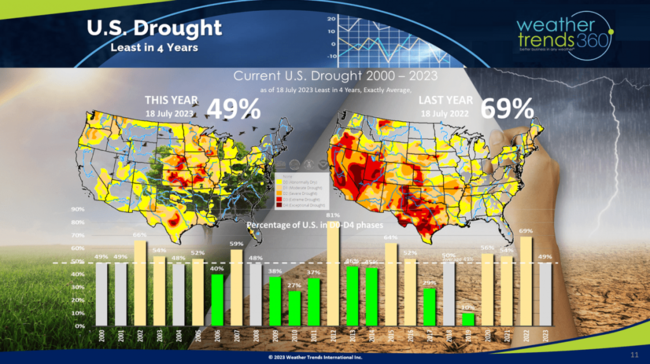 Drought
is most concentrated in the center of the country, but that too has made a
huge improvement over last year with 49% of the U.S. in dry to drought phases
, about average for this time of year. Last year was 69% in drought phases which peaked at 85% last November.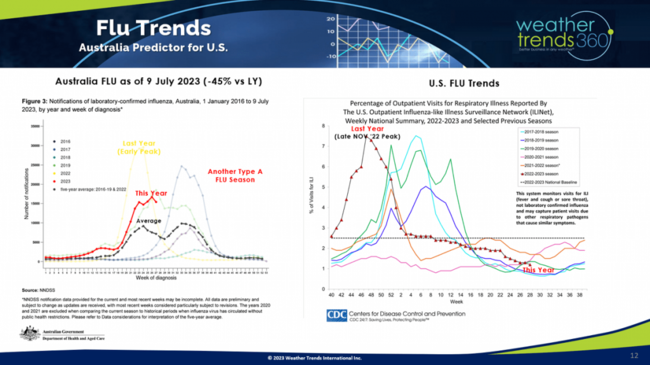 Flu
is always a concern, especially last year which spiked VERY EARLY, almost 3 months early negatively impacting the critical holiday shopping season.
Australia is a good predictor of what to expect here in the U.S. with their season 6 months ahead of us (Winter down under).
The Australia season last year got off to a near historic very early start with Type A and that's ultimately what happened here in the U.S. last year. Last year the U.S. had some of the coldest Sep-Oct weather in decades in the Deep South where Flu typically starts sending our season to near record levels. The good news this year is a much warmer early Fall in the South delaying the typical Flu onset. We project nearly half the cases as last year and a more typical February peak during much colder Winter weather.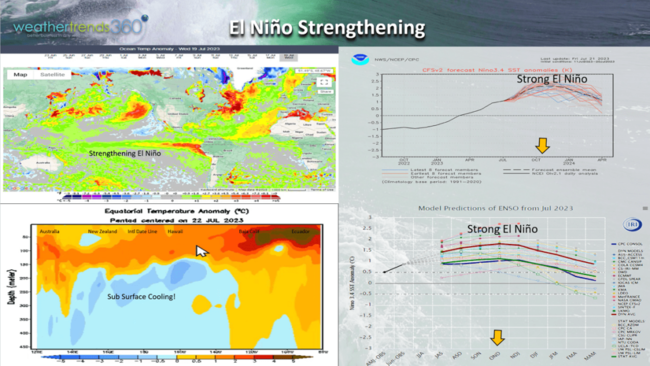 El Niño of course is a hot topic, and the forecasts still show a strong to very strong event peaking this Fall
, but also a rapid weakening through Winter. The sub-surface ocean temperature data shows a big pocket of below average water moving toward the surface in part why models are suggesting a short lived intense El Nino. This will also play a role in the Winter Nor'easter snowstorm threats - up dramatically over last Winter! The exceptionally warm waters off the U.S. East Coast should provide tons of fuel for rapidly developing storms this Winter.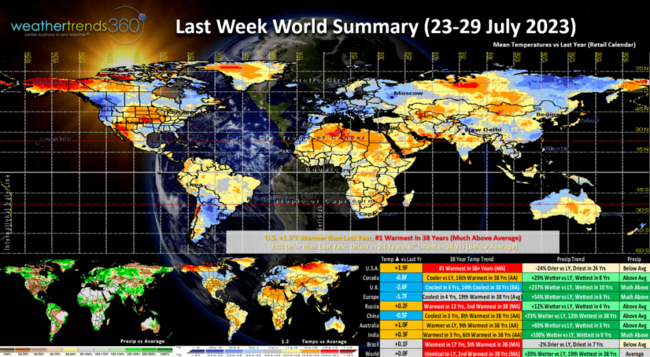 Now to the typical weekly update.
Last week (23-29 July) across the World
shows the U.S. trending +1.9F warmer than last year making it the #1 hottest in over 38 years. This is great news for clearing out the excess Summer inventories but at a steeper markdown. Rainfall was down -24% nationally, driest in 24 years and 6th driest of the past 38 years. This time of year, a cooler/wetter pattern is typically more favorable during the Back-2-School season. Russia was very warm while the U.K. and Europe were on the cool side.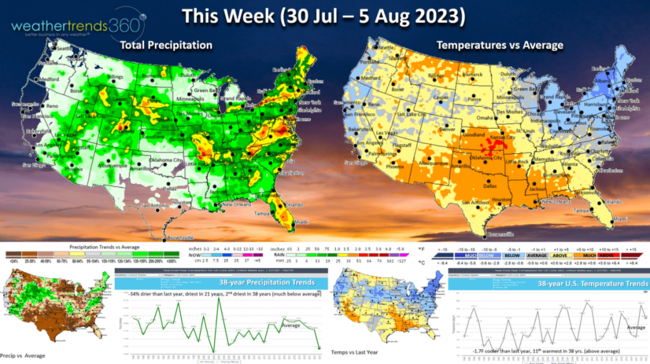 This week (30 Jul - 5 Aug)
shows a slightly cooler trend nationally, but much cooler in the Great Lakes, Northeast and Middle Atlantic with below average temperatures. U.S. temps are down -1.7F vs last year but still 11th warmest of the past 38 years. Rainfall down -34% vs last year, least in 21 years and 2nd least in 38 years. Very likely this keeps consumers in the Summer mindset and less about Back-2-School.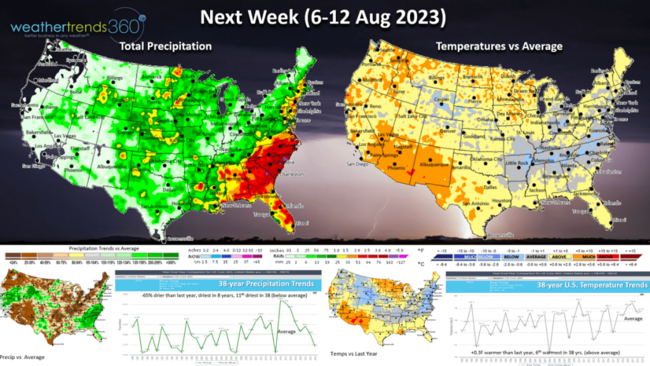 Next week (6-12 Aug)
shows a slightly warmer pattern with U.S. temps trending +0.3F warmer than last year, 6th warmest of the past 38 years. The Middle Atlantic is still on the cooler side for this time of year while the Southwest bakes. Rainfall down -65% vs last year, driest in 8 years and 11th driest of the past 38 years. Not overly favorable trends with consumers still enjoying the Dog Days of Summer as opposed to thinking Fall.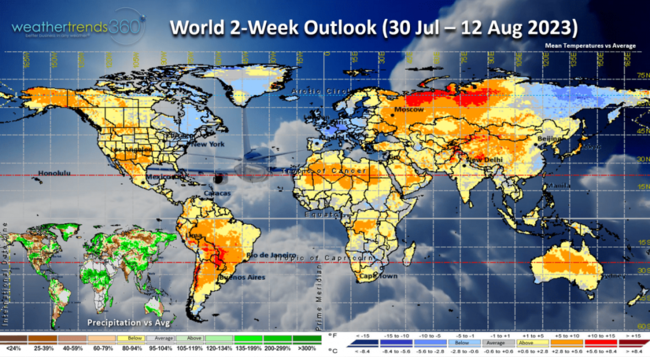 The World 2-week outlook (30 Jul - 12 Aug) s
hows the cool spots are Eastern Canada, Northeast U.S., Central Europe, U.K. and NE Siberia. Hot in the Southwest U.S., Russia, Central China and Australia.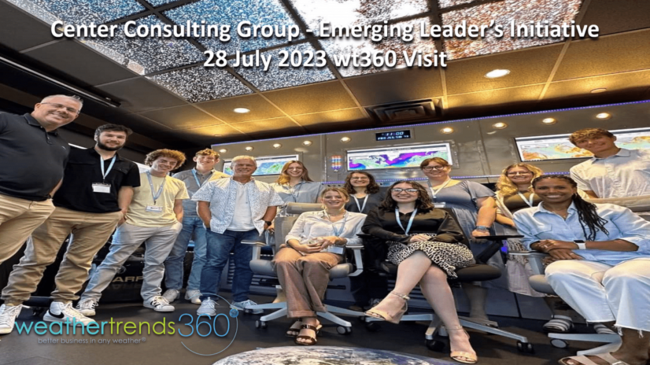 We end with a great group of
Emerging Leaders that visited the wt360 "spaceship" on Friday!
You can tell by the smiles they loved wt360 and what we do.
Have a great week and don't forget to follow us on social media for frequent updates:
Facebook
,
Twitter
,
YouTube
,
Pinterest
and
Linkedin
.
- Captain Kirk out