4 February 2023:
Happy Saturday! :)
If you thought it was very cold this morning in the East, you're right, but definitely not as cold as Mount Washington, NH that appears to have tied an all time low temperature record at -47°F set back on 29 January 1934. The -108°F wind chill temperature broke the record for the all time coldest wind chill in the U.S.
CLICK ON IMAGES FOR A LARGER VIEW.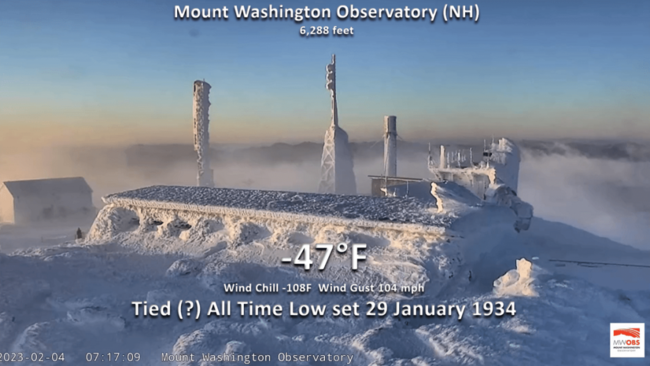 The other event making headline news is the
China balloon up 60,000 feet traversing from Montana to now estimated to be over Charlotte, North Carolina
. Trajectory models suggest it will be off Cape Hatteras NC today and then head over Bermuda by Sunday morning out in the open Atlantic.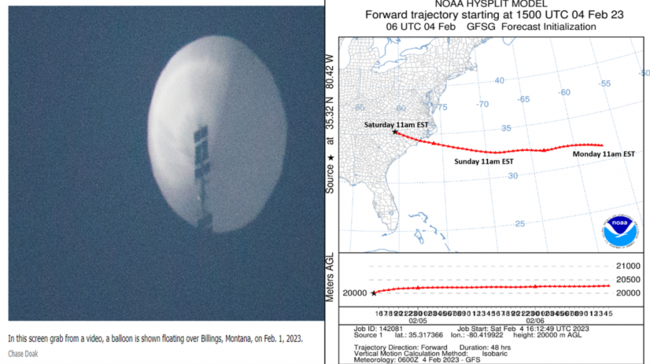 A recap of Last Week (29 Jan - 4 Feb) across the World
shows the U.S. having the coldest week since Christmas week with national temperatures trending -1.6F colder than last year, coldest in 9 years and 5th coldest in 38 years. Rainfall was -42% drier than a year ago, least in 6 years and 18th driest of the past 38 years. Snowfall also down -76% vs last year, least in 18 years and 6th least of the past 38 years. ICE was a problem in Texas and the South Central states despite not so much snow. These trends were good for extreme cold seasonal categories like auto battery failures, heaters, anti-freeze, hot beverages, hot cereals, etc.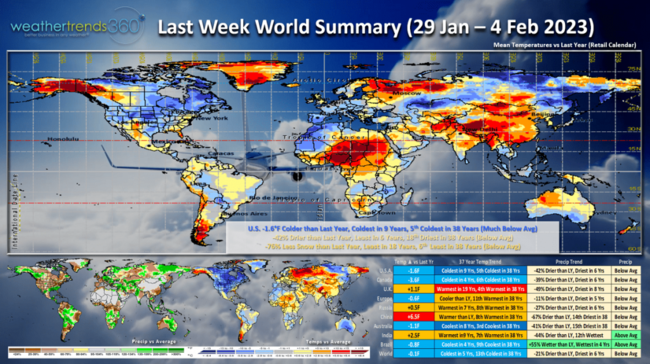 Canada was also very cold, coldest in 4 years while the U.K. was the warmest in 19 years.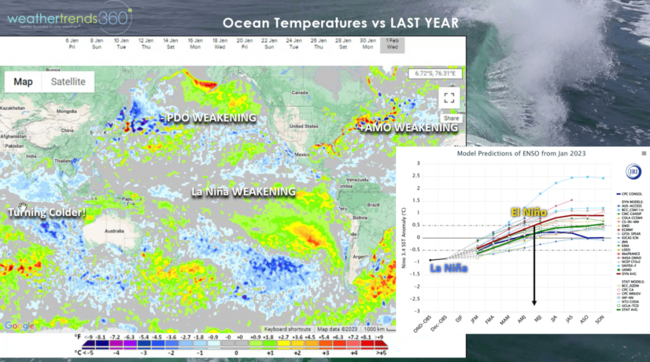 Very clear we're entering a major shift in the weather pattern as
La Nina continues to collapse with rapidly warming oceans in the Eastern Pacific and cooling in the Indian Ocean.
El Nino likely to start by late Spring into Summer with droughts in the Americas being replaced by flooding with many areas having the coolest/wettest Spring in 4 years!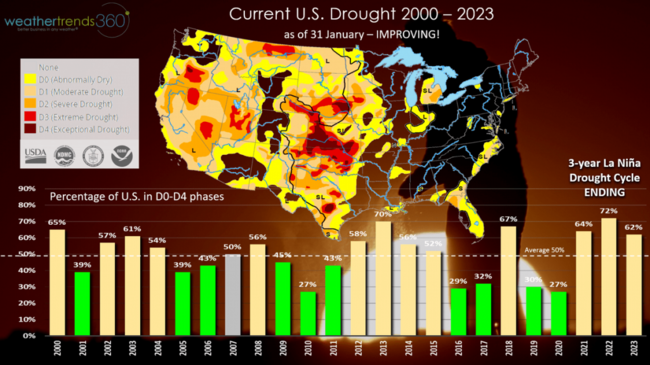 The extreme drought in the West has steadily improved with the barrage of West Coast storms and extreme mountain snowfall.
U.S. now at 62% of the country in dry to drought phases,
least in 3 years. Average this time of year is 50%. wt360 expects this to plummet to 40% with a wet pattern in 2023.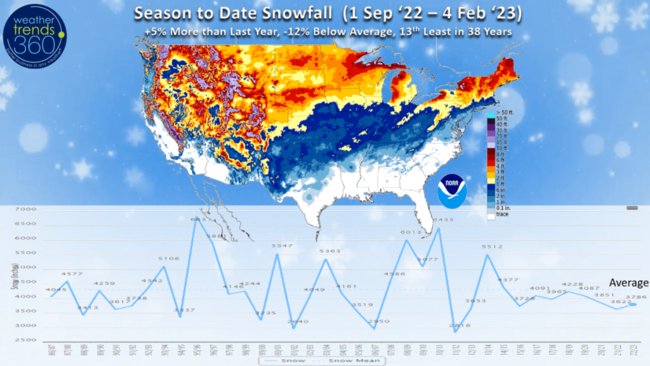 Another common theme of this 3-year La Niña cycle, with a cold PDO Pacific ocean phase and warm Atlantic AMO phase is a not so snowy Winter. S
eason to date (1 Sep - 4 Feb) snowfall across the U.S.
is still up +5% over last year but -12% below average and 13th least of the past 38 years. The major cities from DC to New York have yet to receive an 1" of snow with a record to near record slow start. wt360 expects a HUGE SNOW season in 2023-2024 with the major shift toward an El Niño cycle.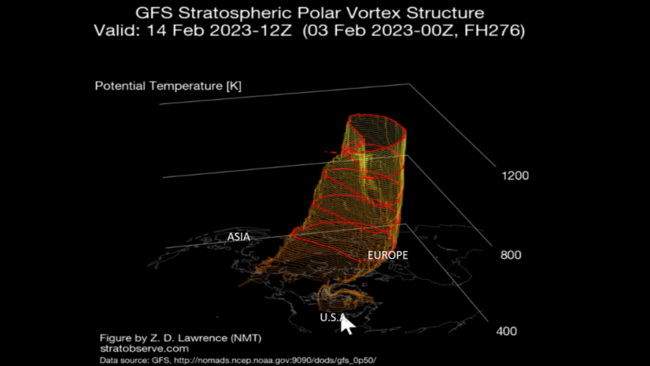 Another near term factor impacting our weather was a weakening of the
Polar Vortex
allowing the frigid Arctic air to briefly invade the U.S. but now it's lifting out very quickly with a major February THAW setting up. Another brief shot again likely the middle of next week, but it too looks to race out of the U.S. with milder weather in front and behind as it lifts out.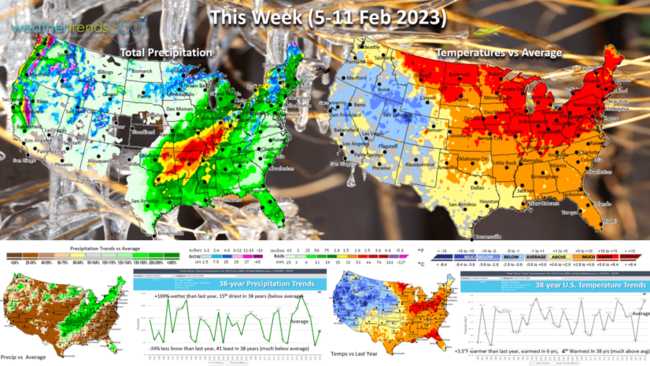 This week (5-11 February)
shows the rapid warming across all but the high elevations of the West. The U.S. overall trends +3.5F warmer than last year, warmest in 6 years and 4th warmest of the past 38years. Rainfall +169% wetter than last year but still 15th least in 38 years and below average. Snowfall looks to trend 34% less than a year ago making it the #1 least snow nationally in 38+ years. These are very favorable trends for store traffic and Winter clearance sales.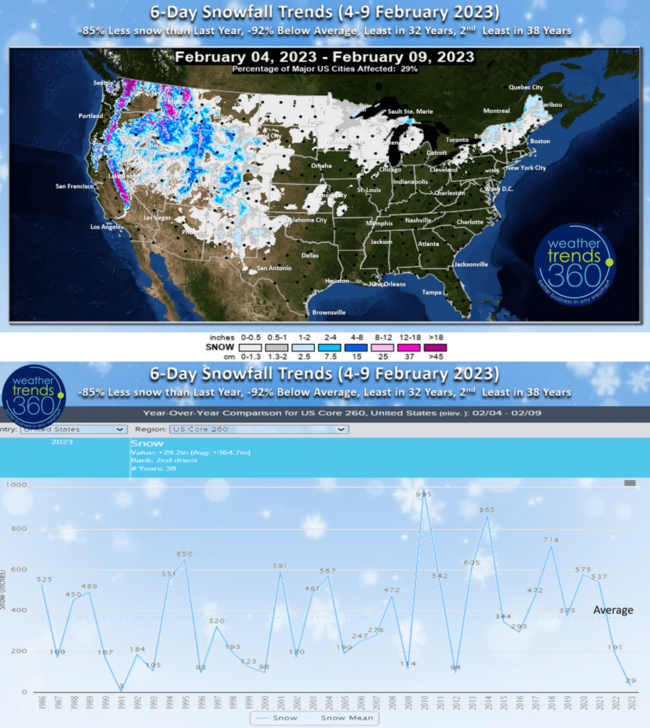 The 6-day snowfall forecast
shows snow mainly limited to the high elevations of the West and much lighter amounts across the Upper Midwest and New England.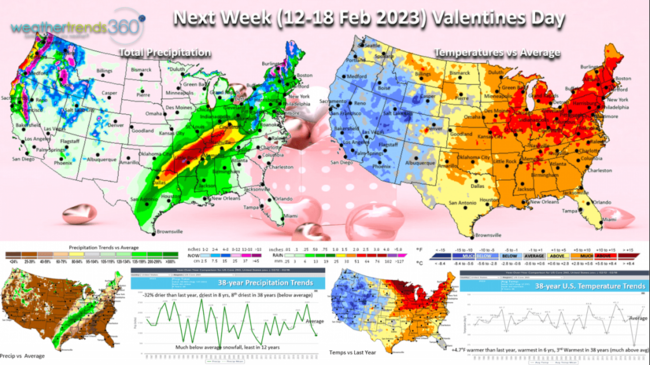 Next week (12-18 February)
shows the THAW continues with just a brief shot of cold weather for the weekend prior to Valentine's Day. The U.S. overall trends +4.7F warmer than last year, warmest in 6 years and 3rd warmest of the past 38 years with much above average national temperatures. Rainfall -32% less than last year, driest in 8 years and 8th driest of the past 38 years with snowfall much below average and limited to the West and highest elevations of New England.
The 2-week World outlook (5-18 February)
shows a much warmer pattern over North America while Europe cools off. The Polar Vortex will favor Alaska, extreme Northern Canada and Northeast Siberia.
We hope you have a great week, and don't forget to follow us on social media for frequent updates:
Facebook
,
Twitter
,
YouTube
,
Pinterest
and
Linkedin
.
- Captain Kirk out.