Happy Sunday! :)


Meteorological Summer (1 June - 31 August)
is officially in the history books and it was a hot/dry season in the U.S.
CLICK ON IMAGES FOR A LARGER VIEW.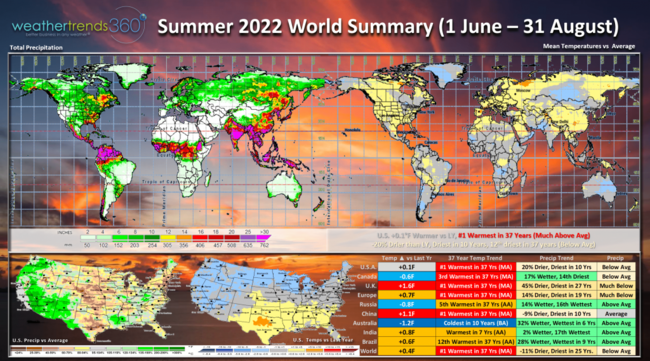 The U.S. trend nearly identical to last year's #1 hottest Summer
but a wholesale change in rainfall going from wet to very dry. The U.S. trended +0.1F warmer than last year, #1 warmest in over 37 years. Rainfall was down 20%, driest in 10 years and 12th driest in 37 years. Canada, Russia and especially Australia (winter) were all cooler, most other locations much hotter.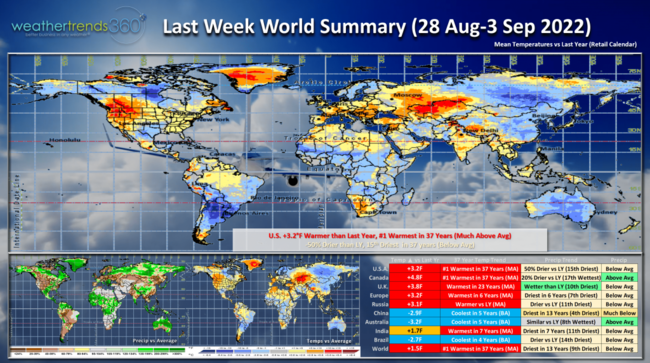 Last week (28 Aug - 3 Sep) around the World
was hot and dry for many areas with the U.S. trending +3.2F warmer than last year and #1 warmest in 37+ years. Rainfall was down -50% vs last year and 15th driest of the past 37 years. Canada was also the #1 hottest in 37 years. These are great for hot seasonal consumable categories like bottled water, pool chemicals, sunscreen, body lotions, fruit and vegetable categories, auto antifreeze, washer-fluid, but a negative for early Fall cold seasonal items. China, Brazil and Australia all had well below average temperatures.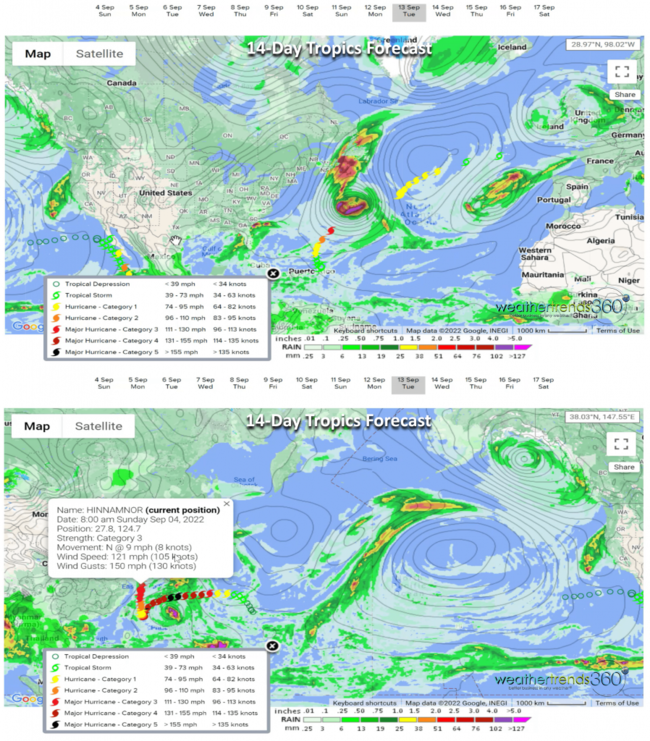 A catalyst that can break the current hot/dry cycle is tropical systems.
The tropics have come to life in the Atlantic and the West Pacific with 3 systems
. The new in the Atlantic are now hurricanes with Earl likely to become a major hurricane but fortunately it remains a fish storm not impacting the U.S. Once Super Typhoon Hinnamnor has made a right turn heading for South Korea and then the Sea of Japan. As these strong Typhoons head North toward Alaska, they do help to alter the overall Northern Hemisphere weather pattern allowing cooler weather to invade North America. Appears that will happen next week.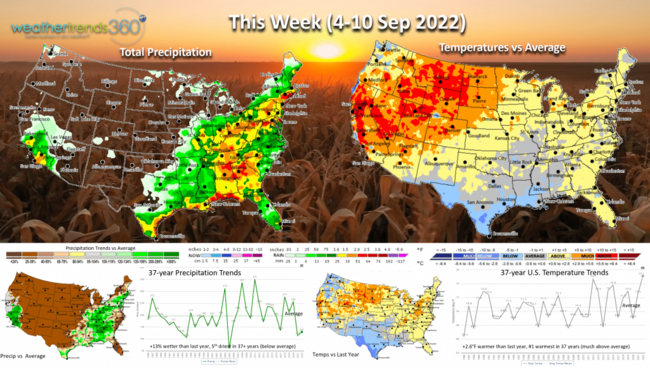 This Week (4-10 Sep) shows the U.S.
trending +2.6F warmer than last year and #1 warmest in 37+ years. Rainfall up a bit, +15% over last year, but still 5th driest in 37 years. Much needed rain early in the week for the Northeaster U.S. that has had an exceptionally dry Summer. Some Southern and Midwest farmers are starting to harvest their crops and it's mainly a very dry week. Yields in many areas will take a hit this year due to the hot/dry conditions.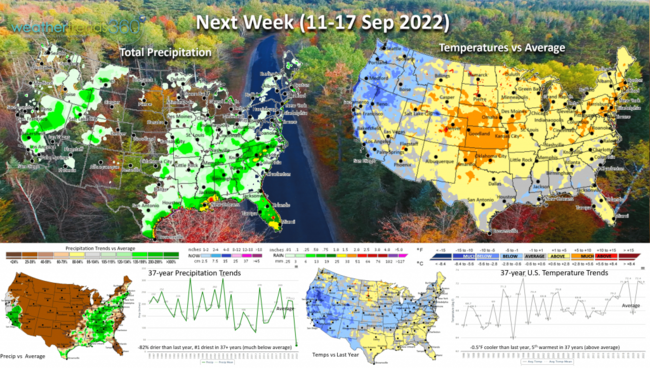 Next week (11-17 Sep)
the last week of Summer according to the Sun and starting to see signs of a pattern shift with cooler weather invading the West. This in part due to the Typhoon in the West Pacific. There are several other Typhoons behind Hinnamnor that could be further catalysts for a change in the weather in the U.S. The U.S. overall trends a tad cooler, -0.5F cooler than last year, but still 5th warmest of the past 37 years. Rainfall down -82% and #1 driest in 37 years. This is subject to change as the tropics are certainly favorable for quick developing systems in Eastern Gulf of Mexico and East Coast.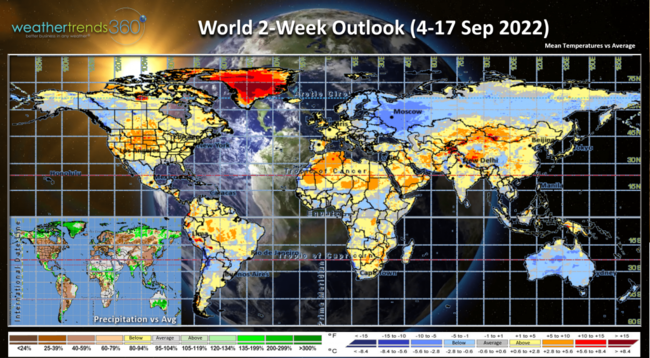 The 2-week World Outlook
shows the cooler weather invading Western Canada and eventually the West Coast, while still very warm in the U.K. and parts of Western Europe. Russia and Australia remain the cold spots.
We hope you have a great Labor Day weekend, and don't forget to follow us on social media for frequent updates:
Facebook
,
Twitter
,
YouTube
,
Pinterest
and
Linkedin
.
- Captain Kirk out.