Happy Sunday! :)

https://www.youtube.com/watch?v=KWbnIz_PgQg

A recap of the World's weather last week (28 Nov - 4 Dec) shows the U.S. trending +6.8F warmer than last year, warmest in 4 years and 4th warmest in 36 years with much above average national temperatures. The Northeast was the colder spot. The very dry trends continue with the nation trending 88% drier than last year making it the #1 driest in over 36 years. Snowfall also down 38% vs a year ago, least in 5 years and 6th least in 36 years. CLICK ON IMAGES FOR A LARGER VIEW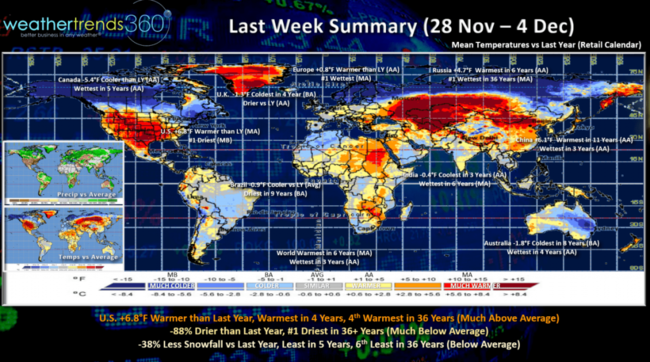 The brutally cold weather is up in Alaska and Northern Canada with Canada trending colder than last year. The U.K., Australia, India and Brazil all trending cooler than a year ago while warmer across Europe and Russia.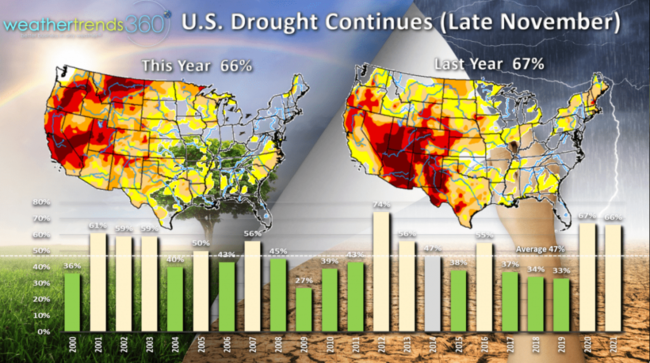 Dry to drought phases continue for the late Fall with 66% of the country still having dry conditions, well above average of 47%.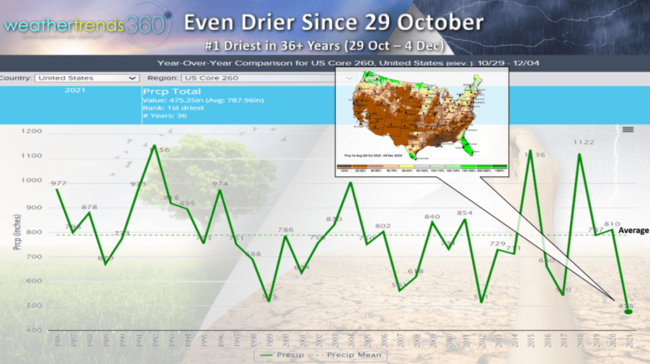 Since late October it's been the driest in over 36 years for the U.S. overall which is good for outdoor activities and overall holiday shopping store traffic.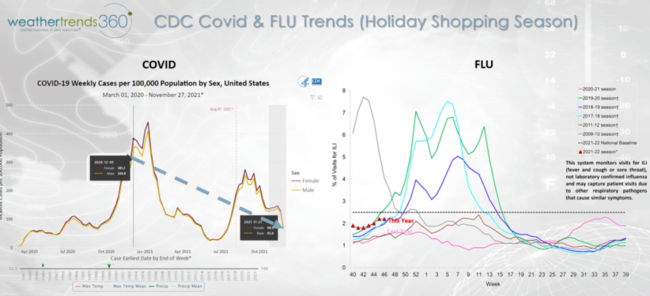 COVID and FLU trends are also more favorable for the holiday shopping season compared to this time year. COVID cases are actually way down vs this time a year ago and while FLU cases are up a bit over last year, still below baseline.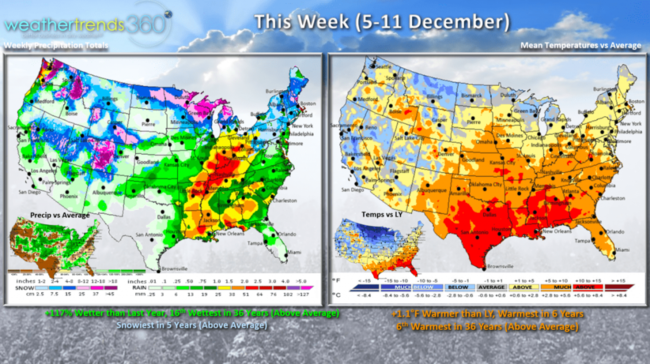 This week (5-11 Dec) shows the U.S. trending +1.1F warmer than last year, warmest in 6 years and 6th warmest of the past 36 years. Despite the warmer trends, snowfall looks to be the most in 5 years with snow in the Rocky Mountains, but also the Upper Midwest, Great Lakes and even the lower elevations of the Northeast with a midweek system. Rainfall also up +117% over a year ago and 16th wettest of the past 36 years.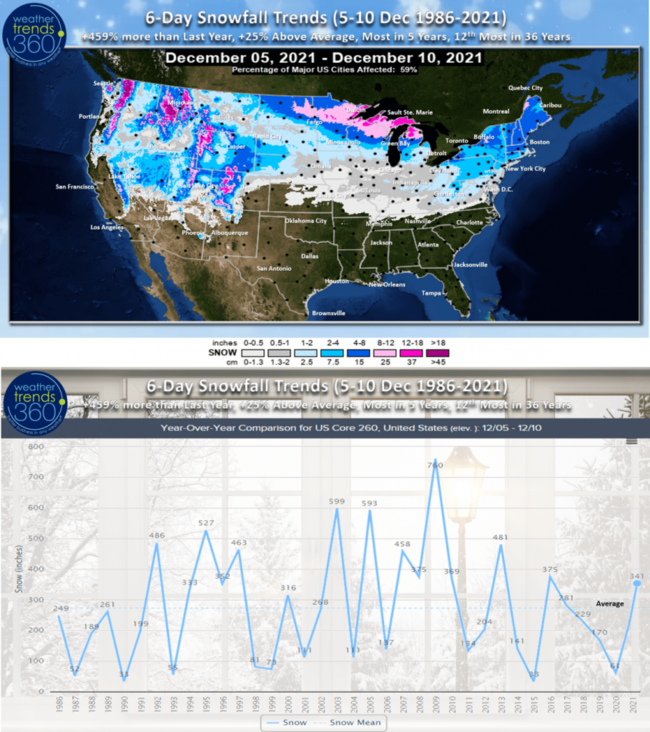 The 6-day snowfall trends show the big winner this week will from North Dakota to Michigan, but even much of the Northeast will get a light to moderate snow event Wednesday. The 6-day period shows snowfall up +459% over last year, +25% above average, most in 5 years and 12th most in 36 years.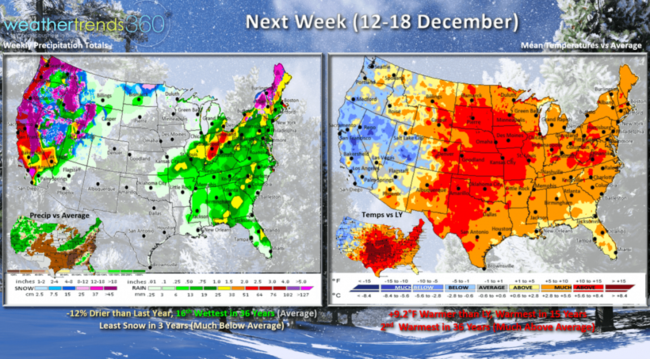 Next week (12-18 Dec) shows more record warmth in the Central U.S. but a sign of a pattern change with the West turning colder, wetter and snowier. The U.S. overall looks to trend +9.2F warmer than last year, warmest in 15 years and 2nd warmest of the past 36 years. While nationally rainfall looks to be down 12%, the heaviest rain and snow will be in the West, even well into Southern California - much needed for sure. National snowfall likely to be the least in 3 years despite the heavy snow in the higher elevations of the West.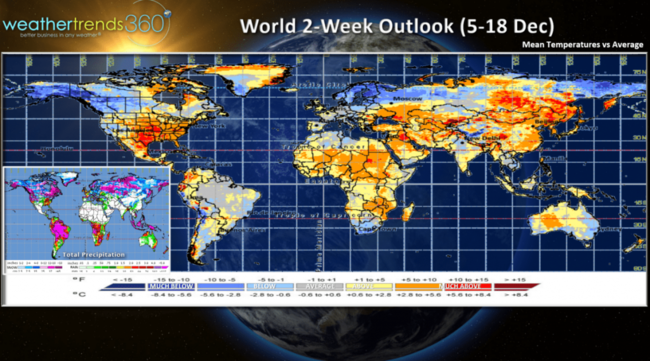 The World 2-week outlook shows the cold in Alaska, western Canada and the Western U.S. starting to make a move into the lower 48. Seasonable temps for Western Europe, much warmer for Eastern Europe and Russia. Very cold for Northern Europe and NW Russia and NE Siberia.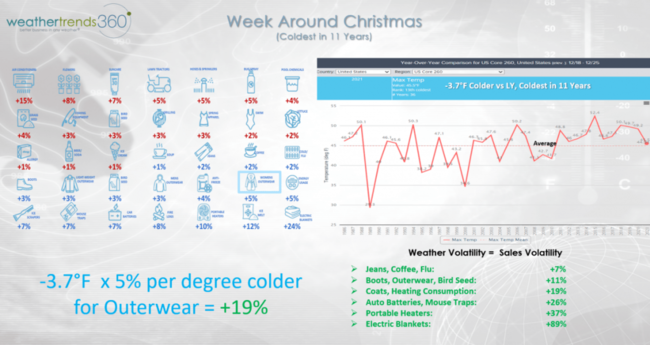 As cooler trends begin to develop in late December around Christmas, there will be an uptick in seasonal merchandise sales. WTI's Power of 1 Degree technology quantifies how every one degree of temperature change influences thousands of seasonal categories. With the period around Christmas the coolest in 11 years, even if just average national temperatures, the lift in sales will be about 7% for jeans, coffee, flu medications, +11% for outerwear, boots and bird seed, +19% for coats and your electric utility consumption for heat, and electric bedding could be the bigger winner as folks looks for ways to save on the home heating bills - sales potentially up +89% with this gift item.

We hope you have a great week, and don't forget to follow us on social media for frequent updates: Facebook, Twitter, YouTube, Pinterest and Linkedin

- Captain Kirk out.