Happy Sunday! :)


A recap of last week (29 May - 4 June) across the World
shows the U.S. trending +0.3F warmer than last year, 12th warmest of the past 37 years with above average national temperatures. Texas to New York showed the greatest trends toward much warmer weather and an overall lift to seasonal merchandise sales. Much colder in the West with lower year-over-year trends in seasonal sales.
CLICK ON IMAGES FOR A LARGER VIEW.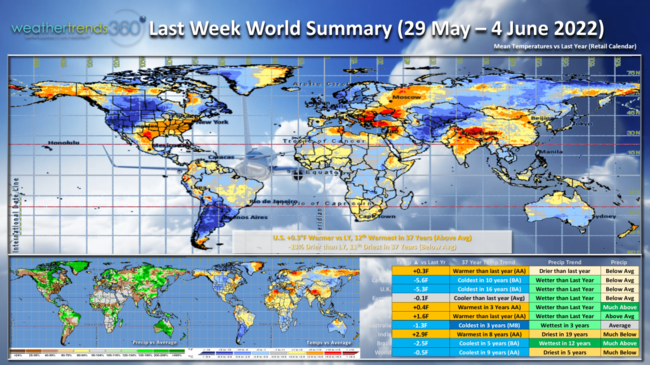 Rainfall was -13% drier than last year, 11th driest in 37 years with below average national rainfall. Warmer and drier trends are favorable for most seasonal category sales.
Canada was the coolest in 10 years, U.K. coolest in 16 years with weaker overall sales trends. Very cold in Australia which is a plus for late Fall merchandise sales down under.
The tropics are off to a fast start with the first named system of the 2022 season (Alex).
The system went across Florida with heavy flooding rain in South Florida this weekend and now racing out into the Atlantic north of Bermuda. WTI expects 20 named systems this year or the 4th most named systems in 166 years of records. Florida is one area where we see continued high risk for more land falling tropical systems.
This week (5-11 June)
shows a cooler trend setting up across the U.S. trending -3.8F cooler than last year, coolest in 3 years and 17th warmest of the past 37 years with near average national temperatures. This is a wholesale change from last year's #1 hottest in decades so the overall trend is for weaker seasonal category sales trends coming off the very favorable Memorial Day weekend. Rainfall is 16% drier than last year, least in years and 11th least in 37 years, below average nationally.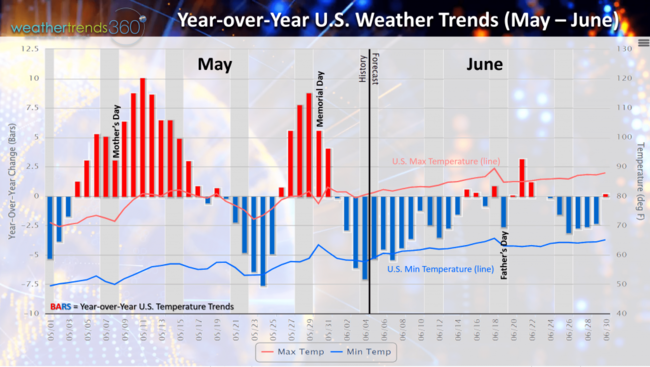 Using Weather Trends Power of 1 Degree technology on seasonal sales
, the trends are generally negative compared to last year's extremely strong start to June.
Items you and I buy everyday are all expected to trend down this week in light of the very strong gains this time last year.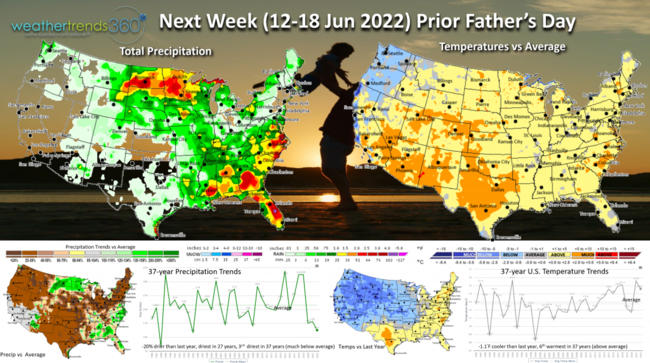 Next week (12-18 June)
is the week before Father's Day weekend and it's a bit better than this week, still soft vs last year. Texas to the Northeast remains more favorable than last year while the West is still much colder than last year but warming to above average levels, a plus vs this week's cold conditions. The Pacific Northwest would remain the least favorable region for overall retail sales. Rainfall is the least in 27 years and well below average, a benefit to outdoor activities.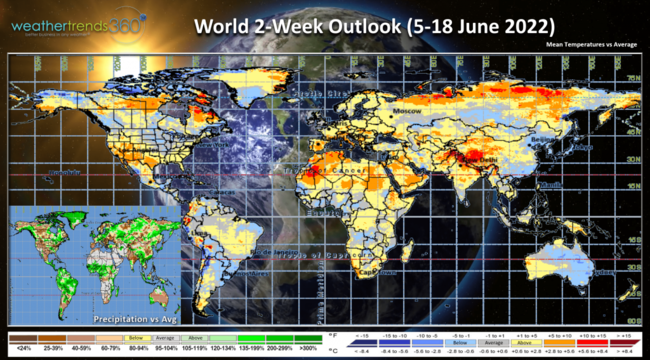 For the
World overall (5-18 June)
shows warm weather across the West, South and Eastern U.S., cooler in the Central U.S. Europe shows an overall warm pattern. Australia is favorable for cold Fall seasonal merchandise sales as they're about to enter Winter.
Have a great week and don't forget to follow us on social media for frequent updates:
Facebook
,
Twitter
,
YouTube
,
Pinterest
and
Linkedin
.
- Captain Kirk out