8 April 2023:
Happy Saturday! :)
If you suffer from allergies and asthma it's about to get severe the next couple weeks with a much warmer and drier pattern for most of us. We spoke with the
Allergy & Asthma Network
last week on our 2023 outlook which highlights a tough April - May but improving trends for the latter half (
VIDEO RECORDING)
.
Click on images for a larger view.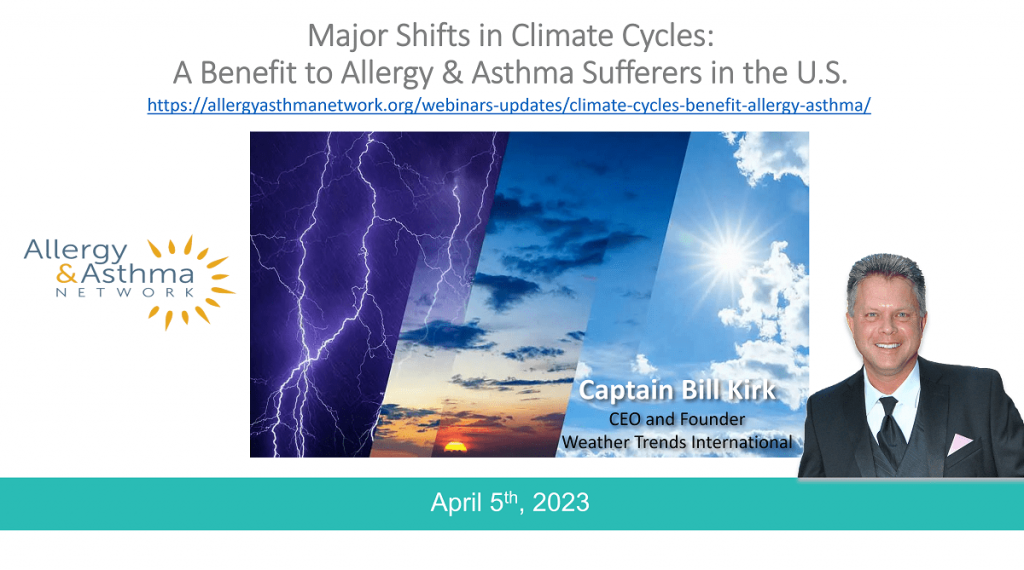 Warmer/drier weather is the biggest catalyst for more suffering, but some secondary factors include wild fires. Fortunately those are way down due to the much wetter start to 2023.
To date wildfire acres burned is down -78% below average across the U.S.
WTI expects this trend to continue in 2023 with total acres burned -20% below average or around 5.7M acres. The peak fire seasons of the past 10 years were in 2020, 2017 and 2015 with over 10M acres burned.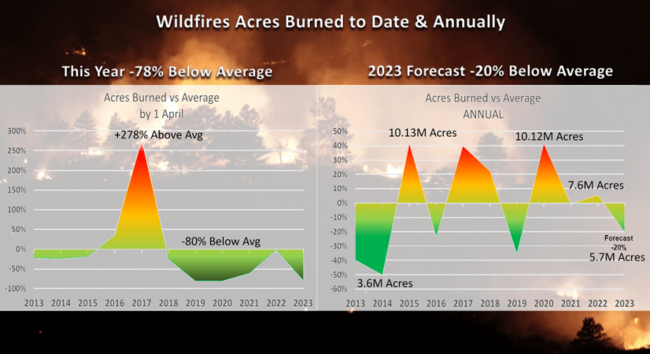 Weather Trends launched a new fire danger 7-day forecast product
which highlights areas likely to have higher risk for fires. This week the highest fire danger risk appears to be in the Desert Southwest where drought has been hanging on.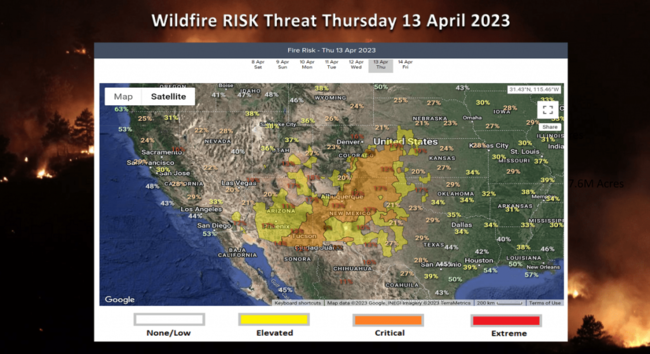 Drought has made a big improvement
over the Winter going from 82% dry to drought coverage back on 1 November to 52% as of 4 April. This is the least in dry to drought coverage in 3 years. This time last year was the most coverage in over 20 years.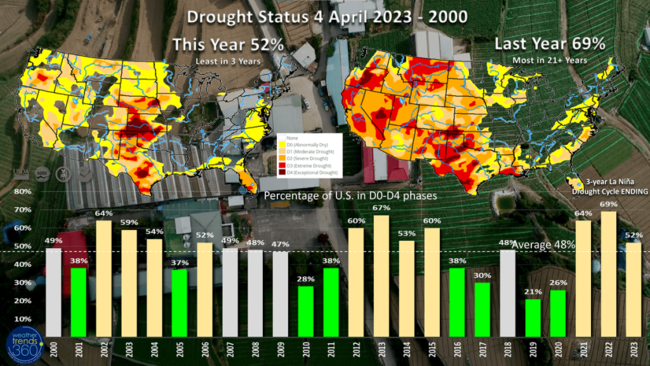 With the more frequent cold fronts and wetter pattern,
tornadoes to date are off to a near historic start
with 512. We added 142 tornadoes this past week alone bringing the seasonal totals +86% above average, 10% more than last year, most in 6 years and in the top 1% of historical records back to the 1950s.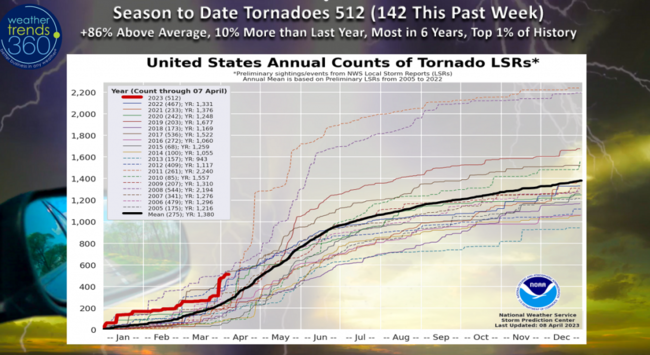 Snow cover
this morning is also very high for this late in season with 24% of the U.S. still blanketed in snow. This is the most in 5 years and 3rd most of the past 20 years. Last year only 9% of the country had snow on the ground.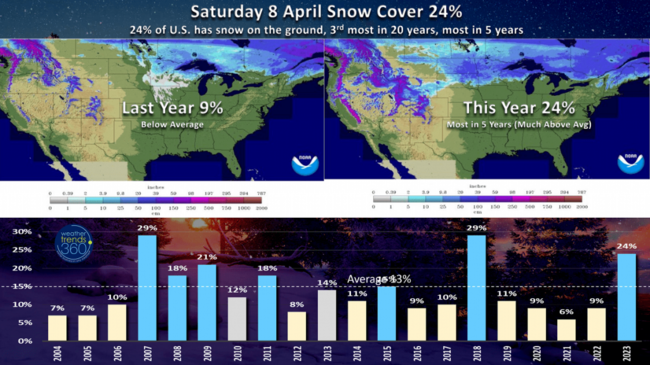 Season to date snowfall
shows the U.S. will end up with +24% more snow than last year, most in 4 years but sill -4% below average and 19th least in 38 years.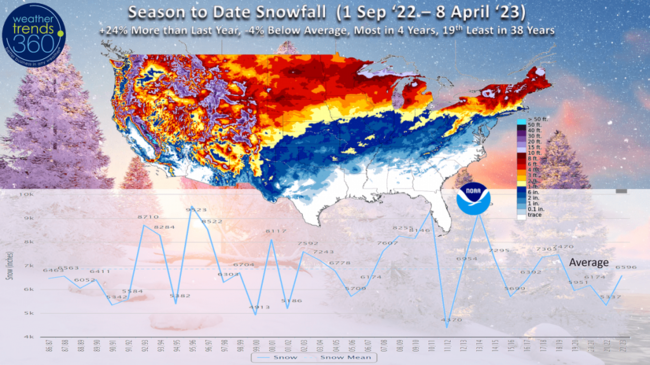 The peak snowiest week was the middle December
period, unusual, with the 2nd snowiest week in late January and 3rd snowiest in late February. The late Winter - early Spring period ended with 7 straight snowier weeks than a year ago helping to boost the seasonal totals.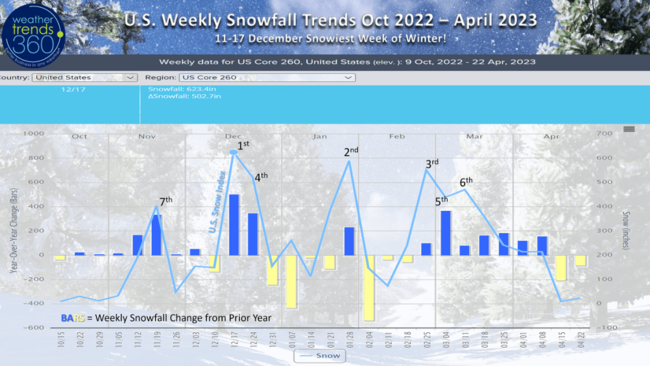 Last week (2-8 April) across the World
shows the U.S. trending +0.1F warmer than last year but still 16th coldest of the past 38 years with below average national temperatures. It was -13% drier than last year but still 15th wettest of the past 38 years with above average national temperatures. Snowfall was up a whopping +398%, most in 4 years and 9th most in 38 years. These are generally unfavorable trends for retail sales, store traffic and seasonal merchandise. The bright spot would be the Southeast U.S. Canada was even colder trending coldest in 26 years while Europe also trended 5th coldest of the past 38 years.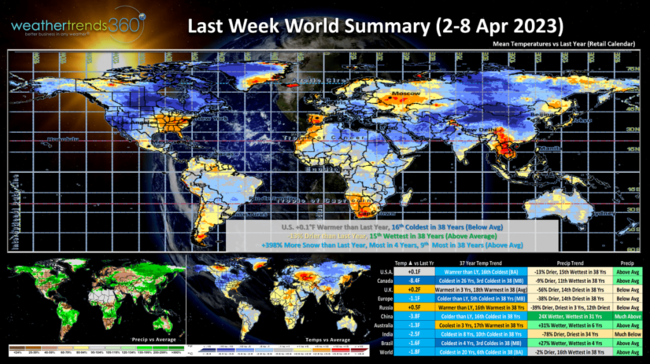 This week (9-15 April)
across the U.S. trending +6.2F warmer than last year, warmest in 17 years and 3rd warmest of the past 38 years. This will be a very strong week for Spring merchandise sales including allergy and asthma medications. Allergy suffering will be extreme this week for much of the country. Rainfall down -56% vs last year, driest in 15 years and 5th driest of the past 38 years, another strong catalyst for outdoor activities and strong seasonal category sales. Snowfall the least in 17 years and we'll get a bit of a reprieve from the tornado threat.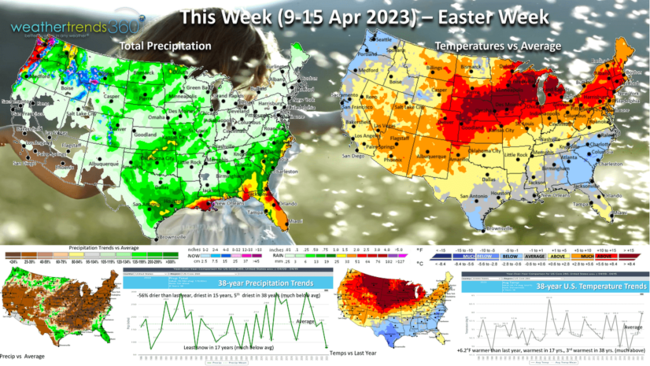 Next week (16-22 April)
shows more of the same with the U.S. trending +4.2F warmer than last year, warmest in 4 years and 11th warmest of the past 38 years. Rainfall down -49%, least in 22 years and 5th least of the past 38 years. Another favorable week for Spring merchandise and more allergy suffering.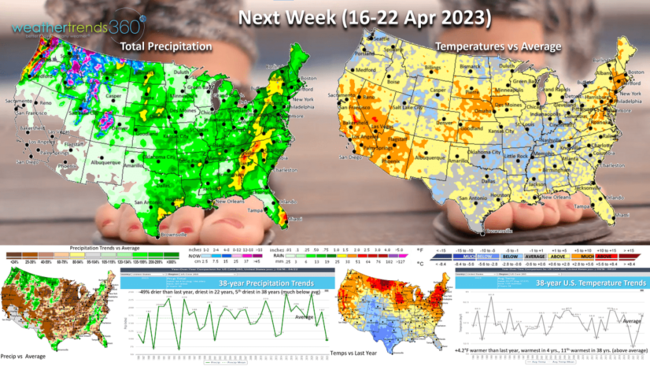 The 2-week World outlook (9-22 April)
shows moderating trends in North America and Europe with an uptick in demand for seasonal categories after a tough March.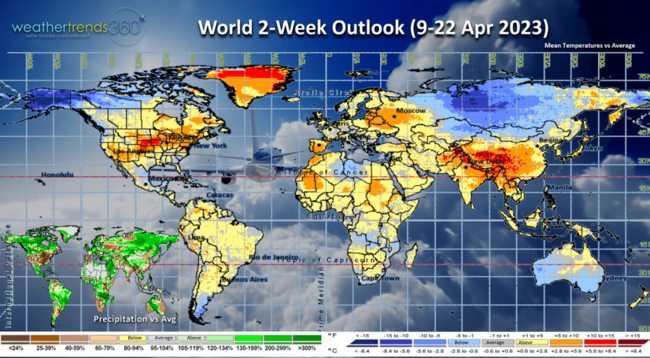 We hope you have a great Easter and week ahead, and don't forget to follow us on social media for frequent updates:
Facebook
,
Twitter
,
YouTube
,
Pinterest
and
Linkedin
.
- Captain Kirk out.