8 July 2023:
Happy Saturday! :)
Christmas in July
...it's only 170 days away! Don't expect the epic cold this year - much warmer season ahead!
CLICK ON IMAGES FOR A LARGER VIEW.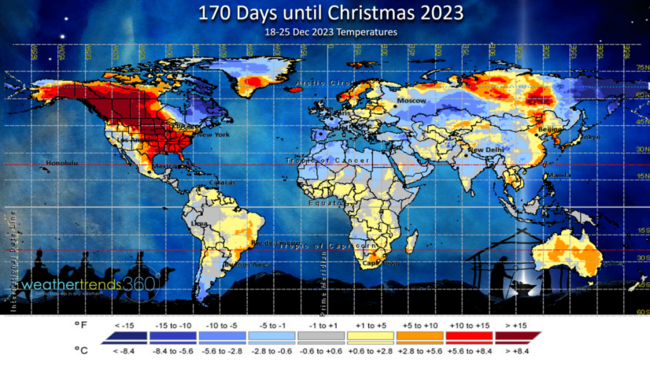 El Niño continues to strengthen
on its way to a strong event by middle Fall. Then a gradual weakening trend appears likely through Winter. A weakening El Niño is more conducive to bigger Nor'easter snowstorms for the latter half of Winter 2023-2024.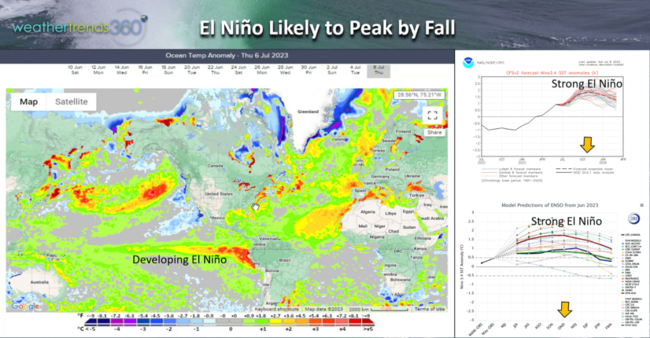 Drought made some improvement last week
with much needed rain in parts of the Central U.S. and Central Corn Belt. Dry to drought phases stand at 52% of the U.S. vs 70% this time last year and 46% average for early July.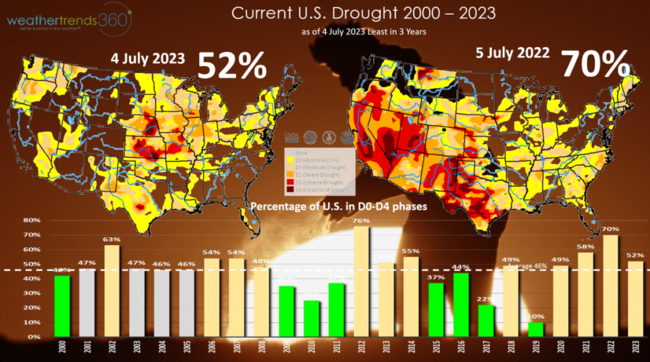 Sahara Desert dust off Africa
is traversing the entire Atlantic Ocean toward Florida. This helps to suppress tropical development in the Atlantic but also nicer sunsets in the Sunshine State.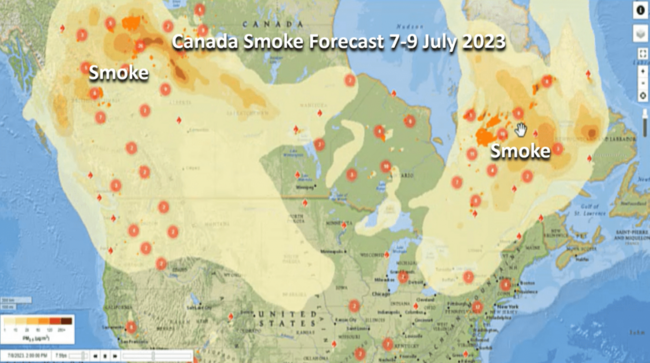 Last Week (2-8 July) across the World
shows the U.S. trending -1.2F cooler than last year, coolest in 8 years but still 14th warmest of the past 38 years. Rainfall was down -36% vs last year, least in 5 years and 5th driest of the past 38 years. Fortunately some much needed rain in crop growing regions of Kansas, Illinois, Indiana, Ohio and Michigan. Cooler trends continue to put a damper on hot Summer seasonal category sales. Canada was also warm and dry where fires continue to burn. Russia and China were the hot spots.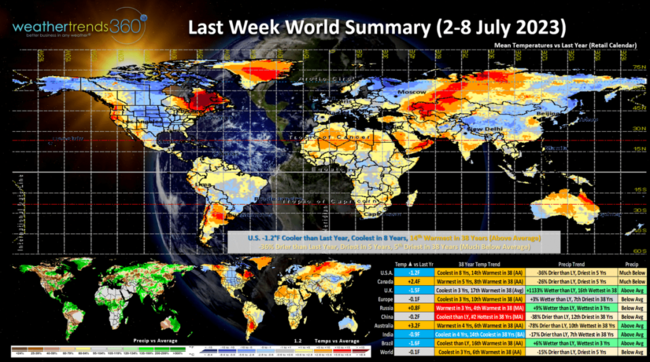 This week (9-15 July)
shows the U.S. trending -0.6F cooler than last year and 18th warmest of the past 38 years with near average national temperatures. The hot spot is in the Southwest, cooler in the Upper Midwest - Ohio Valley. Rainfall down -5% vs last year, least in 20 years and 5th least in 38 years with much below average national rainfall. Fortunately, SOME rain in the Corn Belt. This will be a somewhat soft week once again for year-over-year seasonal sales trends.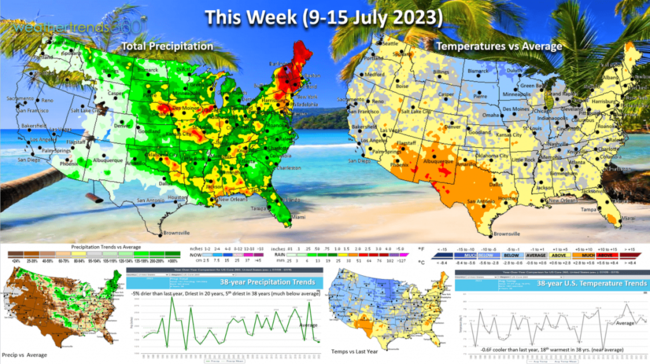 Fires in Canada continue to rage
and as the Jet Stream dips into the Upper Midwest, some of that smoke gets transported down into the U.S. Hopefully not as bad as last week was in the Northeast.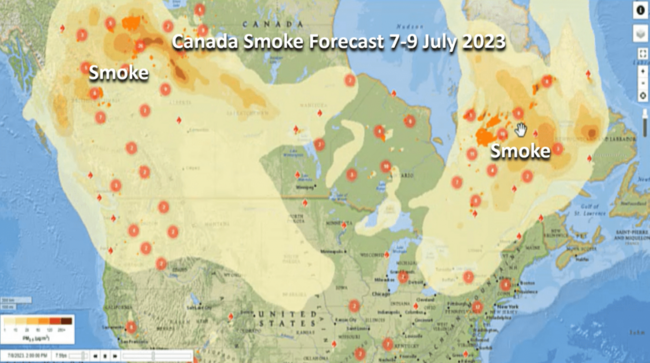 Next week (16-22 July)
trends -1.0F cooler than last year, but still 5th hottest of the past 38 years so some hope for a minor uptick in hot seasonal categories in the Midwest and East Coast. Rainfall looks to trend -65% less than last year and #1 driest in 38 years, probably overdone, but still on the dry side which benefits outdoor activities.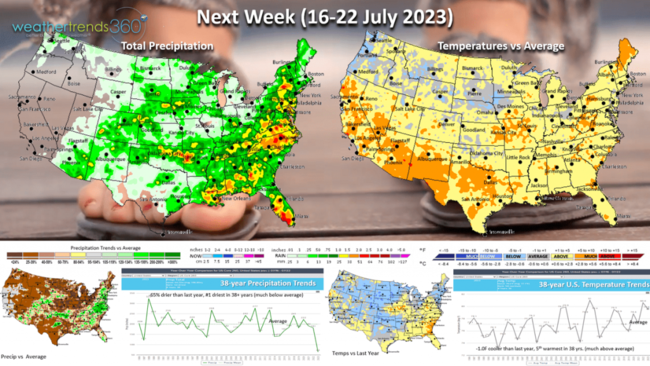 Summer (Jun - Aug)
year-over-year national temperature trends show very few more favorable periods than a year ago. June was the coolest in 19 years which led to excess Summer inventory for items like room AC and a drain on overall seasonal sales. While July is trending cooler, it is still on the warm side with August likely to be the coolest in 6 years vs last year's hottest in 27 years. Net-Net much lower Summer seasonal category sales for the U.S. overall.
The World 2-week outlook (9-22 July)
shows the "Dog Days of Summer" are here with hot conditions in the Southwest U.S., Eastern Canada and Southern Europe.
We hope you have a great week ahead, and don't forget to follow us on social media for frequent updates:
Facebook
,
Twitter
,
YouTube
,
Pinterest
and
Linkedin
.
- Captain Kirk out