La Nina Is Coming: Is Your Business Ready?
Do you know what it means for your business week-by-week through January 2021 next year?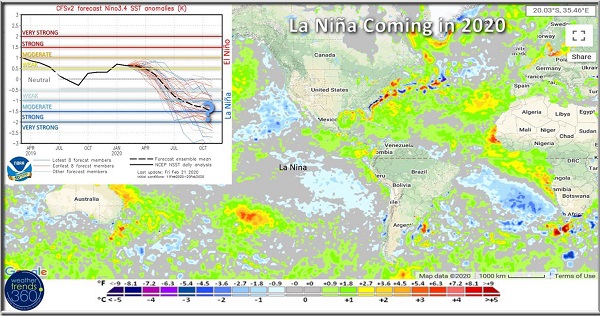 We do! And we know how 23 other cycles and trillions upon trillions of statistics suggests major weather patterns shifts are happening now making for a very different 2020, more similar to 2016 and 2012 in some respects, very different in others. Weather Trends' Power of 1 Degree® technology can quantify exactly how the weather influenced your sales in the past, store-by-store but also can project a YEAR-AHEAD by week, by store, out a year in about 30 seconds! Our year-ahead statistical math-based, climate cycle approach to predicting temperatures, rainfall and snowfall every mile on Earth doesn't change once issued and we're already done with January 2021...next year.
Clients LOVE team wt360
Don't take our word for it, hear first hand what two long-time 15 year clients on Wall Street have to say about our services. There's a surprise in the middle as CEO Captain Kirk talks about 2020 on a high-level that includes a bold outlook for 20 named storms this Hurricane season with WTI's highest risk regions New England and Florida for significant land-falling events.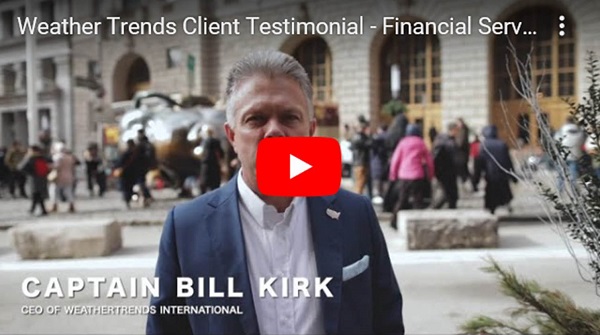 Weekly Winter Weather Trends
The coldest week of Winter was 15-21 December which also showed the greatest change toward colder year-over-year temperatures trending 7 degrees colder than last year.


The next coldest periods were #2 Martin Luther King Jr. weekend and #3 Valentine's Day weekend.


The warmest period of Winter was, ironically, Groundhog Day and Super Bowl Sunday 2 February with temperatures 9.8F above average.


The snowiest week nationally was middle January 12th-18th trending the snowiest in 9 years and 4th snowiest in 35 years for the week.


The greatest increase in year-over-year snowfall occurred 15-21 December.


The greatest decrease in year-over-year snowfall occurred 16-22 February.


The least snowy week was 26 January - 1 February with the least snow in 28 years for the week.


The wettest week was 29 Dec - 4 Jan which was the 2nd wettest in 35 years.


The driest week was 26 January - 1 February trending 7th driest of the past 35 years.



The warmer, less snowy core Winter (Dec-Feb) was certainly a plus for overall store traffic, airline on-time statistics and GDP overall, but a negative for Winter seasonal categories. A lot of Winter seasonal merchandise was sold in the middle October to middle November timeframe when the U.S. trended the coldest in 22 years and 5
th
snowiest in 35 years. This cannibalized seasonal sales out of Winter into Fall last year.
For retailers on an NRF 4-5-4 week calendar, Q1 starting in February is trending the warmest in 3 years (above average), driest in 3 years (still much above average) but with the least snow in 3 years (below average). Warmer/drier trends are better for retail sales overall now through early August. This suggests Q1 is starting off moderately well.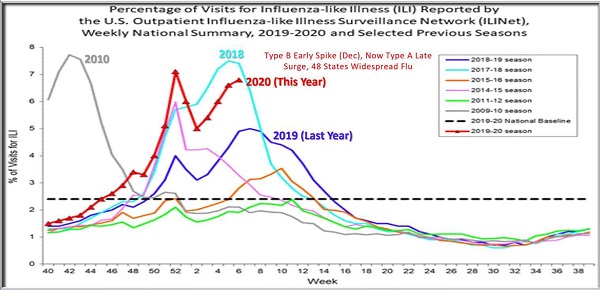 One bigger negative remains the Flu season which has a double spike with the first spike around Christmas being one of the worst, most widespread peaks in a decade (Type B) and now a secondary Type A surge is peaking much higher than last year. With more of the population sick, there is a negative influence on store traffic with on-line faring better.
U.S Winter Weather Roundup
Winter 2019-2020 is almost in the history books and it certainly set some records. Meteorological Winter is defined as 1 December to 29 February, and that period has been warm, wet but not very snowy for the U.S. as a whole. Here are the trends based on 260 cities across the U.S. representing over 80% of the population.
National Trends:
1. Snowfall was the least in 8 years and 10th least in 35 years trending 18% below average and 21% less than last year.
2. Rainfall was 12% lower than last year but still 4th wettest of the past 35 years trending 21% above average.
3. Temperatures were the warmest in 4 years and 2nd warmest in 35 years trending 2.6F warmer than last year and 3.1F above average.
How did the weather trends this past winter impact your business? Want to minimize the weather impact on your business? Let the team at wt360 help!
Please send us an email at
sales@wt360.com
and we will respond to you within one business day.