As the Labor Day weekend quickly approaches, so too does the climatological peak of the Atlantic Hurricane Season and, after a long stretch of inactivity, the tropics are becoming more active. Over the past several days we've seen 2 storms develop, Dorian and Erin. Erin was located this morning about 200 miles southeast of Cape Hatteras and weakened to a tropical depression while continuing to race off to the northeast bringing the potential for heavy rain to northern New England and the Canadian Maritimes. The larger threat is Hurricane Storm Dorian.


Dorian is menacing the U.S. and British Virgin Islands and Puerto Rico today with strong winds and heavy rain. Current forecasts bring the storm through or just to the north of the Bahamas over the upcoming weekend and on a track towards the U.S. mainland. There is still plenty of uncertainty surrounding the final track of Dorian. Interests from the northeastern Gulf Coast to the Florida Peninsula and even up to Cape Hatteras should be on-guard for possible impacts from Dorian over the Labor Day holiday weekend.


Main Messages for Hurricane Dorian
Possible Areas of Impact:


-Southeast U.S. Coast from Florida Peninsula to Carolinas; Possibly northeastern Gulf of Mexico


Time of Impact:


-Labor Day Weekend to Early Next Week. *Note, consumers responding to forecasts are already starting to stockpile emergency supplies


Impacts:


-Heavy rain and storm surge flooding
-Store closures and disruptions
-Increased store traffic ahead of the storm; increased home center traffic after the storm in areas impacted by the storm
-Impacts to tourism industry over the holiday weekend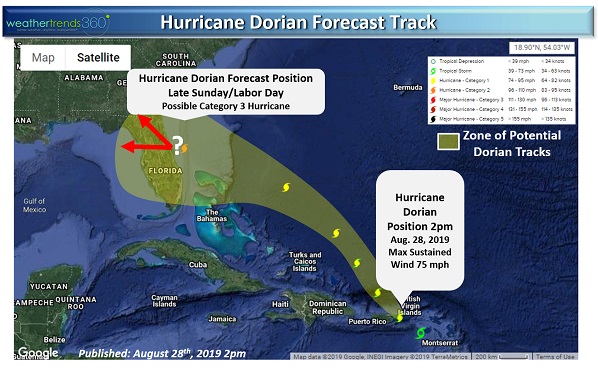 Once Dorian reaches the western Atlantic, well east of the Bahamas, it will encounter a favorable environment for intensification. Expectations are for Dorian to strengthen and possibly attain major hurricane status (category 3 or higher) as it approaches the Southeast Coast of the U.S.


While some forecast models have the storm making landfall in the Florida Peninsula and either moving into the northeastern corner of the Gulf of Mexico or heading into Georgia around Labor Day, the forecast track error at this lead time can be on the order of several hundred miles. We want to stress that anywhere from the northeastern Gulf Coast to the Florida Peninsula to Cape Hatteras could be under the gun for impacts from Dorian.


Regardless of where Dorian eventually ends up, consumers are already responding to forecasts, and stock outs of items like bottled water, generators, and other emergency supplies are likely along the eastern Florida Peninsula.