Weather Trends International is continuing to monitor Hurricane Florence, which is currently located far out in the central Atlantic Ocean, for potential impacts to the U.S. While the forecast track of Florence remains highly uncertain, there is a growing concern that the U.S. will feel impacts from this storm as forecast models continue to take the storm farther west. There are many factors that will influence the ultimate track of Florence, and we strongly suggest that you continue to monitor the storm in the coming days.

There is no shortage of tropical activity this morning as Tropical Storm Gordon made landfall west of the Mississippi-Alabama border late last night; Hurricane Florence in the central Atlantic; a disturbance which has a high chance of tropical development southwest of the Cape Verde Islands (red 'X' on the map below); and another disturbance south of the Cape Verde Islands that could develop into a tropical system in the next 5 days (yellow hatched area on the map below).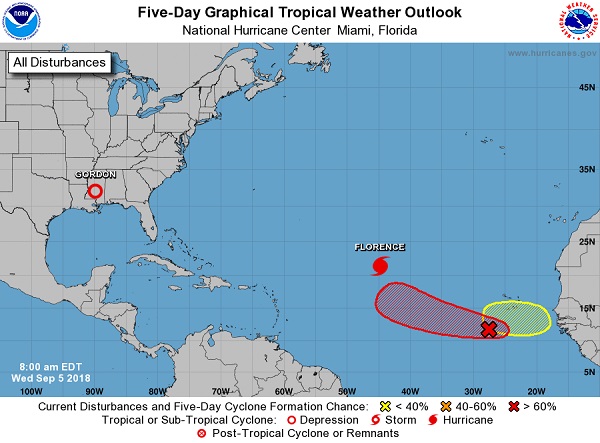 Gordon is bringing heavy, flooding rain to the north central Gulf Coast with additional flood threats up into the Midwest later this week as recently saturated grounds combined with heavy rain will increase the flood threat. Once we're through with Gordon, all eyes will be set on Florence, which was just upgraded to the first major hurricane (category 3 or greater) of the Atlantic Hurricane Season, as recent forecast models have taken her on a more precarious track for the U.S.

One possible track takes Hurricane Florence directly into the East Coast in the 7-10 day period. Another track brings the storm very close to the East Coast before re-curving Florence just off the coast (see red arrows in the map below). One sliver of good news is that a 100 year analysis of past storms near Florence's current position shows that all of those storms re-curved before hitting the U.S., although this summer has been far from normal for the East Coast. Should Florence track close to the U.S. there will be plenty of warm water for the storm to work with so it is likely to be an intense hurricane.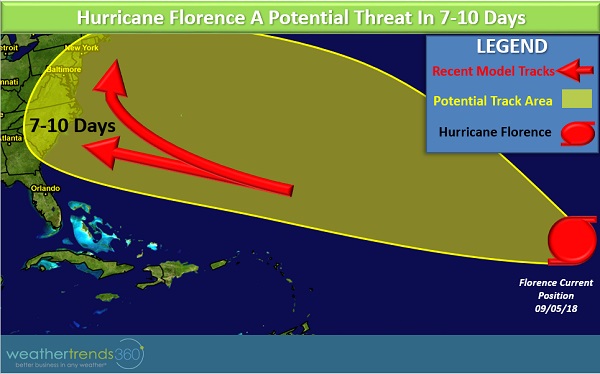 As we approach the climatological peak of the Atlantic Hurricane Season, there is high confidence that there will be several storms developing. Please stay tuned for updates on the tropics and, as always, you can check www.wt360.com 24/7 for specific forecasts.