It's a cold and blustery Friday across the Northeast as some of the coldest air so far this season brings high temperatures in the 20s and teens with windchills below zero. This frigid air will precede a winter storm that will bring wintry precipitation from the Midwest to the Northeast starting Saturday and into the first days of February. There is uncertainty surrounding the exact storm totals and location of heaviest snow, regardless, consumers will be stocking up on storm-related supplies.
Beginning tomorrow (Saturday, January 30th), a winter storm will develop and spreading wintry precipitation into the Midwest. Late Saturday into Sunday evening will bring the heaviest snow to the region with cities like Cedar Rapids, Chicago, and Milwaukee in the path of the storm. Moderate to heavy snow will fall across this area with widespread 4-8'' of snow, some of which could fall particularly heavy in the overnight period Saturday into Sunday morning.
The timing of heavy snow will limit the impacts for store traffic, but expect an increase in storm-related supplies Friday into Saturday, including items like snow shovels, rock salt, milk, bread, and eggs. Store traffic will be disrupted Saturday evening and Sunday.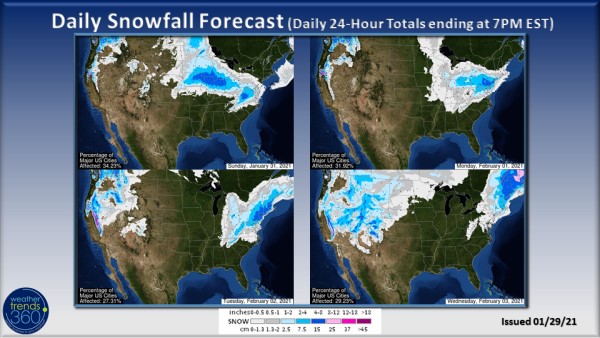 The storm then sets its sights on the Mid-Atlantic and Northeast where there is greater uncertainty regarding the location of the heaviest snow and total snowfall amounts. Small changes in the track and evolution of this storm will have great consequence on storm outcome. Current forecasts suggest that there will could be up to 1' of snow, with the greatest likelihood east of Interstate 81 and in higher terrain with widespread 4-8'' totals. Snow mixing with ice and even rain may temper snow totals across Maryland and Washington D.C.
At this time, expect store traffic disruptions from Sunday that linger into Tuesday. Demand for storm staples will increase this weekend with most preparations wrapping up on Sunday as media hype combined with typical weekend shopping habits puts consumers into a buying frenzy. Due to the expected long duration of this storm (Sunday-Tuesday) travel will likely not be impossible, although consumers now accustomed to sheltering at home for long periods of time may choose to stay home. Again, subtle changes in storm track and intensity will change the outcome of this storm, so consider the snow total forecast maps above as general guidance as to where the heaviest snow will fall with some shifting likely.