Autumn can be a volatile time in the U.S. for weather as we can go from summer-like conditions one day to near winter-like conditions the next. With the volatility of September weather, it can be hard for businesses and farmers to stay ahead of the weather and that's why weathertrends360 is here to help you become proactive as opposed to reactive to the October 2019 weather forecast. As the temperature maps in the image below show, the weather rarely repeats itself year-on-year so planning without a reliable weather forecast is risky business!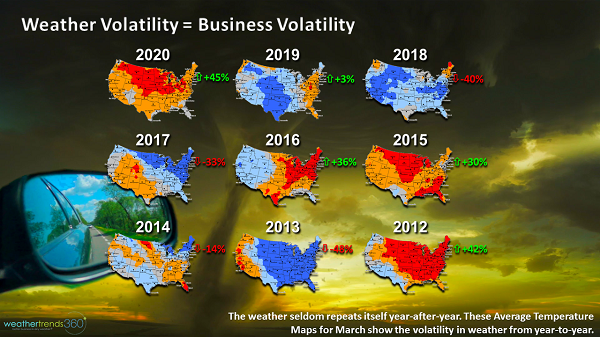 U.S. September 2019 Recap
September 2019 weather was like most September's: Volatile! We went from Hurricane Dorian bringing flooding along the Southeast Coast early in the month to rapidly expanding drought conditions by the end of the month across the interior Southeast. Hot weather at the start of the month gave way to much colder weather and even a major blizzard in parts of the West towards the end of the month.
Temperature
For the U.S. as a whole, the retail September 2019 was the 2nd warmest in 28+ years. Hot weather was persistent in the South where this was the hottest September in 28+ years. This was the 4th warmest September in 28 years for the Northeast, although there were a few brief cooler periods. Hot weather culminated in the final retail week of the month (week-ending October 5th) with many new record temperatures being set across the eastern half of the nation. Hot weather was a headwind for early autumn merchandise.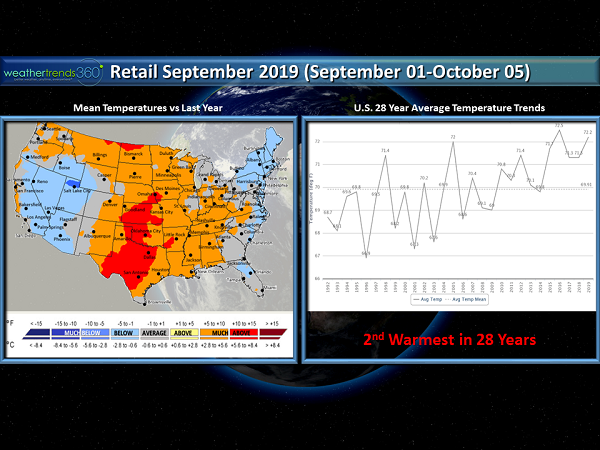 While the East Coast was steamy towards the end of September, the West was cold but September started out rather warm. September started off as the 2nd-4th warmest in 28+ years for the West, but temperatures turned significantly colder in the week-ending September 28th. The final week of the month (week-ending October 5th) was much colder than last year trending the 1st-2nd coldest in 28+ years on the West Coast and very favorable for seasonal categories as a change in temperature of just -1°F can lead to substantial increases in demand.
Weathertrends360 has analyzed sales data for thousands of categories against the weather and found high correlations to changes in sales and changes in weather. We quantify that relationship with our Power of 1 Degree® to help Fortune 500 companies predict their sales a year ahead. For example, every 1°F colder in Autumn leads to a +2% rise in jeans sales. We can take this type of intelligence to predict all kinds of things including flight delays, automotive sales, service call volume, etc. We can apply this technology to many different industries and we'd love to do this for your specific data.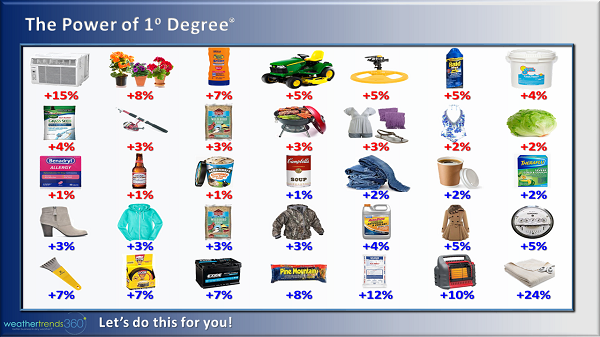 Precipitation
After the wettest retail September in 28+ years last year, September 2019 was much drier for the U.S. as a whole as this was driest September in 12 years. Much drier trends year-on-year extended from Texas to New Hampshire and down across much of the Southeast. The exceptions were just along the Carolina Coast and near Houston, TX (more on that in the Tropical Activity section below).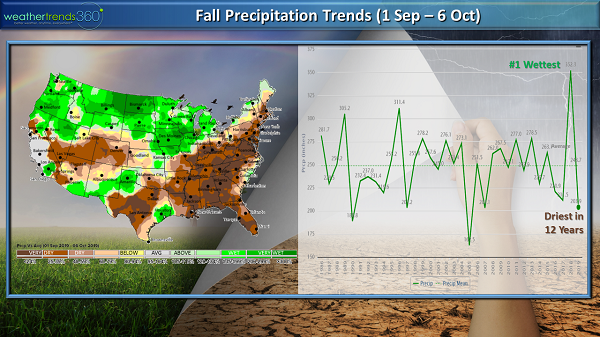 In this drier pattern, drought expanded rapidly across the Mid-Atlantic, Central Texas, and Southeast with abnormally dry to drought conditions expanding threefold across the East Coast from the beginning to the end of the month. Indeed, this was the driest retail September in 28+ years on the East Coast, which was favorable for Fall harvest activities, home centers, outdoor dining, and fewer weather-related airline delays and cancellations. In fact, we've found that airline delays have a high correlation to precipitation amount as seen in the charts below.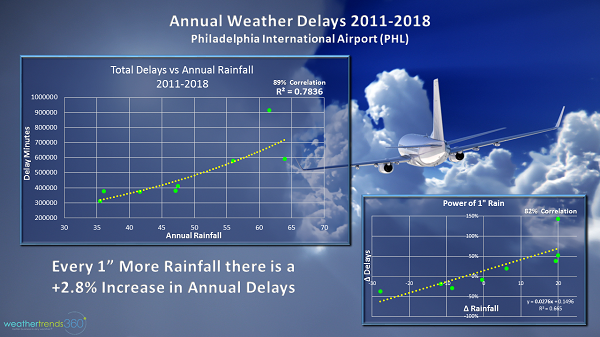 Meanwhile, the North Central U.S. saw the wettest retail September in 28+ years with several weeks of wetter than normal conditions. Unsettled weather contributed to a renewed flooding threat across some of the same areas that experienced devastating flooding back in Spring. The Southwest trended drier than last year, but tropical moisture in the week-ending September 28th led to flash flooding across the Desert Southwest.
Tropical Activity
7 named tropical systems formed in September 2019. Of those 7, 3 became hurricanes and 2 became major hurricanes (category 3 or higher on the Saffir-Simpson scale). The climatological peak of the Atlantic Hurricane Season occurs in September and this year was certainly no exception. The most notable storms, at least for the U.S., were Hurricane Dorian and Tropical Storm Imelda.
Hurricane Dorian strengthened to a powerful category 5 storm with winds in excess of 160 mph. The storm ravaged portions of the northern Bahamas, exactly where weathertrends360 projected a high risk for hurricane damage (see forecast map below), making landfall on September 1st on the Abaco Islands, in the first week of September causing catastrophic damage.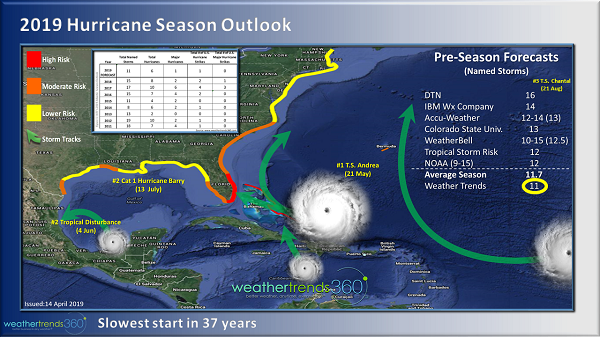 After Dorian's slow trek through the northern Bahamas, he took a threatening track close to the U.S. but ended up skirting the Florida Coast. Dorian moved up along the Southeast Coast and made landfall in Cape Hatteras on September 6th as a weaker category 1 storm. The impacts on the Carolinas wasn't as severe as the devastation in the Bahamas, but still flooding and beach erosion was problematic.
Although Tropical Storm Imelda never attained hurricane status, it wasn't the wind or even the storm surge that was the main issue, it was the massive amounts of rain. Over 1' of rain fell in Houston with the greatest rainfall total of 44.29'' being recorded near Fannett, TX. According to the National Weather Service (NWS), devastating flooding occurred along the I-10 corridor from Winnie eastward to Fannett, Beaumont, Vidor, and Orange Texas.
Snow
That's right, snow! An early season, historic blizzard brought FEET of snow across portions of the Northern Rocky Mountains and Intermountain West. With this storm, many September snowfall and temperature record were broken. According to NWS, a new one-day snowfall record was set in Great Falls, MT of 17.7'' between Saturday, September 28th and Sunday, September 29th.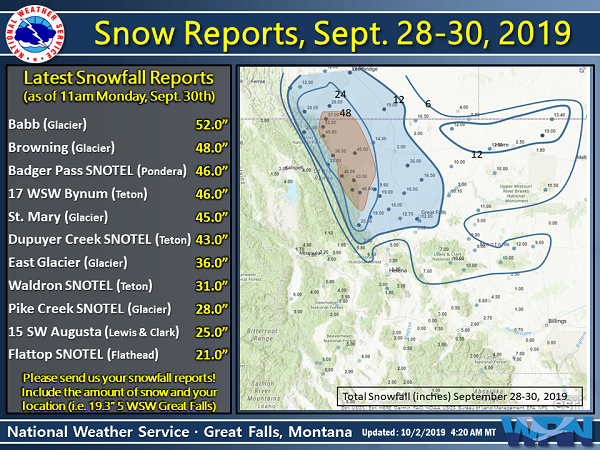 The storm helped to propel national snowfall for September 2019 (September 1st-30th) to be the greatest in 19 years.
Global
Globally this was the 2nd warmest and the 3rd driest September in 28+ years. In Europe we were cooler than a warm September last year with cooler year-on-year trends extending eastward through Russia. Australia was cooler than normal and drier than normal, and drier conditions may become a growing concern in the months ahead. In Brazil this was the 6th warmest September in 28+ years, while Argentina was the coolest in 3 years. Like Australia, drier than normal weather in Brazil and Argentina could be the beginning of some tougher months ahead, particularly where agriculture is concerned.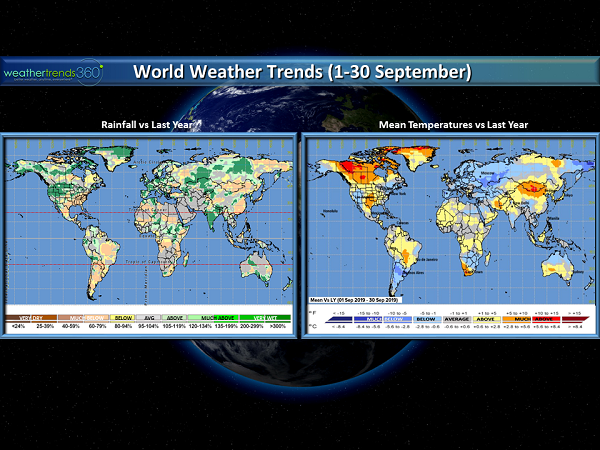 Late Autumn/Early Winter Outlook
While October gets off to a much cooler start in the Eastern U.S. compared to last year and the Northern Rockies get hit with another early season snowstorm, we'll struggle to find any sustained cold periods for the month in the U.S. A warmer pattern continuing into November, which will be more like 2015 and 2017, will set the stage for pent-up consumer demand in December as the weather finally turns decidedly colder, especially during the 2 weeks prior to the holidays. Unfortunately, this means that price reductions at this point may eat into overall profits.
The autumn 2019 season will be extended by about 5 weeks this year resulting in favorable conditions for fall garden sales, but apparel will be down compared to last year. What follows will be a short, but intense, winter with lower overall snowfall for the U.S. as a whole, but greater snow in southern areas.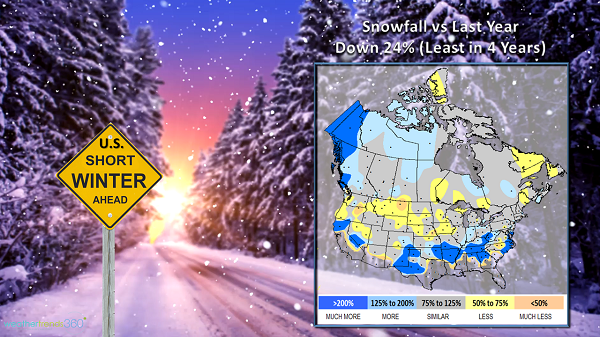 Drier weather across most of North America will produce fewer overall flight delays in December. The highest risk period for travel disruptions will be in mid-December, early January, and again late in January.
Like the U.S., western Europe will see a warmer November creating pent-up demand, which will be unleashed in December, but again, at higher markdowns.
As mentioned above, the lack of rain in parts of the Southern Hemisphere will become concerning as we head through Spring. Hotter and drier weather could have negative impacts on the planting and early growing season. Planting is off to a fast start, but emergence and early growth may be hampered by the lack of consistent rainfall and hotter temperatures in Brazil. This is particularly true for Mato Grosso and Mato Grosso do Sol where conditions will be similar to 2017, or even 2015. This will increase the risk to the Safrinha crop in 2020.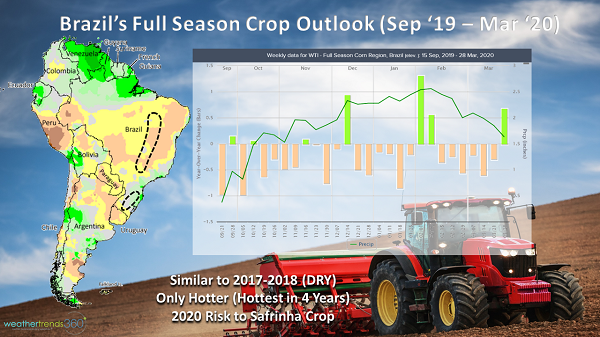 Whether it's Autumn, Winter, Spring or Summer, weather affects every business. Weathertrends360's proprietary year-ahead forecasting model tells you exactly what's coming eleven months out. We give you time to proactively plan inventory, advertising, allocation and markdowns. Trusted by the Fortune 100 and Main Street, it's the next generation of weather-based predictive analytics. Our passion is Better Business in any Weather®...let's talk. E-mail sales@weathertrends360.com or phone 610-807-0118.