Just a few days after a nor'easter buried portions of the Northeast in 1-2' of snow, we're already watching a new winter storm that will take aim at the Mid-Atlantic and Northeast coast this weekend. This storm will move quickly limiting both total snowfall potential and duration which is in stark contrast to last weekend's long and slow-moving storm. As this new storm menaces the East coast, very cold, Arctic air will plunge down across the North Central U.S. bringing the start of what may be a prolonged period of much colder, below normal temperatures.
A coastal storm will develop off the East Coast this weekend bringing showers and thunderstorms in the South and snow to the north. Snow could fall as far south as Charlotte, NC, but accumulations, especially on roadways, shouldn't be significant in this area. Current forecast models pin the swath of heaviest snow from the mid-Appalachians and up across northern Virginia to the I-95 corridor from Washington D.C. to Boston, MA. However, like all coastal winter storms, a small shift in the track will also shift the areas that see the heaviest snow.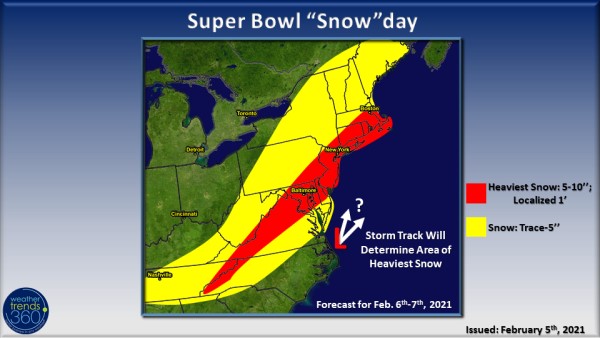 Because this storm will be a quick-mover, maximum snowfall totals will be much less than last week's storm with the heaviest swath of snow potentially between 5'' to 10'' of snow. Precipitation will begin in the Carolinas on Saturday and spread up into the Mid-Atlantic on Sunday. The storm should quickly exit the Northeast coast by early Monday morning. Most of the precipitation along the major I-95 corridor will fall on Sunday interrupting store traffic and Super Bowl plans. Pizza and other forms of food delivery, are likely to see a big surge in orders thanks to the snow.
While the East Coast deals with more snow, the North Central U.S. will be bundling up as a frigid air mass enters the region this weekend. Temperatures will plummet with double digits below zero as highs in the northern Plains; wind chills will make it feel even colder. Frigid air descends on the Midwest as well with highs in the single digits and teens for Chicago along with several chances of snow in the upcoming week. Another reinforcing shot of cold air Valentine's Day weekend will prolong the cold spell in the North Central U.S. and possibly spreads below normal temperatures to other areas of the country, potentially even the South.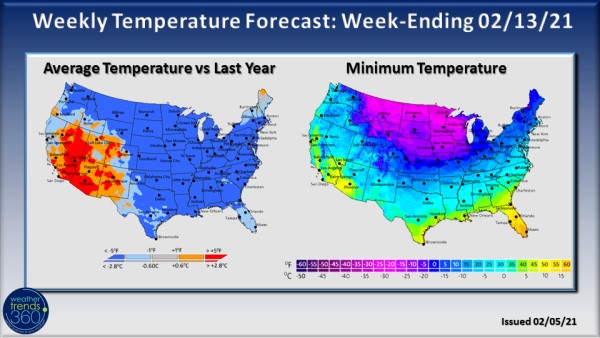 The longevity and severity of this cold, Arctic outbreak in the North Central U.S. will likely lead to increased demand for auto batteries and will put further upward pressure on natural gas futures. This would be a great time to push winter clearance, however, consumers may hunker down at home in the frigid weather.