"BRICKS TO CLICKS" - GOOGLE SEARCH CORRELATES TO POS!
There's no doubt that COVID19 may forever change the consumer - retail shopping paradigm from "
Bricks to Clicks
" both in the U.S. and Worldwide. Google search terms are one way to see what your customers are looking for as they now shop on-line more than ever before. It's everywhere you look, grocery stores are now delivering food to "on-line" customers that never go to the store at record levels, they're thriving. Retailers with great e-commerce platforms and
fast delivery logistics
are doing very well with "on-line" customers, the likes of Amazon, Wal-Mart and Wayfair are thriving while Mall-based retailers are obviously suffering, even going out of business. The consumer shopping paradigm shifted almost entirely to "CLICKS" vs "BRICKS" in the blink of an eye with COVID19.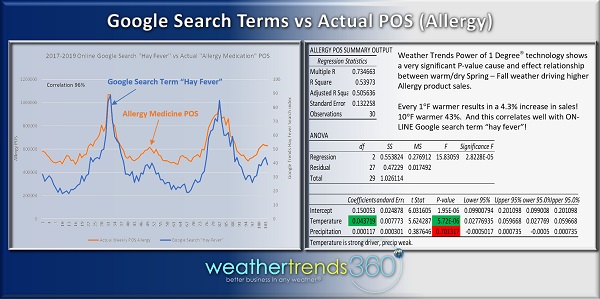 Allergy categories are going to be one that will do well this year with a long extended season into the Fall of 2020 with a much warmer/drier pattern resulting in more pollen... more suffering... more sales. But those sales will likely come on-line at record levels. Our Power of 1 Degree® technology shows that every 1°F warmer there is a 4.3% increase in allergy medication sales at a brick-and-mortar store, 10°F warmer = 43% increase in sales. In this case, there is a linear downside with colder/wetter weather resulting in lower sales for every 1°F colder.
But there's also a very strong 96% correlation between these "BRICK" allergy sales to Google search term "hay fever."
96%! So goes the on-line searches, so goes actual sales.
Weather Trends can actually predict Google search term metrics out a year by zip code, so we're uniquely positioned to help any retailer and seasonal manufacturer no matter where you sell your products (on-line, store, delivery). Ultimately, consumers buy on NEED and the WEATHER largely drives the need for seasonal items. If it's a warm/dry Spring we'll buy more shorts, more cold beverages, more lawn and garden, more allergy medications but if it's cold/wet we'll delay those purchases until we need them. We have analyzed thousands of seasonal categories with our Power of 1 Degree® technology that correlates your POS data by store by week anywhere on Earth to past weather, defines the statistical significance and then projects those sales by week by zip code or any geography... WORLDWIDE. We can help better predict your on-line sales... A YEAR-AHEAD! And if you can't get us POS data we can provide "syndicated" category outlooks by zip code, by location worldwide, by week out a YEAR! We're here to help.
Fall 2020 - Winter 2021 Weather vs Viruses
Weather Trends released a video (
PRESS RELEASE
) to the Pharmaceutical industry highlighting what we see for the Flu season, Asthma suffering, Pollution and general world-wide weather outlook.
Our Power of 1 Degree® technology took a look at
CDC state, weekly Flu trends
over the past 19 years to determine weather triggers for the start and peak of the season. The relationship showed that cold, dry and low humidity in the Southeast U.S. where kids go back to school in early August is a trigger for early onset of the disease. The good news, a warmer/drier Fall season ahead should delay the start of "sporadic" flu conditions in New York City by several weeks with a 7 November start with a much later national peak in early February. Good news as this will buy the Pharmaceutical industry more time to get prepared.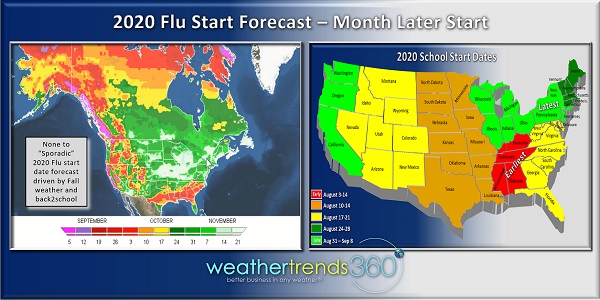 We also looked at other COVID19 complicating factors like
Asthma and EPA Pollution
data to model that out a year ahead across the world to help the industry better prepare for the season ahead. Warm and dry weather from Spring to Fall are great for suspending pollen and pollution in the air longer and that exacerbates Asthma suffering. In the winter months, it's cold/dry stagnant air resulting in higher suffering. See the video above for more on what we see through the upcoming Winter season.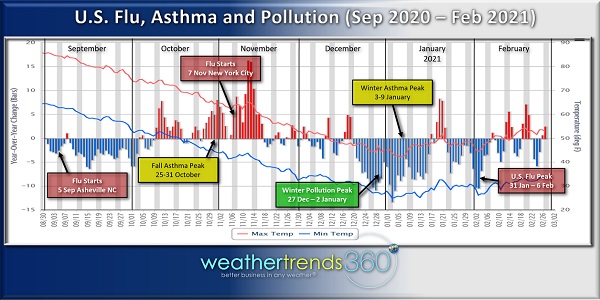 April Worldwide Weather Roundup - Developing U.S. Drought?
After a very warm March across the U.S., the pattern flipped colder, especially in Eastern North America. The
U.S. overall was 2.4F colder than last year making this the 8th coolest April of the past 35 years
. National rainfall was down 13% vs last year but still 9th wettest of the past 35 years for the Julian calendar April. Much of the Western and Central U.S. and Canada was very dry. Europe was on the warm and dry side, especially Western Europe. The cool spots were across much of Canada, Western Russia, and The Middle East into Southeast Asia.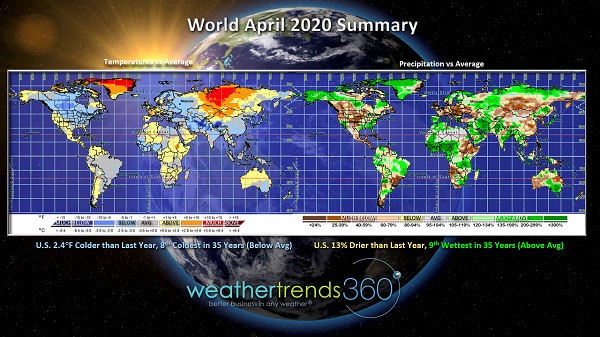 This time of year, warm/dry weather is ideal for Spring merchandise sales, but cool/wet weather does result in more on-line activity. Allergy product sales should have been particularly high across Europe and the Western U.S. with pollen suspended in the air longer. Less rainfall means pollen and pollutants linger in the air and accumulate making the exposure to humans that much higher. Another big surge is likely in middle to late May with a warmer/drier surge after this early May cold snap in the U.S.
Spring-to-date is starting to show signs of the building La Nina pattern shift, among other cycles, with dry weather expanding from the Pacific Northwest into the Central Plains. This has the USDA drought monitor showing
29% of the U.S. in dry to drought-like conditions vs a near record low 11% last year
. Weather Trends expects this to expand to over 50% this Fall and upwards of 60% by Spring 2021 next year.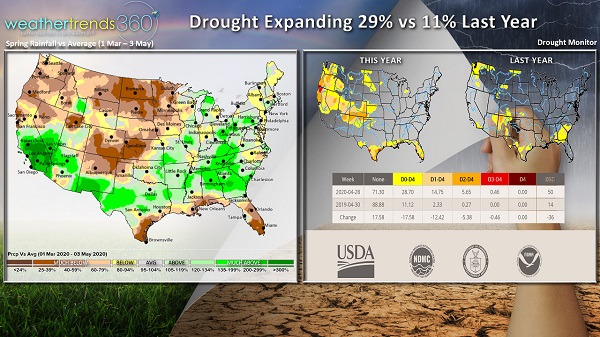 FEATURED CLIENT TESTIMONIAL - IQVIA
Long time 18-year client IQVIA, formerly IMS Health and prior to that Surveillance Data Inc., discuss how they use Weather Trends short range and year-ahead information to better plan ahead for the Flu and Allergy seasons.
Chip Schaible with IQVIA explains how he and his teams have used the insights over the past 18 years
(
video
).
Stay safe, healthy and have a great May.