Weather for Valentine's Day 2019
If you find yourself in California today, it's probably best to snuggle up with your Valentine and stay inside, it's nasty out there! A major Atmospheric River event is bringing inches of rain (one location reporting over 9'' of rain as of 11 am pst this morning!) and feet of snow in the higher mountains causing flooding and making travel difficult. As of today (February 14th), downtown Los Angeles has already received their normal amount of annual rainfall for the water year (which begins on October 1st). That's at least 14.93'' of rain that has fallen since October 1st! Flood watches and warnings cover almost a large chunk of California on this Valentine's Day (see watches/warnings map below).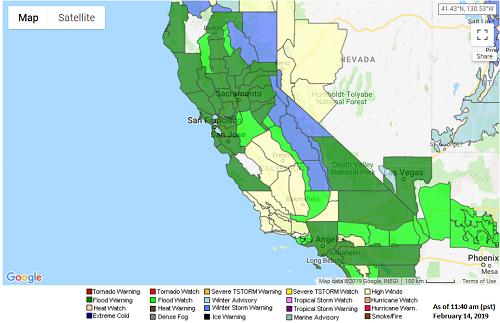 The National Weather Service office in San Diego posted this weather sounding from this morning showing record amounts of moisture in the atmosphere for this time of year:
As we look ahead another disturbance will impact the West Coast early next week that will be colder than the current storm and, while not has heavily moisture-laden as today's storm, could bring snow to the coastal mountains of southern California and even into the mountains of the northern Baja California, a very rare event if this forecast does come to fruition! Snow could also touch the high deserts northeast of Los Angeles, and frost may become a problem for the citrus crop and other leaf crops, including strawberries which should be starting to come out in southern California, Arizona, and northern Mexico.
Cold across the West Coast over the next 2 weeks, in fact, February 2019 is shaping up to be one of the coldest of the past 28 years on the West Coast.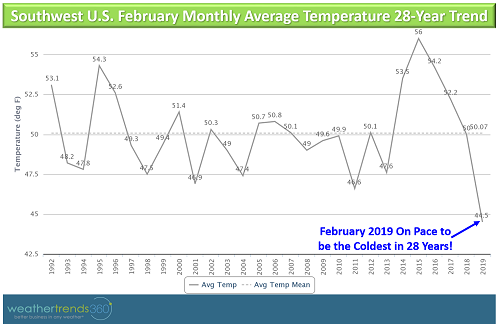 Seattle has been blowing away all sorts of records over the past several days. February 2019 is already the snowiest February on record for the city and the snowiest month in 50 years. The winter season so far has been the snowiest in 10 years for Seattle.
Some energy from today's West Coast storm will eject eastward bringing a swath of snow across the central Plains, Ohio River Valley and Mid-Atlantic over the upcoming weekend. This system is a quick-mover so nothing major in terms of snowfall accumulations expected with generally a 1-4'' accumulation, perhaps higher in the mountains. The system looks to stay mainly south of the Mason-Dixon, so places like D.C. and Richmond have the best chances for snow; this system could brush parts of southern New Jersey as well as it races out to sea by late Saturday.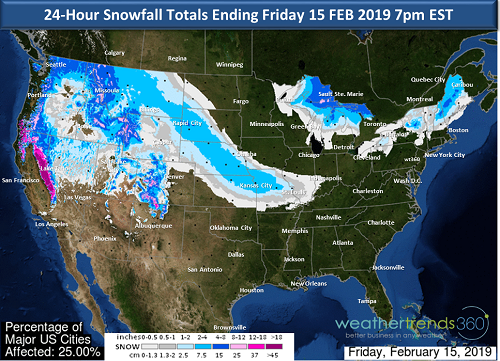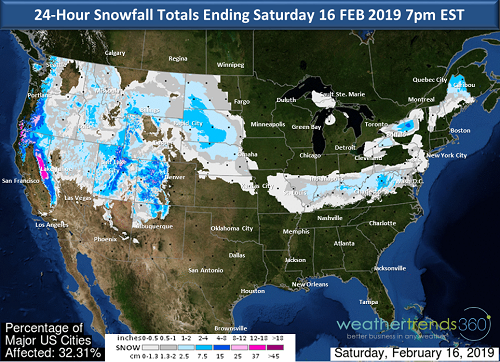 Another storm on Sunday could bring snow from the northern Plains to the Midwest and possibly to the Northeast by Monday, although the models aren't overly enthusiastic about snow production for the Northeast, so just something to watch for now.
The next big storm on the horizon looks to arrive in the Northeast around the middle of next week and could be messy like the storm we saw this past week with multiple precipitation types making it a tricky forecast. Stay tuned!
Another noteworthy weather-happening is an increasing threat for flooding across the South where precipitation totals over the next 2 weeks are forecast to be +5'' across a wide area. Many waterways are already running high across the region so it won't take much to push many of these rivers to flood.