As the Christmas lights come down and we un-deck our halls, the retail industry usually falls into its annual mid-winter slump in January. Consumers hunker down during the cold months and let their wallets heal from the frenzied holiday shopping season. It's at this time of year when store traffic is heavily affected by weather: too cold and snowy and store traffic suffers, but milder and drier weather will bring more consumers into stores. Let's take a look at how January 2020 stacked up in terms of favorability for retail sales.
Temperature Trends
For the U.S. as a whole, this was the 2nd warmest retail January (January 05-February 01, 2020) in 29+ years. Unlike 2019, January 2020 lacked significant intrusions of Arctic air in the U.S. Colder temperatures were reserved to the West, particularly during the first half of the month, and the Southwest was the only region to trend colder than last year.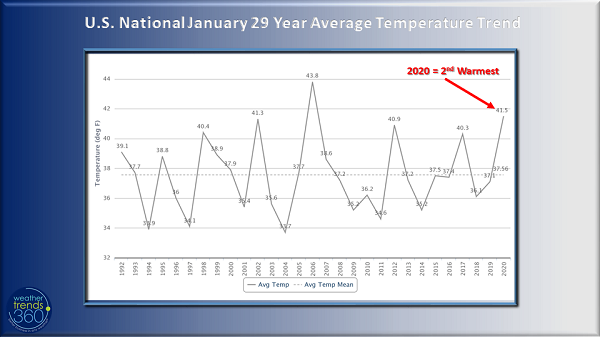 While warmer weather does little to entice someone to go out and buy a jacket, if the discounts are steep enough, it doesn't matter if the temperature outside is 60F consumers will snatch up a bargain. In this case, we will find in our analysis of weather versus seasonal category sales that warmer and drier weather is more favorable for unit sales of winter clearance in January as it can be driven more by store traffic as opposed to cold weather, but profit margins are sacrificed.
However, winter consumables, like body lotions, will have struggled in warmer weather. Even auto batteries will have seen a tough month as outbreaks of Arctic cold lead to an increase in battery failures; we lacked the Arctic intrusions that we saw last year so batteries are likely to have seen a softer January.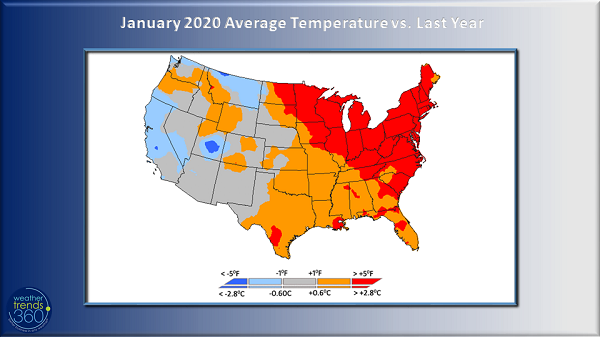 Precipitation Trends
For the U.S. as a whole, precipitation was similar to last year and slightly above normal as this was the 11th wettest January in 29+ years. Unsettled weather across the Central U.S. and Northwest made this the 2nd-5th wettest January in 29+ years for these regions.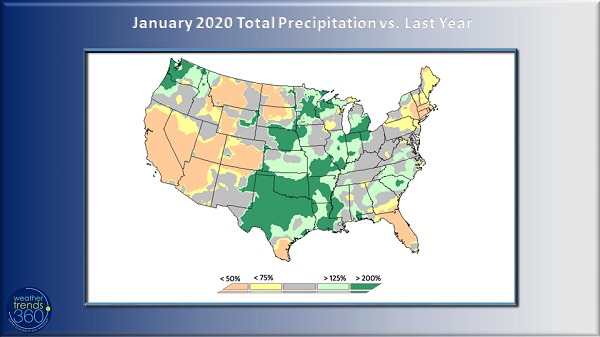 In the Mid-Atlantic, Northwest, and parts of the Midwest, the weekends in January were frequently unsettled. The weekend of January 25th and 26th was very wet in the Mid-Atlantic with widespread +1'' of rain.
Wetter weather in the Central and Northwestern U.S. will have been a headwind for store traffic and retail sales. Frequent bouts of wet weather on the critical weekend periods in the Mid-Atlantic and Midwest were unfavorable for store traffic. However, folks in the Southwest will have encountered few weather-related issues as this was the driest January in 6 years for the region.
Snowfall Trends
Snowfall was the 3rd least in 29+ years for the U.S. as a whole for a retail January and the least in 7 years. The only exception was the Northwest where this was the snowiest January in 3 years.
There were a couple of winter storms that impacted parts of the Plains states, Great lakes, and northern New England on the first several weekends of the month. Despite being the 2nd least snowy final week of January in 29+ years for the U.S. as a whole, the southern Plains saw snowier conditions with a swath of snow from the Oklahoma panhandle to Missouri.
Less snow in January is favorable for store traffic and retail sales. Frequent weekend winter storms in the Plains, Great Lakes, and northern New England will have presented challenges for store traffic. Snowier weather in the Northwest will have been a headwind for traffic. Less snow this year for the U.S. as a whole will have softened category sales of snow removal products.
Summary
While there were some areas that saw snowy weekends, on the whole, the U.S. saw less snowfall this January and warmer temperatures than last year which helps to get more traffic through retailers' doors. While this is good news for unit sales of winter clearance, consumable items like body lotions suffer as consumers use less of these products in warmer weather. While January is a historically quiet month for retail sales, weather can have a lot of sway in the types of products and when consumers are purchasing. Learn how to be PROACTIVE as opposed to REACTIVE with our accurate year-ahead weather forecasts and predictive weather analytics. Let us know how we can help you: Sales@weathertrends360.com